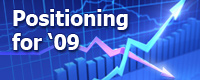 The economic malaise is likely to persist through 2009 and the downturn which started in December 2007 could last for much longer than the majority of economists expect. Nonetheless, in 2009 we might witness specific divergences in the performance of individual equities relative to 2008 that could allow for meaningful returns.
For example, in 2008 correlations across equities increased, meaning that, with the exception of a few companies, irrespective of what one owned portfolio values generally declined. This meant that a large contributor to 2008 performance was the level of short exposure in one's portfolio. As I've told some colleagues, in 2008 one could short anything and look like a genius. This may change in 2009, and investors who can do substantial work at the company level could be positioned to benefit by implementing long/short strategies.
Unlike normal economic periods, earnings growth will not be based on leveraging sales growth through the income statement. For example, there are still many companies where stock valuations have compressed but the stock is still overvalued, because the level of price compression does not fully reflect the depth of the slowdown.
Companies in the industrial manufacturing segment could be at specific risk for this occurrence. During the multi-year boom period, order books were full, leading to consistently high efficiency levels, which drove operating margins above historical levels. While stock prices and valuations have fallen, these companies could suffer further declines in share prices because forward estimates anticipate a much more moderate decline than what could occur.
This presents a bigger risk for this sector because many of these businesses operate under fixed cost structures and had expanded their capacity in 2006 and 2007. This means the delta between profitability and no profits could be very small, which makes some companies that now trade at 6.0x-10.0x 2009E EPS are really valued at 20.0+x 2009 earnings.
Opportunities to short companies within this sector will present themselves to investors that can bridge the gap between unit orders, price per unit, revenue, and gross margins - as items below gross margins will generally be fixed in this sector. Volume is really the focal point for this industry and slight weakness in volume can spell bigger declines in unit prices, pressuring revenues and capacity utilization at production level, which ultimately pressures margins and earnings far more than current valuations and forward estimates expect.
Another possible short-sell theme for 2009 could be headwinds for companies that experienced significant translation gains from having significant foreign operations in recent years. Foreign exchange (FX) gains, particularly in the euro (EUR) and British pound (GBP), have been a material contributor to some companies in recent years and if these currencies do not continue the level of appreciation against the US dollar (USD), a material component of some earnings growth could be compromised. This was a key part of my short of Priceline.com (NASDAQ:PCLN), which experienced major earnings growth from a strengthening EUR and GBP against the USD. While PCLN has fallen considerably, this risk is present in many seemingly fairly valued blue chip companies.
McDonald's (NYSE:MCD) for example, derives considerable value from its foreign operations and FX translation gains have been a very meaningful contributor to its EPS. MCD illustrates the impact of FX gains in its latest 10-Q. Excluding currency gains, MCD Q3 EPS and 9M EPS grew by 15% and 26% respectively. However, when factoring in FX gains, EPS growth in Q3 and 9M 2008 was up 19% and 33% respectively, demonstrating how significant a component FX gains have been for MCD. If one expects the USD to strengthen or even depreciate at a much lower rate versus foreign currencies, then companies like MCD will have difficult 2008 comparisons heading into 2009 - setting up for an earnings disappointment.
Another potential short-sell theme could be shorting companies with significant pension obligations. In certain cases, companies have assumed average rates of return of 8%+ and have constructed portfolios that consist of 70+% in equities. With many equity portfolios down 40-60% this year, companies with pension obligations may need to increase their contributions in the coming years, resulting in increased expenses during a period when operating income is constrained.
While the global slowdown has negatively impacted many companies, the slowdown has resulted in a decline in commodity prices, which could provide significant tailwinds for companies dependent on key raw materials. For example, I had mentioned Hanesbrands (NYSE:HBI) in a prior post. A key raw material for HBI is cotton which reached levels of $0.70+ per pound earlier in 2008. Cotton has now fallen roughly 50% from this level and HBI has been able to pass on price increases to its key customers such as Wal-Mart Stores (NYSE:WMT). These cost savings could offset a certain level of volume declines, protecting HBI's earnings power.
Another company that could benefit from declining commodity costs is Starbucks (NASDAQ:SBUX). I have not done any work on this company, but a curious investor could examine how much milk/dairy prices account for SBUX's cost of goods. If this is substantial, cheap milk could provide a good buffer against declining sales. These types of cost levers could result in upside earnings surprises for long positions.
While 2009 might not present the severity of 2008 in terms of the financial crisis, earnings will be coming off secular peak earnings levels, meaning a resumption of a strong bull market to October 2007 levels probably won't be in the cards. In addition, there could be other "shock" events such as the looming municipal bond crisis which could erode confidence, further pressuring market indices.
Nonetheless, many stocks are trading at cheap prices and have discounted much bad news, but the challenge in 2009 will be discerning the values from value traps and maintaining a portfolio that can withstand possible external shocks.
DISCLOSURE: SHORT MCD