It's time to start a large position in GeoEye Inc. (NASDAQ: GEOY), or add to your position if it is less than 3/4 immediately.
The provider of space based and aerial imagery is trading at a huge discount right now to its true value, and it won't be long before the market realizes this (as has already started happening once GeoEye bounced off of its lows last week).
In addition, with upcoming catalysts, and insider buying, now is not the time to delay.
I would even advocate buying long term call options for those that are familiar with that strategy as within 3-6 months, GeoEye's shares will be much higher than they are now.
In this post I'll detail the reasons why.
This is a must read as we enter 2009 for those looking for somewhere risky, yet calculated, to put their money.
New to the GeoEye story?
GeoEye provides space-based, and aerial imagery and geospatial information through high-resolution and low-resolution imagery, imagery-derived products, and image processing services to customers worldwide.
This capability benefits a broad array of industries including national defense and intelligence, online mapping, state and local governments, environmental monitoring and land use management, oil and gas, utilities, disaster management, insurance and others.
Want more?
Read my initial buy recommendation here.
OR: listen to my EXCLUSIVE interview with GeoEye's management team here.
OR: Read my latest update on the company's Q3/2008 earnings release and conference call here.
Let's Start With the Catalysts
GeoEye already successfully launched their latest satellite, GeoEye-1, a few months back.
All that awaits us now is the final approval by the National Geospatial-Intelligence Agency (NGA), which WILL be forthcoming any day now.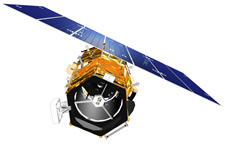 GeoEye-1
How can I be so bold and predict that the NGA will approve GeoEye-1's imagery any day now?
Simple, and I'll go into it in more detail below, but the recent insider buying, by not only the CEO but board members, leads me to believe things are going well in this department and it's only a matter of time before GeoEye-1's imagery is fully approved for sale to the NGA.
Let me put this another way: Would you buy $100k in stock of your own company (no matter how "cheap" it got) if your only source of future revenue and growth was destined to fail and not get the approval that you needed to produce revenue from it?
Nope, I don't think so either.
I sincerely believe, and am keeping my money fully invested in GeoEye, because I now feel almost 100% certain that we are almost there.
Any day now we'll get a press release telling us that GeoEye-1 is free to fly.
GeoEye's new Service Level Agreement (SLA) with the NGA and other customers means higher, more steady revenue.
I recently wrote about the good news that was announced whereby GeoEye would be getting a constant stream of revenue from the NGA for the next year to the tune of $150 million, matching 2008's total expected revenue.
This contract does not even include GeoEye's additional contracts with foreign vendors and governments, orders from the NGA above and beyond this SLA, and other commercial and business agreements to sell their imagery that GeoEye already has in place and will be instituting come 2009.
Analysts predict GeoEye's full year 2009 revenue at about $277 million vs. $140 this year.
This means that GeoEye will just about double their revenue in 2009, and with it will come huge gobs of profit and cash flow because of GeoEye's fixed cost, high-margin structure.
This also doesn't include GeoEye's newly announced deal with Telespazio whereby the European based satellite image provider has agreed to be GeoEye's official reseller of satellite imagery in Europe and North Africa.
This and other similar deals like it that GeoEye has recently negotiated, will provide them with higher margin revenue and steadier profits due to their more linear fashion and as a result of agreements which allow GeoEye to sell any imagery they take from their satellite fleet as many times as they want without any compensation going to the regional or other affiliates as was done in the past (don't ask me why!).
Looking at past EPS/Revenue/Margin figures is fruitless.
We are paying up for the future, not the past.
The SLA as well as other recently announced and renegotiated deals with GeoEye's affiliates across the globe is just one more step towards smoothing out the revenue and profits that GeoEye can expect starting in a couple of weeks.
Recent insider buying has picked up significantly.
It's true that GeoEye's stock has taken a dip here in the last few weeks for unknown reasons, but at the same time, insiders have rushed to purchase shares at rock bottom prices ranging from $15-16.00 per share.
This includes:
- CEO Matthew O' Connell purchasing 6,250 shares at $15.93 ($99,562.00 total) on 12-19-08
- Board member Lawrence A Hough purchasing 5,000 shares at prices ranging from $14.87 - $15.40 ($75,500 total) on 12-19 and 12-22-08,
- and finally, board member Michael Horn who purchased 3,000 shares at $15.85 ($47,500 total) on 12-22-08.
The CEO also picked up 2,000 shares at $18.84 back in May for about $37,600 worth.
As I stated above, you don't plunk down money in a company that is going nowhere, at least not close to $100,000.
If GeoEye-1 were having serious issues that management foresaw as being irreparable, then they surely wouldn't be putting more money into a company that would be headed for bankruptcy.
Margin Trends/Valuation
Look forward, not backwards
Let's start off by quickly analyzing GeoEye's last 6 quarter margin trends in the image below:

Click to enlarge
Now at first this doesn't look so good, but I want to point out several things.
First, notice how margins have stabilized and have started increasing even though GeoEye is not making any money at all from its GeoEye-1 satellite.
This is as a result of better contracts with overseas customers as mentioned above, and improved order flow from the NGA which has allowed GeoEye to better allocate their resources and not waste money and time on redundancies.
The second thing that I want you to pay attention to is the whopping margins achieved about a year or so ago.
This was when GeoEye's IKONOS satellite was still getting the bulk of the NGA's orders, before they started offloading more imagery orders to GeoEye's only U.S. competitor, DigitalGlobe (NYSE: DGI).
The reason I wanted to highlight this is to illustrate the power of their business model once GeoEye-1 begins delivering usable imagery.
I fully expect gross, operating and net margins to improve considerably, along with revenue in the coming year.
With it will come huge amounts of cash flow, and free cash flow and even the potential that GeoEye will be able to pay down some of their debt, and/or be able to pay for their GeoEye-2 satellite which is in the works, all on their own, without tapping into the equity markets for financing or taking on more debt or diluting shareholders.
This would be an ideal scenario.
What about the valuation?
I put together a table which illustrates GeoEye's valuation vs. a couple of comparable companies operating in their space since their only true apples-to-apples comparison, DigitalGlobe, is not yet a public company.
The companies that I included in my Valuation Matrix include:
Orbital Sciences Corp. (NYSE: ORB): Orbital Sciences Corporation develops and manufactures small rockets and space systems for commercial, military, and civil government customers.
The company's Satellites and Space Systems segment offers communications satellites that provide cable and direct-to-home television distribution, business data network connectivity, regional mobile telephony, and other space-based communications services and science and technology satellites that are used to conduct space-related scientific research, to carry out interplanetary and other deep-space exploration missions, to demonstrate new space technologies, to collect imagery and other remotely-sensed data, and to enable national security applications.
Trimble Navigation Ltd. (NASDAQ: TRMB): Trimble Navigation Limited provides advanced positioning product solutions to commercial and government users worldwide.
It operates in four segments: Engineering and Construction, Field Solutions, Mobile Solutions, and Advanced Devices. The Engineering and Construction segment offers various global positioning systems (NYSE:GPS) and robotic optical surveying instruments incorporating GPS, optical, laser, radio, or cellular communication technologies for various construction process applications.
These companies aren't perfect comparisons, but they are 2 of the only public companies that analyst's use to try and match up GeoEye to others within the same industry.
Until DigitalGlobe comes public, it's all we have for now.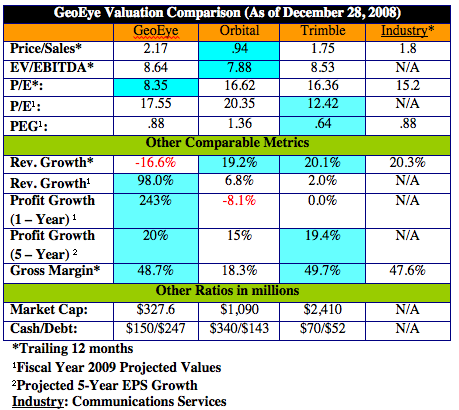 So what does this tell us?
Simply it tells us that any backward-looking metric, like Price to Sales (P/S), Enterprise Value to EBITDA (EV/EBITDA), or Price to Earnings (P/E), show GeoEye is fairly valued to overvalued.
This is why it is very dangerous to rely on the past.
Let's take a look at what matters, the future, and in GeoEye's case, the very NEAR future starting next month.
All metrics that take into account the earnings power of the GeoEye-1 satellite along with IKONOS and OrbView-2, such as the FORWARD P/E ratio, EV/EBITDA projected for next year, cash flow valuations (not included) as well as comparisons on revenue and profit growth, all show a company that will be severely undervalued when the time comes.
For instance, with analyst's projections of EBITDA for next year, GeoEye will be trading at an adjusted EV/EBITDA ratio of anywhere from 2-4 times BELOW their competition and peers in this industry.
Why? Simple.
Because of the high margins alluded to above, GeoEye's earnings excluding the depreciation expenses associated with GeoEye-1 are a truer measure of its profit above and beyond pure EPS measures.
Once you back out the depreciation which will be added back on the cash flow statement (another powerful measure of profit we'll get into when the time comes), we see that GeoEye is trading for a pittance compared to its peers and industry group.
Taken along with the improving margins, supreme cash flow generating capabilities once GeoEye-1 is in the fold, and even on a pure P/E ratio basis, GeoEye's shares will be undervalued by anywhere from 50-200% depending on the premium that Wall Street wants to give to the company.
This also doesn't include other metrics like discounted cash flow (DCF) where by my calculations, GeoEye should be trading anywhere from $23-35 per share, giving us a huge margin of safety from today's share prices.
One more important note:
I've said this before when trying to pin down a valuation on GeoEye.
GeoEye's total market cap stood at $327 million on 12-26-08.
I don't know if anyone is paying attention out there, but the total cost to build and launch GeoEye-1 was about $500 million.
In other words, the market is valuing GeoEye right now BELOW the cost of its newest satellite, which still has a 7-10 year lifespan, and this doesn't even include GeoEye's other 2 satellites (even if you say they are worthless, they still generate revenue and tons of free cash), or GeoEye's operations as an ongoing concern.
Am I missing something here, or is Wall Street?
Judging by the insider buying, I would say Wall Street and the market is missing the boat on this one big time.
Would Google Step in?
I read an article by Eric Jackson where he proposed that Google (NASDAQ: GOOG) could be interested in buying GeoEye.
At the time I thought that was ridiculous and far fetched, but as I continue to watch GeoEye's valuation and market cap shrink, I keep thinking to myself that if not Google, someone out there would love to nab the assets of this company on the cheap, and turn a nice cash flow profit over the next 3-4 years with GeoEye-1 fully operational.
As a long term shareholder, I don't want to see this happen of course, but it is a distinct possibility.
I figure in a quick takeover, shares would be worth at least 50% more than they are now, putting GeoEye's market cap at around $650 million or so, giving a premium over the cost of build-out and launch of GeoEye-1, as well as GeoEye's other assets.
That's a minimum fair value to me, but I think we could see shares head higher than that on their own as GeoEye executes.
If you haven't already, get some of this bird before it flies away
In my opinion, GeoEye represents one of those beautiful, calculated risks that should be in almost everyone's portfolio.
Could things not pan out the way I predict?
Of course. Some of those risks include:
- The failure of GeoEye's imagery to be approved by the NGA
- The loss or impairment of GeoEye-1 or one of GeoEye's other satellites
- Loss of future contracts via the NGA or other partners
- Failure of GeoEye to pay for the build of GeoEye-2 from their own cashflow, thus diluting shareholders or taking on more debt to make up the difference
Remember, calculated risk
The whole reason we are able to pick up shares of GeoEye at today's prices is because there is risk involved.
No stock is without it.
I've been pounding the table for GeoEye for quite some time now, and at today's prices which are already significantly off of the lows the stock experienced last week, you are still getting a quality company with a top notch management team at a price that almost expects failure.
In fact, even with GeoEye's decline, it is one of the few stocks that has weathered the downturn in this market relatively well because it does not rely on consumer spending to prop it up.
That alone makes it a safe haven in today's world, but more so than that, GeoEye represents one of the true hidden gems in this market.
A company that is not well know, poorly understood, and intimidating for many to even begin to research.
That means we have an ADVANTAGE over Wall Street and other investors when looking further into the GeoEye story.
That's why you are reading this now, to get a leg up on stocks that you might otherwise never know about, or look into.
Before it's too late, do your own due diligence if you must, but please start a position in this stock immediately, especially if shares dip any more from here.
For those with a deeper understanding of the market and trading, I would suggest buying some in-the-money calls that are 3-6 months out that you can easily convert into shares of the common stock.
Either way, it's time to upgrade your position to a 3/4 or full one right now.