On Wednesday January 23rd, Apple (NASDAQ:AAPL) will report Q1FY13 earnings. Given the latest bull versus bear debates on Apple, analysts estimates for Q1FY13 is a fairly wide range, with Q1FY13 revenues expected to be anywhere from $52.01 to $59.55 billion and Q1FY13 EPS expected to be of anywhere from $11.97 - $15.50. Analysts estimates for Q1 iPhone units sold range from 43mm to 63mm, and for Q1 iPad units sold, the range is 16mm to 28mm. By creating our own model, we can derive the EPS impact across different assumptions for iPhone and iPad units sold. This article will summarize how we create this model and what the EPS results are for different assumptions of units sold.
Base Case Model
The table below shows a simple model that we can use to calculate Q1FY13 EPS estimates.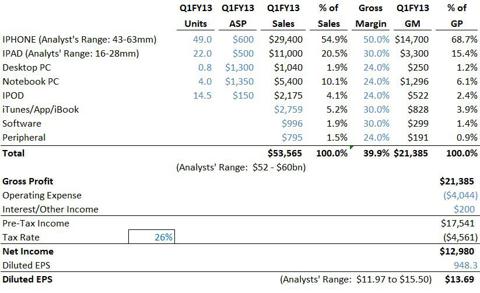 Click to enlarge
To see where I these key assumptions for each product category, please see my previous article here. Based on this model, I get to Q1FY13 revenues of $53.5 billion (middle of the analyst range of $52-$60 billion) and a Q1FY13 EPS of $13.69 (middle of analyst range of $11.97 to $15.50). This will serve as our base case model.
Historical Data
For us to have a proper guess of what should be the proper assumptions for units sold and ASP for Q1FY13, it helps to look at Apple's historical unit growth and ASP growth.
Units: For the 12/2011 quarter, iPhone and iPad units sold increased 127% and 111% from the 12/2010 quarter (note that Verizon carrier was added in late 2011). For the 12/2012 quarter (which is Q1FY13), current average estimates of 49mm iPhone and 22mm iPad units sold represent an increase of 33% and 43% from the previous year's quarter. These seem fair and conservative, compared to the prior year's triple digit growth.
Also note the typical sales pattern throughout the year, as Q1 (the first full quarter after a new product launch) usually has the highest units sold, and the following quarters will trail down as consumers begin to wait for the next product upgrade.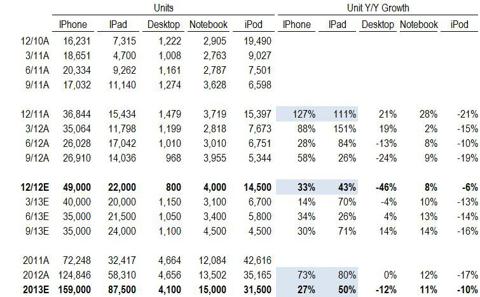 Click to enlarge
ASP: For Average Selling Price shown below, you will notice that ASP for iPhone and iPad declined 7% and 4% in the 12/2011 quarter versus the 12/2010 quarter. For the current 12/2012 quarter (Q1FY13), the year-over-year assumption is even more severe of negative 9% and 17%. Again, it seems that a good amount of negatively has been priced into current Apple projections for Q1FY13.
Click to enlarge
Sensitivity Analysis
Let us now sensitize our base case model across different assumptions for iPhone and iPad units sold and ASP. You will notice that the two products combined consist of 75% of total sales and 84% of total gross profits, so sensitizing these two main product categories will be the most relevant.
iPhone Sensitivity: Wall Street analysts current have a very wide range for Q1 iPhone units sold of 43mm to 63 million. Let us sensitize our model across this entire range. Let us also sensitize the ASP from $550 to $630. The prior year's units sold was 37 million and ASP was $658, and I have added the implied year-over-year growth or decline, for easy comparison.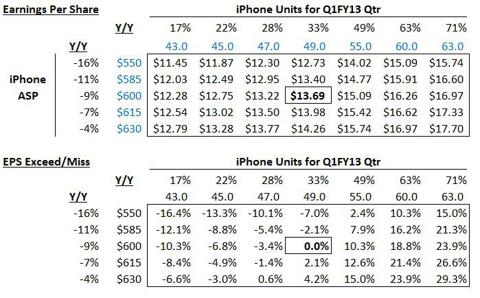 Click to enlarge
As you can see, depending on where you think the results will be for units sold and ASP, you can have EPS missing by -16.4% on the maximum downside, or EPS exceeding by +26.6% on the maximum upside. Note though that Apple may also report results even outside this wide range that we have sensitized.
Bull's case: As explained by analyst Berstein, iPhone sales for Verizon (NYSE:VZ), AT&T (NYSE:T), and Sprint (NYSE:S) should total 16.75mm units for Q1. Add another 1.5 to 2mm for recently added T-Mobile carrier (T-Mobile has about 60% of Sprint's subscribers, or 33mm versus 55mm, therefore I took 60% of Sprint's projected Q1 unit sales of 2.8mm), and you get to almost 19mm units just for the United States. In Q12012, Q22012, and Q32012, Apple's U.S. unit sales as percent of global unit sales was 25%, 30%, and 35%. Assuming U.S. market share of 35% on the 19mm units, you get to a global unit count of 54mm (FYI, if you assume 30% market share, remember iPhone 5 rolled out in more countries this time around, you get to 63mm global units).
Bear's case: Competition remains fierce in the smartphone industry. For the Dec/2012 quarter, Samsung (OTC:SSNLF) likely shipped a total of 63 million smartphones, driven 15 million units of Galaxy S III and 8 million of Galaxy Note II (its phablet). In addition, Nokia (NYSE:NOK) announced it has shipped 4.4 million of its Windows-based Lumina smartphone in the Dec/2012 quarter. Finally, RIMM (RIMM) is launching their long anticipated BB10 on January 30, and some consumers (especially RIMM loyalists) may have delayed their smartphone purchases in the Dec/2012 quarter to see if the upcoming BB10 is worth possible consideration.
iPad Sensitivity: For iPad units sold, Wall Street analysts have a wide range of 16mm to 28mm. Again, let us also add ASP sensitivity around the average of $500. Note that the base case $500 is already assuming down 17% y/y from Q1FY12 ASP of $606. This primarily is due to the lower price point of iPad mini launched in recent months.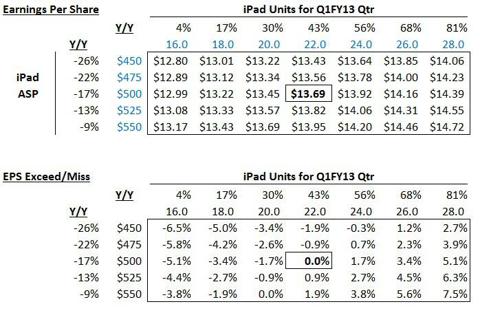 Click to enlarge
As shown above, depending on where you are in that range, the EPS can miss by -6.5% on the maximum downside, to exceeding +7.5% on the maximum upside. iPad is not as impactful on overall EPS results as iPhone, given it only contributes 21% of sales versus 55% for iPhone, and 15% of gross profit versus 69% for iPhone.
Bull's case: The tablet industry continues to take market share away from traditional PC and is projected to grow 75% in 2013, and Apple currently dominates the tablet space. Apple's iPad unit growth for the Dec/2012 quarter of 43% year-over-year, seems conservative compared to 75% industry growth rate expectations. The launch of iPad mini should also help fend off lower priced competitors including Amazon's Kindle (NASDAQ:AMZN), Samsung's Galaxy, and Google's Nexus 7 (NASDAQ:GOOG).
Bear's case: The bear's case for the tablet is similar to the iPhone bear's case, which is that intense competition will drive down Apple's dominant market share. For example, Amazon's Kindle tablets have been reported to be priced at break-even (or even a slight loss), in an effort in increase their tablet market share (and eventually recoup its initial loss through e-book sales). Microsoft (NASDAQ:MSFT) also launched its own Surface tablet in the Dec/2012 quarter, and all of their OEM partners have begun to launch their own Windows 8 tablets.
Valuation
Bulls Case: In terms of how Q1FY13 EPS results will impact Apple's share price, the simple way to think about it is if Q1FY13 earnings come in above current consensus of around $13.50 EPS (and Q2 guidance is in-line or above expectations), then it will confirm that current full year 2013 EPS of $48.22 a share is fairly accurate and does not need further downward revisions (previously was $54 per share). Applying a conservative 10x P/E multiple to the $48.22 gets you to $482 a share. Add in the 9/30/2012 cash balance of $128 per share, and that gets you to $610 per share. By the way, note also that the cash balance for 12/31/2012 will add another quarter's worth of cash flow and will end up higher than the $128 per share. Also, note Apple may continue to use their cash balance to buy back stock. Finally, as Apple rolls out new innovative products and gets back on track (I agree that iPhone 5 was not a huge innovation jump), it's P/E multiple will expand from the conservative 10x applied above (to a more reasonable 12-14x multiple), and the stock price will continue to trade above $610 per share.
Bear's Case: If Apple misses consensus EPS for Q1FY13, then Wall Street analysts will have to reassess their already revised projections for 2013. In that case, the stock could possibly trade down to $400 per share, given that the low P/E argument does not work if Apple is projected to have declining EPS going forward (i.e.: Apple's 2012A EPS was $44 per share implying 11x P/E, but if the revised 2013E EPS declines to say $40 per share, then the P/E goes up to 12.5x).
In Summary
Whatever your own estimates are for iPhone and iPad unit sales and ASP this quarter (whether you are an Apple bull or bear), hopefully this article has helped you to quantify your assumptions into impact on EPS. I'm remaining bullish on Apple through earnings, mainly because there seems to be a fair amount of negativity already priced in. We will all know soon enough where Apple's stock has finally hit bottom, or if there's more potential downside. Good luck everyone.
Disclosure: I am long AAPL. I wrote this article myself, and it expresses my own opinions. I am not receiving compensation for it (other than from Seeking Alpha). I have no business relationship with any company whose stock is mentioned in this article.