Wednesday afternoon, all eyes will be on Apple (NASDAQ:AAPL). The tech giant will release its fiscal first-quarter results after the bell. On Tuesday, Apple shares traded for $505, down $200, or 28% from the September 21, high. Many reasons exist, including profit taking and potential tax-selling ahead of the fiscal cliff, but the biggest worry is the fear of Apple's growth slowing. Today, I'll preview Apple's results from all angles. To change things up a bit, I'll provide both a baseline estimate for what Apple could need to report to beat current analyst estimates, as well as a general prediction for what I think Apple will do.
Past Results
First, it is important to look back at Apple's recent Q1 history. The table below shows how Apple has fared in fiscal Q1 over the past three years. Back then, there was no iPad. Mac sales represented more than 28% of Apple's quarterly revenue. Add in the iPod, and you were at 50% of revenue. Times have certainly changed.
Looking back at last year's quarter, there was an interesting wrinkle, an extra week. You might not think that the 14th week is that important, but an average week in that quarter was $3.31 billion in revenue and almost $1 in earnings per share. At that pace, Apple was doing about $20 million in revenue per hour. Apple was making more money a day than most people make in a lifetime.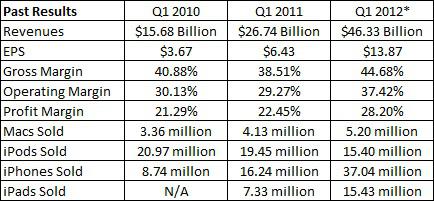 *14 weeks.
When comparing this year's quarter with last, I've tried whenever possible to use 13-week comparisons to show Apple's true growth. If you use the 14-week period, you shortchange it a bit. There are certainly a number of key themes this year. They include the biggest product release in Apple's history, the iPad mini, and a weak PC market. All of these were contributing factors to Apple's weak earnings and margin guidance, and Apple does have some questions to answer. In the next few sections, I'll discuss these themes in more detail, as they relate to each individual product.
Breaking Down The iPhone
The iPhone controversy is one reason why Apple's stock has done so poorly lately. A number of analysts have cut their iPhone estimates for Apple's fiscal second quarter, and some analysts are expecting a new iPhone perhaps as early as June. Analysts are expecting a lot, close to 50 million sold for the first quarter. That would be up from last year's 37 million, which had an extra week. Apple was looking to have the iPhone available in roughly 100 countries by the end of December.
Why are there concerns about Apple's Q2 iPhone sales being so weak? Well, you have to remember a few key points. First, in last year's quarter, the iPhone 4S didn't go on sale until mid-October, which meant less selling time. It also didn't go on sale in China until fiscal Q2. This year, the iPhone 5 went on sale during late September, and was available in China in December. That pushes up the calendar a bit, with a few million iPhone 5 sales occurring in Q4. Thus, it's not unreasonable to expect that there will be a large Q1, then a drop off in Q2. You might also get a drop off toward the end of Q2, especially if rumors start increasing about a new phone in June.
Back to Q1. Current estimates call for about 50 million, and the range is extremely wide, from 43 million to 63 million. It's not just the number of units sold that matters, however. The average selling price is key as well. The difference between say $635 and $645 on 50 million units is half a billion dollars in revenue. That could be the difference between Apple beating and missing analyst estimates. Also, since the iPhone is a higher-margin product, it really helps the bottom line.
The following table shows Apple's iPhone unit sales and average selling prices over the past two years. As stated in Apple's quarterly filings, iPhone sales "include revenue from sales of iPhone, iPhone services, and Apple-branded and third-party iPhone accessories." Additionally, for all of Apple's four product lines, each product's revenue contains "amortization of related revenue deferred for non-software services and embedded software upgrade rights." In each product section, I'll include a similar table. The unit sales are all in thousands, and the average selling prices are based off the revenue from each segment, including what I just detailed above. The highlighted area represents last year's fiscal Q1. I would not be surprised to see the average selling price continue higher from Q4 levels this quarter, thanks to a large portion of sales coming from the iPhone 5.

Breaking Down The iPad
The iPhone will get a lot of attention, but the more interesting storyline this quarter, in my opinion, has to do with the iPad. Apple released the iPad mini this quarter, which is likely to both boost total unit sales and reduce average selling prices. It will be interesting to see not only how many minis are sold (if Apple tells us), but how many regular ones were sold as well. The table below shows the past two years of iPad unit sales and selling prices. When it comes to the iPad, revenues "include sales of iPad, iPad services, and Apple-branded and third-party iPad accessories."

Last quarter, iPad unit sales disappointed. Analysts were looking for roughly 18 million to be sold, but it appeared that consumers held back their purchases in anticipation of the new mini. Just days before Apple's earnings, when Apple unveiled the mini, CEO Tim Cook stated that 100 million iPads had been sold since the introduction of the product. Many analysts quickly lowered their estimates based on that number, down to a range of roughly 15 to 16 million. However, Apple came in at just over 14 million.
Current estimates call for about 24 million in Q1, with maybe half of that from the mini. Apple also released a new fourth generation iPad when it released the mini, and a new iPad is expected in March. Last quarter, the average selling price was fairly stable, compared with the drops in previous quarters. We know that this quarter will see a huge drop, thanks to the lower priced mini.
Breaking Down Macs
I probably will focus on Apple's Mac sales more than most, but there is a method to my madness. Apple's Mac line still represented more than 14.8% of total revenue in Apple's latest fiscal year. The Mac won't have as much importance during this fiscal first quarter, but it still should represent about an eighth of Apple's total sales.
Everyone knows that the PC industry is struggling currently. Worldwide PC shipments were forecast to fall more than 6% in the fourth calendar quarter, and more than 3% in 2012. IDC projects Apple's PC sales to be roughly flat in the U.S. for the fourth calendar quarter and down about 1% on the year. That's not too bad, compared with some of the declines we are seeing from names like Dell (NASDAQ:DELL).
When it comes to the Mac, current estimates are for about 5.2 million unit sales in the quarter. That's flat versus last year's quarter. Apple has caused the growth to stall here, thanks to the iPad. Add in Google's (NASDAQ:GOOG) Nexus, Microsoft's (NASDAQ:MSFT) Surface, and a few others, and PC sales will be sluggish as consumers drift toward tablets. The following table shows Apple's Mac sales over the past two years. I've broken it down into three segments: desktops, portables and an overall total. Apple's desktop revenues "include revenues from iMac, Mac mini, and Mac Pro sales." Apple's portables revenues "include revenues from MacBook, MacBook Air, and MacBook Pro sales."

When it comes to the desktop line this quarter, I think you will see a decline in the average selling price. Apple introduced a $599 Mac mini during the quarter, which will impact selling prices a bit. It may also help desktop unit sales, which fell year over year in the past two quarters. As for the portables, I think you will see a continued increase in the selling prices. Apple's MacBook Pro line with Retina Display starts at $1,699 for the 13 inch and $2,199 for the 15 inch; sales of those definitely help the overall average.
Breaking Down The iPod

While the iPod doesn't matter as much as it used to, I will continue to cover it until Apple stops selling it. In last year's Q1, the iPod represented nearly 5.5% of Apple's total revenue. When it comes to iPod revenue, the ones I describe only come from the sale of iPods. Other sales, such as those from iTunes and iPod accessories, do not count here. More on this later.
Apple did refresh the iPod nano during the quarter. As the table below shows, the unit sales and average selling prices have been declining in recent years, as this product has become outdated. It still is a contributor, though, but I won't focus on it as much.

Other Revenue
Finally, it's important to look at Apple's "other revenues." There are a number of items not included above that contribute significantly to Apple's business. These items include the following:
Revenue from sales from the iTunes Store, App Store, and iBookstore, in addition to sales of iPod services and Apple-branded and third-party iPod accessories.
Peripherals and other hardware, including revenue from sales of displays, networking products, and other hardware.
Software, service and other sales, including revenue from sales of Apple-branded and third-party Mac Software, and services.
These "other revenues" accounted for just over 9.4% of Apple's total revenue in its most recent fiscal year. In Q1, this revenue should be in the $4 billion to $5 billion range. In last year's quarter, it accounted for $3.64 billion in revenue. The following table shows this revenue over the past two years. Dollar values are in millions.

Overall Results/Margins
When it comes to Apple's overall results, I've tried to estimate how many units it needs to sell at what price points to beat estimates. This is based on the current estimate, as of Tuesday, for $54.69 billion in revenue and earnings per share of $13.42. These are not my predictions for what Apple will do, merely an estimate of how many units it needs to sell to beat estimates, based on where I feel the average selling prices will be. My predictions are later. The unit and revenue columns below are in thousands, with selling prices being actual.

In addition to these sales, I've added in those "other revenues." This gives you a total of $54.694 billion, which would come in right around estimates. Again, don't think that if Apple does better in just one category, it could beat. If Apple does the 50 million iPhone sales analysts think it could, it could still miss if iPads are weak, or Macs struggle, etc. This is more of an overall baseline. It also assumes those selling prices. Any deviation in the average selling prices will have an impact on the results.
You may ask why some of my unit sales vary a bit from the product sections above. In those sections, the estimates include figures from independent analysts, which are often more bullish. My table here is based off the current Wall Street revenue estimate, which is lower.
The second thing I've done is a comparison below between Apple's estimates and analyst estimates. I've tried to figure out where Apple's margins need to come in to beat on the bottom line. For Apple, I am using the given guidance for revenue, earnings, and gross margins. For the analyst numbers, I used the estimates for revenue and earnings, and tried to use past results to get a rough estimate of where Apple needs to be. Apple could miss on gross margins, but if operating expenses come in lower than expected, that would help. Don't rely on these as a true hard line that Apple needs to hit.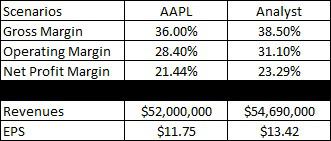 Balance Sheet
Apple's balance sheet is in great condition. You won't find many companies that have more financial strength and flexibility. During the fiscal year that ended in September of 2012, Apple increased its cash pile (including cash and equivalents, short- and long-term investments) from $81.57 billion to $121.25 billion. Two-thirds of that is held overseas. Apple has started returning some cash to shareholders with a $2.65 quarterly dividend, which currently yields 2.12% annually. Apple also has a buyback program, which was scheduled to start in the quarter it is reporting this week. We'll find out soon enough if it has bought back any shares. This buyback program was not meant to reduce the share count. The primary goal was to reduce the impact from option dilution, and it is possible that the share count could continue to rise.
In last year's fiscal Q1, Apple's cash pile soared by more than $16 billion. Investors should realize that we probably won't see that kind of rise this quarter, for a few reasons. First, based on current estimates, net income is expected to be flat to slightly lower than in last year's Q1. Of course, if Apple beats, this could change. The second issue is the dividend, which is costing Apple about $2.5 billion per quarter. There was no dividend in last year's quarter, and no potential buyback. Apple's cash pile will grow by a fair amount, but probably in the $10 billion to $15 billion range.
Guidance/Looking forward
Everyone will be looking to see what Apple's guidance is for its fiscal second quarter. It probably will be below analyst estimates, because the company always provides conservative guidance. A few things to remember, though. Apple did nearly $39.2 billion in last year's fiscal Q2, and that was based on 35 million iPhone sales. Given all of the reports we've heard lately, that might be tough to compete against, especially since the iPhone timeline has moved up. The iPad only sold 11.8 million units in last year's period, so there is room for improvement there.
When it comes to Apple's Q2 guidance, I would not be surprised to see Apple guide to revenue somewhere in the range of $38 billion to $44 billion, and earnings per share in the $10 to $11 range. That would seem a bit weak, but analysts seem to be realizing this. The following table shows the average analyst estimates for Q2 over the past few weeks. Notice how far they've fallen, and they are likely to fall further if Apple's guidance is below this number. Revenue in billions.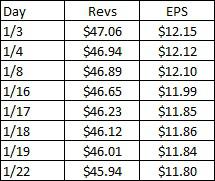 It's not just the Q2 estimates that have come down. Apple analysts have been cutting the full-year estimates even more (in terms of overall dollars). Some of this is cuts to Q3 and Q4 estimates, but there are also a number of analysts that only provide full-year guidance, not quarterly estimates. The table below shows how Apple's average estimates have come down since its previous earnings report (the 10/25 figure).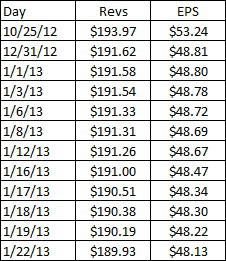 My Predictions
Since everyone probably wants to know where I think Apple will actually come in, here are my guesses:
Revenue: $55.12 billion
EPS (diluted): $13.52
Gross margins: 38.27%
Operating margins: 31.07%
Net profit margins: 23.28%
iPhones sold: 48.6 million
iPads sold: 23.05 million
Macs sold: 5.17 million
iPods sold: 12.6 million
Final Thoughts
Given all of the fear surrounding Apple right now, this quarterly report is going to be very important. Apple is expected to set a new quarterly record for revenue this quarter based on tremendous iPhone sales and the success of the iPad mini. The company is also looking to potentially break its earnings per share record. Apple will put up large numbers, but will they be enough to beat analyst estimates?
As for the stock, you would think that a $200 drop from the high would mean that even if Apple misses, it should all be priced in. That's not the case here. If Apple does in fact miss, you're going to hear a ton of negativity out there, with many claiming that Apple is doomed and the fall is coming. Considering that Apple should post more than $50 billion in revenue for the quarter, this isn't a company in trouble, especially when you consider the huge cash pile. Nonetheless, there will be growth concerns if it misses. Apple is facing the law of large numbers here. It's harder to grow when your base is $156 billion in revenue, compared with when it was just $50 billion.
If Apple can weather this storm and beat estimates, some of that negativity should subside for the short term, and shares will recover a bit. Investors will then start to look at the future of Apple. That could include a new version of the iPad mini, the next iPhone, perhaps even a TV. We could also see a dividend raise in the next couple of months.
While I realize this preview was a bit lengthy, that's what you get with Apple. If the iPad were its own company, it would be the 11th-largest technology company, and would be #98 in sales in the Fortune 500. The device does more in annual sales than McDonald's (NYSE:MCD), Nike (NYSE:NKE) and Macy's (NYSE:M). That's amazing, considering the device has been out less than three years. There's a lot to analyze with Apple, and I hope my preview reflects that.
Disclosure: I have no positions in any stocks mentioned, and no plans to initiate any positions within the next 72 hours. I wrote this article myself, and it expresses my own opinions. I am not receiving compensation for it (other than from Seeking Alpha). I have no business relationship with any company whose stock is mentioned in this article.
Additional disclosure: Investors are always reminded that before making any investment, you should do your own proper due diligence on any name directly or indirectly mentioned in this article. Investors should also consider seeking advice from a broker or financial adviser before making any investment decisions. Any material in this article should be considered general information, and not relied on as a formal investment recommendation.