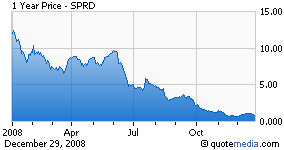 $35 million (market cap) Spreadtrum Communications (NASDAQ:SPRD), which had been one of the hot young darlings in the exploding market for cell phones in China, is continuing to feel the fall-out of a market that just hasn't cooperated. Estimates for mobile phones have been slashed worldwide in the last few months, and China is not immune. On Friday, Spreadtrum slashed its forecast for revenue for the current quarter in half, to $10 million from $20 million. The company, which makes so-called baseband and RF chips that process the wireless protocols used in a cell phone, said that "Due to ongoing difficulties in the Chinese economy, customers serving the Chinese mobile phone market are experiencing unusually weak demand for mobile phones. Consequently, customers are not able to fulfill their prior commitment to the company. The company will cut 15% of staff, it said.
And wouldn't you know it, you shares are actually up 6 cents today, or 7.8%, at 85 cents. Perhaps investors feel they've now heard the worst.
Perhaps they haven't. In a note to clients Monday, Needham & Co. analyst Quinn Bolton predicts further pain from falling prices and cancelled projects at cell phone makers who use Spreadtrum's chips: "we anticipate continuing pricing pressure, particularly on the low-end and increasingly on the mid-range to high-end, as handset demand declines and semiconductor companies fight to secure orders and OEMs ask for price concessions. Market conditions have also resulted in slower new product ramps…" Bolton reiterated a "Hold" rating on the stock, and cut his estimates to $70 million in sales for this year, down from a $110 million estimate. For next year, he's cut his number to $110 million from $132 million. The result is that the company will lose a penny per share next year, instead of the 3-cent profit he was expecting, and it will lose 30 cents in 2010, much worse than the 5 cents he was forecasting.