Occasionally an investor will be given an opportunity to invest in a high quality company at a discounted rate. The market will view a short-term blip as a sign of weakness in the company's prospects and mark the shares down. This is the current opportunity presented by Bed Bath & Beyond (NASDAQ:BBBY), a specialty home goods retailer. The article will examine the three key criteria in my opinion will power the shares higher in the upcoming years.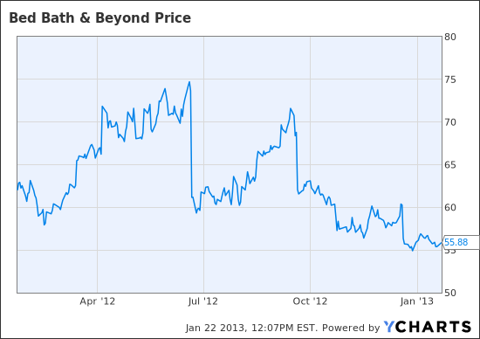 BBBY operates 1,004 Bed Bath & Beyond stores along with Christmas Tree shops, World Markets and buybuy BABY stores. The company mentioned during the most recent conference call that it expects the U.S. to be able to accommodate 1,300 Bed Bath & Beyond stores, which shows that the overall market isn't saturated. The ability to expand by roughly 30% of its current flagship store base over the coming years will have a positive impact on profits going forward.
The hidden gem in the holdings is the buybuy BABY concept with a total of 80 stores. The chain carries every possible baby related product that a parent could possibly imagine. Parents naturally want the best for their children and are willing to spend significant money. The ability to go to a store that specializes in baby products with a large assortment of goods offers a tremendous advantage over Target (NYSE:TGT) or Wal-Mart (NYSE:WMT). The most similar competitor is Babies R Us with a current store count of 260 stores and expanding. I can envision the chain expanding out to a similar store count to Babies R Us, which would triple the existing store count and have a positive impact on the parent company's sales and earnings.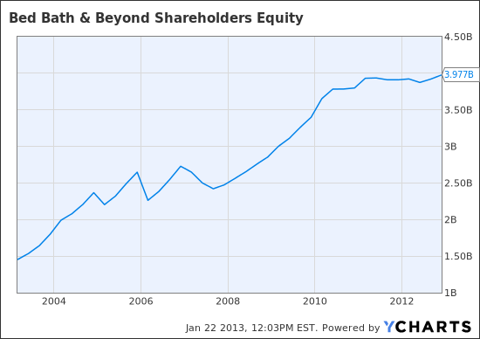 The second component of my bullish thesis on BBBY revolves around its superior balance sheet. BBBY currently has no outstanding debt and is buying back shares directly through cash flow. The company currently has 223 million left on a buyback authorization that will be completed at the end of this quarter.
The company announced a new buyback authorization of roughly $2.5 billion that will be completed over the next three years. At a current market cap of under $13 billion, the buyback should retire at least 15% of the outstanding shares depending on market price paid. The buyback will provide a nice tailwind adding earnings growth into the foreseeable future.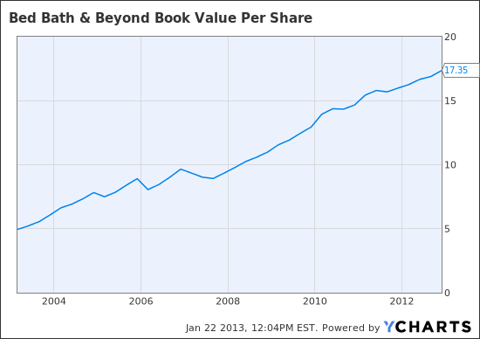 The third component of my bullish thesis revolves around management and their stewardship of the company. Management has been truly outstanding and has consistently taken care of shareholders. As mentioned above the company carries no debt and has aggressively bought back shares.
Since 2004, the company has managed to shrink it share float from 294 million to 230 million shares outstanding while self funding growth from 721 to 1469 stores. The company has consistently generated a return on equity in excess of 20% except for 2008 and 2009 during the depths a nasty recession. It stands to reason as household formation returns to historic numbers BBBY should profit handsomely from this trend.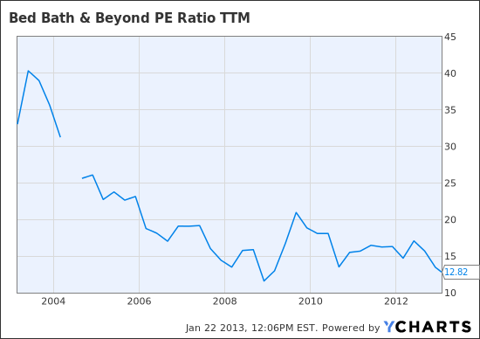 In conclusion, BBBY offers a compelling valuation at its current price. The shares are trading at 12 times 2012 earnings (expected to come in at $4.5 per share or higher). As management continues to execute its game plan, I expect BBBY shares to trade significantly higher in the coming year -- perhaps eclipsing its recent 52-week high of roughly $75. Patience is required here, however. Those who are content to wait and give the company time to perform will be handsomely rewarded.
Disclosure: I am long BBBY. I wrote this article myself, and it expresses my own opinions. I am not receiving compensation for it (other than from Seeking Alpha). I have no business relationship with any company whose stock is mentioned in this article.
Disclaimer: This article is for informational purposes only.