By: Brendan Gilmartin
McDonald's (NYSE:MCD) is scheduled to report 4Q 2012 earnings before the opening bell on Wednesday, January 23. The results are typically released just prior to 8:00 a.m. eastern and will follow with a conference call at 11:00 a.m. McDonald's warrants close watch this quarter, given the recent run-up in the shares and its exposure to the global economy.

Outliers & Strategy
Key measures:
Earnings Per Share: The current Street estimate is $1.33 per share (source: Yahoo! Finance). Given the extent of the recent advance, traders will be looking for a figure near the high end of the forecasted range ($1.39 to $1.42)
McDonald's shares sold off sharply in each of the two previous quarters after earnings came in below forecasts.
Revenues: The current estimate is $6.89 bln, with more bullish analysts looking for a figure closer to $7.0 bln.
Global Comparable Sales: According to Zacks Investment Research, the estimate for Global Comparable Sales for the 4Q period is (-0.4%). Estimates range from (-3.0%) - (0.7%).

Possible sympathy plays off the McDonald's numbers: Jack in the Box Inc. (NASDAQ:JACK), Burger King Worldwide, Inc. (BKW), The Wendy's Company (NYSE:WEN).
While the shares are up more than 10% off the mid-November lows, sentiment in McDonald's is now quite high, thanks in part to the stronger than expected sales report in early December and positive comments from the sell-side.
Recent News
01/18: UBS raised its price target on McDonald's to $100, according to a report on Dividend.com. The firm reportedly believes the market is stabilizing for McDonald's.
01/18: According to a post on Seeking Alpha, Wells Fargo is telling investors it expects McDonald's to report stronger than expected earnings for the 4Q period.
01/09: Raymond James cut McDonald's from Outperform to Market Perform, according to a Seeking Alpha post. The move was based on lack of catalysts and concerns over global sales.
12/10: McDonald's reported that Global Comparable Store Sales rose a stronger than expected 2.4% in November, thanks in large part to a 2.5% jump in the U.S. The estimate at the time was for an increase of 0.2%.
12/07: Janney Capital Markets upgraded McDonald's to a Buy rating, according to a post on Barron's Online, due in part to valuation. The firm also raised sales expectations for November and December. The firm also noted that McDonalds will see easier comparisons further out in 2013.

Technical Review
McDonald's shares are up more than 10% off the November lows and within earshot of the "Double-Top" resistance near $94.00 (Sept/Oct highs). Should earnings and global comp sales surprise to the upside, look for the shares to test this level. Conversely, initial support is near $91.00, followed by the 200-Day SMA near $90.00, and $88.00. (Chart courtesy of StockCharts.com)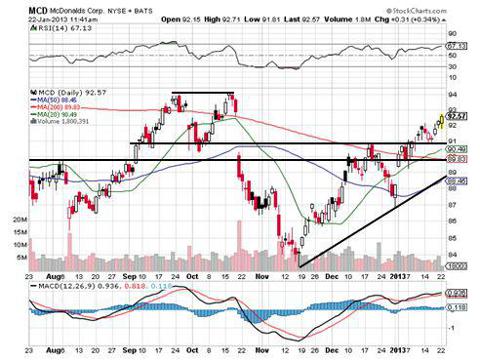 Summary
McDonald's shares are rallying in advance of the 4Q 2012 earnings release, thanks in large part to an improving sales backdrop, both in the U.S. and abroad. Given the recent strength, the shares are vulnerable to any missteps. Risks include a negative global comparable sales comp weaker than -1.0%. Should earnings top consensus estimates by at least several cents and global comps come through positive, McDonald's could rally back toward the September/October highs near $94, with further upside in the weeks to come.
DISCLAIMER: By using this report, you acknowledge that Selerity, Inc. is in no way liable for losses or gains arising out of commentary, analysis, and or data in this report. Your investment decisions and recommendations are made entirely at your discretion. Selerity does not own securities in companies that they write about, is not an investment adviser, and the content contained herein is not an endorsement to buy or sell any securities. No content published as part of this report constitutes a recommendation that any particular investment, security, portfolio of securities, transaction or investment strategy is suitable for any specific person.
Disclosure: I have no positions in any stocks mentioned, and no plans to initiate any positions within the next 72 hours. I wrote this article myself, and it expresses my own opinions. I am not receiving compensation for it (other than from Seeking Alpha). I have no business relationship with any company whose stock is mentioned in this article.