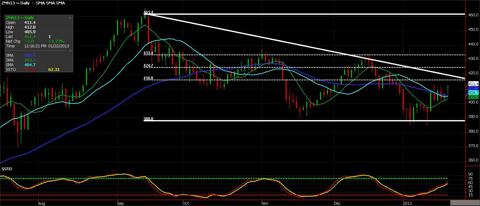 In the last 2 weeks, soybean meal has bounced from oversold levels, as we are starting to see confirmation of a bigger move with settlements above all shorter dated MAs. I like bullish exposure in July contracts, and the fact that this market remains inverted means I like allowing the extra time for the trade to develop. Use the Fibonacci levels on the chart above as your objectives on the way up.
This contract is not as followed as most AGs, so I apologize if this is redundant for most, but the contract size is 100 short Tons. In leverage terms, a move in the futures of $1 from $410 to $411 or $409 would equate to $100 gain/loss. I am positioning clients to take advantage of a potential move back to the fall highs in the coming weeks/months. My favored play at the moment is in the money bull call spreads. Options do not move 1:1 with futures, so make sure you are familiar with the vehicle you choose to trade.
A monster crop is priced in out of South America, and I think any number of hiccups, whether it is crop problems or a bump up in demand, could support a move higher in the coming weeks/months. An additional fundamental perspective -- I think tighter feed grain supplies and increased protein demand globally could aid in upside on any supply constraint or increase in demand.
Risk Disclaimer: The opinions contained herein are for general information only and not tailored to any specific investor's needs or investment goals. Any opinions expressed in this article are as of the date indicated. Trading futures, options, and Forex involves substantial risk of loss and is not suitable for all investors. Past performance is not necessarily indicative of future results.
Disclosure: I have no positions in any stocks mentioned, and no plans to initiate any positions within the next 72 hours. I wrote this article myself, and it expresses my own opinions. I am not receiving compensation for it. I have no business relationship with any company whose stock is mentioned in this article.