Below are some highlights from today's report on existing-home sales from the National Association of Realtors for December.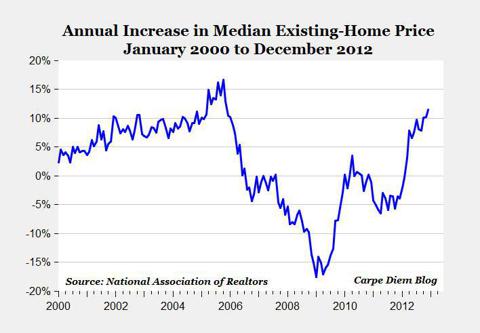 1. The median sales price for home sold in December of $180,800 was an increase of 11.5% from December a year earlier, and was the largest year-over-year gain in median home price since a 12.9% increase in November 2005, more than seven years ago (see chart above).
2. For all of 2012, the median existing-home price ($176,600) increased 6.3% from 2011 ($166,100), and was the highest annual price gain since 12.4% increase in 2005.
3. December existing-home sales of 4.94 million units (at an annual rate) were 12.8% above sales a year earlier, the third consecutive month of double-digit sales gain on a year-over-year basis.
4. The preliminary annual total for existing-home sales in 2012 was 4.65 million, an increase of 9.2% from 4.26 million homes in 2011, and the strongest annual increase in existing-home sales since 2004.
5. Total housing inventory at the end of December fell to 1.82 million existing homes available for sale, which represents a 4.4-months supply at the current sales pace -- the lowest housing inventory level since May of 2005 when there was a 4.3-month supply of homes.
6. The median marketing time for homes sold in December was 73 days in December, a decrease of 26 days, and 26% below the average marketing time in December 2011 of 99 days.
7. On a year-over-year basis, both existing-home sales and the median sale price have registered double-digit gains for three consecutive months (October, November, and December 2012), which has happened since at the 1990s.
8. For the month of December, existing-home sales were the highest last year since 2006, six years ago.
Bottom Line: December existing-home sales continue the pattern that started early last year as the housing recovery took hold -- more homes are selling faster at higher prices.