My favorite measures of sentiment have always been the option ratios. Sentiment surveys measure what people are saying, but option ratios measure what people are actually doing. Currently, the option ratios are saying that we are much closer to the end of this rally than the beginning.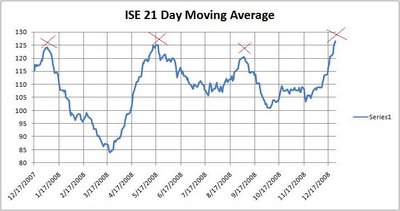 The chart above is the 21 day moving average of the ISE Sentiment Index. The higher the line on the page, the more calls are being bought. This measure of sentiment is now sitting at a 52 week high. The three other times that sentiment reached these levels were shortly before major legs down in the market.
This does not mean that the market must go down soon. In Bull Markets sentiment can go much higher than current levels. This only means that unless the underlying character of this market has changed, we are currently at a point where the market has run into trouble in the past year.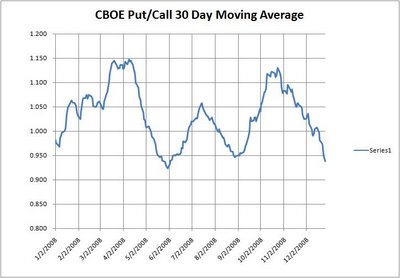 The chart above is the 30 day moving average of the CBOE Put/Call ratio. The lower the line on the page, the more calls are being traded. This sentiment index is approaching a 52 week extreme which is another warning signal for the market (although the line is likely headed lower for the next six trading days).
This coming week is a seasonally strong period and there is still room for the CBOE 30 Day MA to go lower. The market still has a window in which to rally but that window is closing quickly.
The S&P 500 currently trades at approximately 15% below its fair value. At times like these I prefer to look for reasons to buy, but the extreme in sentiment is too glaring for me to ignore. There are some differences between now and the past few times these sentiment indicators were flashing red. Sentiment surveys are not confirming the bullishness of investors and the Federal Reserve was not engaging in quantitative easing the past few times as they are now. However, it is troubling that investors are getting bullish even though the market is just churning. I am treating this market as being guilty until proven innocent.
Disclosure: None.