In the first part of this series I discussed bullish synergies in the Bakken for 2013. Differentials should improve and be less volatile. It will be wide by historical standards, but better year over year. Costs are decreasing, with emphasis on proppant and water. Operators are using more due to cost decreases which should increase production. Railroad transportation of Bakken crude is increasing. EOG Resources (NYSE:EOG) uses virtually no pipeline capacity for its Bakken production. This is sent to St. James for LLS pricing. Tesoro (NYSE:TSO) is doing the same to its Anacortez refinery, and is planning to start railing oil to California. Phillips 66 (NYSE:PSX) signed a deal for Bakken crude transported to its Bayway refinery on the east coast. Look for further rail capacity additions coming on line over the next couple of years. This should open pipes for other Bakken players.
My first stock pick was Northern Tier (NYSE:NTI). This refiner is levered to the Bakken. Its inexpensive feedstock is producing good margins. Kodiak (NYSE:KOG) will also outperform. Both are good from a long-term perspective, but different strategies are needed in 2013. I will go over my strategy on this trade at the end of this article, in the meantime we will discuss catalysts to Kodiak growth in 2013.
Kodiak is one of the best growth stories in the Bakken. Triangle Petroleum (NYSEMKT:TPLM) and Halcon (NYSE:HK) are also attractive. Triangle as a Bakken pure play, and Halcon as a western Williams' County focus. Triangle has very good management, and I believe its Montana leasehold is also prospective the Red River formation. Halcon's western Williams County acreage is economic and has very low costs. Last year we made a very nice profit on Kodiak after a big pullback. This trade was done over a few months buying stock on pullbacks. This may not happen in 2013, but it is not a bad idea to be positioning for what could be a volatile year for WTI. Leave some cash on the sidelines as we could get another opportunity to establish a cheap position.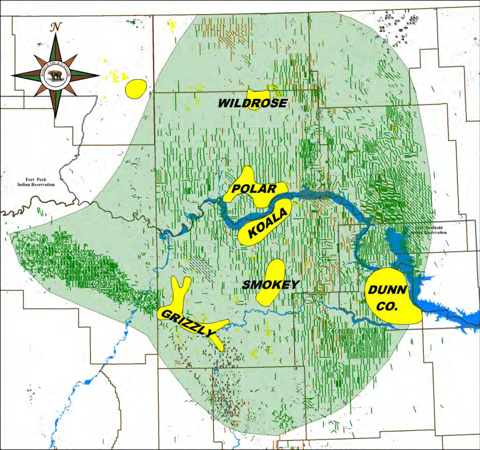 Click to enlarge
Over the past couple of years, Kodiak has become a more consistent company. This was accomplished through cost reductions, with emphasis on water. Kodiak is building infrastructure to pipe more water which decreases costs per barrel. Disposal wells and water depots are increasing in number. This should continue to drive cost reductions in water. The last two quarters it has met and beat analyst EPS estimates. This is important, as Kodiak was anything but consistent before this. Spud to release days are improving. In the third quarter of 2012 it averaged 20 to 25 days. This was a year over year improvement from 35. Its completion crews have had success with zipper fracs decreasing completion time and cost. Kodiak is now able to bid jobs ahead of time, as crews and equipment are now available. Fourth quarter well costs in the deepest part of the basin are down to $10.5 million, from a high of $12 million in 2012. These are in areas with 11000+ vertical feet depth using 100% ceramic. Kodiak estimates these costs will decrease to $10 million in the first half of 2013, and with a goal of below $10 million. More importantly are the costs in Wildrose, Grizzly and Charging Eagle. The lower pressure of these areas does not warrant the use of 100% ceramics, and Kodiak is moving to sand and ceramic coated sand to make it more cost effective. This lowers well costs in the $7 to $7.5 million range. On a side note, Wildrose and Charging Eagle are better areas than Grizzly. It will be interesting to see how these areas are developed based on recent results. I will go into well results in a later article in an attempt to show these differences.
In 2013, well costs are not the only positives. Kodiak will start development of the second bench of the Three Forks. It has plans for two separate areas. The first in its Smokey Prospect. This is just 15 miles from Continental's (NYSE:CLR) first test. Charlotte 2-22H is located in Banks Field of northeast McKenzie County. This is just a couple miles from Kodiak's 1000+ MBoe Koala wells. The Polar test is approximately 10 to 12 miles north of that location. The second bench was also tested by ConocoPhillips (NYSE:COP). Sunline 11-1TF was another positive result located in Clear Creek Field about 20 miles east of the Charlotte well. Continental has modelled both wells. The Charlotte well has an EUR of 561 MBoe and Sunline's EUR is 696 MBoe. More importantly, the Charlotte well is an approximate 9500 foot lateral with 20 stage frac. The well design used adequate amounts of water (877743 gallons) but a low amount of proppant (2324130 lbs.). This is significant as its first test produced EURs not far from the plays average. Kodiak has several pad projects permitted. The table below is a list of Kodiak's multi well projects in confidential status.
| | | | |
| --- | --- | --- | --- |
| Location | Field | Prospect | Number |
| 3-146-99 | Ranch Creek | Grizzly | 2 |
| 21-147-92 | Twin Buttes | Dunn | 6 |
| 3-147-93 | Moccasin Creek | Dunn | 2 |
| 10-147-93 | Moccasin Creek | Dunn | 2 |
| 11-147-93 | Moccasin Creek | Dunn | 3 |
| 21-147-103 | Mondak | Grizzly | 3 |
| 22-147-103 | Mondak | Grizzly | 2 |
| 18-148-92 | Heart Butte | Dunn | 4 |
| 2-148-93 | South Fork | Dunn | 2 |
| 10-148-93 | South Fork | Dunn | 2 |
| 26-148-93 | Moccasin Creek | Dunn | 2 |
| 24-149-93 | Mandaree | Dunn | 4 |
| 7-149-98 | Pembroke | Smokey | 10 |
| 21-149-98 | Pembroke | Smokey | 2 |
| 30-149-98 | Pembroke | Smokey | 4 |
| 5-151-99 | Poe | Koala | 3 |
| 2-151-100 | Poe | Koala | 3 |
| 32-152-99 | Poe | Koala | 2 |
| 33-152-99 | Poe | Koala | 3 |
| 3-153-98 | Truax | Polar | 3 |
| 10-153-98 | Truax | Polar | 3 |
| 16-154-97 | Truax | Polar | 2 |
| 33-154-97 | Banks | Koala | 3 |
| 27-154-98 | Truax | Polar | 13 |
| 4-154-99 | Epping | Polar | 5 |
| 5-154-99 | Epping | Polar | 4 |
| 31-155-99 | Epping | Polar | 3 |
The table above only shows pad wells still on confidential status. Some of these pads have already completed initial wells, which I did not include. This data can be found at the North Dakota Oil and Gas site. Most of Kodiak's acreage is held by production, so it has began its pad drilling program. This will continue to push well costs lower. The results from its larger pads in the Polar and Smokey prospects will provide direction. The most important variable will be well communication and how it affects per well recoveries. Expect lower EURs especially if well spacing is too close.
Kodiak continues to get its wells hooked up to natural gas. 60% of gas was turned to sales in the third quarter of 2012, and it had hopes it would increase to 80% by the start of this year. Kodiak's Wildrose Prospect has been encouraging with respect to recent results. Given the lower well cost, economics in this area have been quite good. This is much like Halcon's Western Williams County acreage it purchased from GeoResources last year. Kodiak plans to have a rig in Wildrose going forward as it was 30% to 40% held by production in the third quarter of 2012.
For 2013, Kodiak is being aggressive. It increased cap ex to $775 million, and now plans on completing 75 net wells. This is using an average well cost of $10 million. I believe Kodiak's well costs (in the deepest part of the basin) to pull back to $9 million by 2013 year end. It will continue to spend on water infrastructure. The 2013 year end exit rate is set at 38,000 to 40,000 Boe/d. This is a big number, but I believe it is achievable. I believe Kodiak did hit its 2012 exit rate of 27000 Boe/d. No one thought they would hit this number (including myself), but it seems to have had a very good fourth quarter. 2013 full year average daily sales have an outlook of 29,000 to 31,000 Boe/d. I think these numbers are attainable, and at this point I think Kodiak could beat these numbers. This relies on its consistency which it has shown as an operator since mid-year of 2011. Oil prices and Bakken differentials could also effect these estimates.
In summary, Kodiak still has upside in 2013. Costs have decreased significantly over the past 12 months. Proppant and water costs continue lower, and I believe this trend will continue through 2013. Oil service and completion crews are available in days. This has given Kodiak the opportunity to bid jobs. Pad drilling should further decrease costs. Kodiak will increase revenues as it continues to increase natural gas sales. The first quarter may see Kodiak's stock appreciate some, but currently I believe $9 is fair value. Oil prices may appreciate in the short term, but there is greater risk to the downside. I believe we could see a late second quarter pullback in the price of oil. This should be short lived, as I think both the U.S and Chinese economies continue to outperform growth estimates. I estimate WTI will finish 2013 in the low $90 range. Currently I have positions in the refiners. I plant to hold these positions until I get a fairly large pullback in the WTI price. I believe WTI will pull back to the low seventies at some point this year. I plan to start positions in Kodiak, Triangle and Oasis (NYSE:OAS). I will stay in the refiners as long as WTI to Brent differentials are maintained. It is important to watch this closely, as it could cause a significant pullback in the refining sector. I will start to accumulate Kodiak shares at $8, if I get that price. My 12 month price target is $11.60/share.
Disclosure: I am long NTI. I wrote this article myself, and it expresses my own opinions. I am not receiving compensation for it (other than from Seeking Alpha). I have no business relationship with any company whose stock is mentioned in this article.
Additional disclosure: This is not a buy recommendation. This article shows my trading strategy for 2013, and is not a recommendation to other investors. These strategies could lead to losses or gains as there are risks in any investment. Any big moves in the price of oil could create large swings in the stock prices mentioned. For other articles like this, check out shaleexperts.com. We currently sell larger, more indepth articles on other plays like the Mississippi Lime and Eagle Ford.