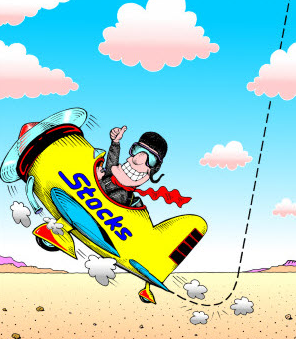 The markets are overbought, but this can continue longer than one might expect. Perhaps dangerously, investor sentiment remains universally bullish. It's still a QE dominated market, as liquidity is pushing markets higher even as earnings overall remain uninspiring.
For our part, we took some profits Monday, while the basic core of our main portfolio remains intact. On the downside, Boeing (NYSE:BA) continues to weaken with Dreamliner groundings, and Caterpillar (NYSE:CAT) is going to take a $580 million dollar charge after being hoodwinked by Chinese accountants -- both held back the industrial sector (NYSEARCA:XLI). Johnson & Johnson (NYSE:JNJ) disappointed, driving consumer staples (NYSEARCA:XLP). Travelers (NYSE:TRV) reported good earnings, which helped lift the financial sector (NYSEARCA:XLF).
Earnings from DuPont (NYSE:DD), despite falling 70%, helped push the materials (NYSEARCA:XLB) sector higher. This is how QE trumps flat earnings.
Google (NASDAQ:GOOG) reported earnings after the close that cheered investors, although revenues seemed to miss. IBM (NYSE:IBM) reported earnings that slightly beat estimates. Both stocks were substantially higher in after hours trading.
Economic news wasn't inspiring, as the Chicago Fed National Activity Index fell (.02 vs. .28 expected and prior .10); Existing Home Sales fell, missing estimates (4.94M vs. 5.1M expected and prior revised lower from 5.05M to 4.99M, easing the miss); and the Richmond Fed Mfg. Survey plunged (-12 vs. 5 expected and prior 5). This disappointing data just stimulates bulls to thinking the Fed won't take its foot off the gas pedal anytime soon. Domestically, bank deposits in the 4th quarter soared to $433 billion, per Nomura Securities.
Overseas, the German ZEW economic expectations index soared (31.5 vs. 9.5 expected), and the Bank of England said it would be rejoining the money printing (QE) operations. This is stimulative to the ongoing "currency war." And to make matters bleak, global unemployment per the International Labour Organization's Global Employment 2013 trend asserts unemployment nears 200 million. (That's a lot of food stamps!)
The dollar (NYSEARCA:UUP) was slightly weaker, and gold (NYSEARCA:GLD) rose modestly. Commodities (NYSEARCA:DBC) were led higher by oil (NYSEARCA:USO) and natural gas stocks (NYSEARCA:FCG). Stocks are still moving higher glacially day by day on still light volume. Bonds (NYSEARCA:TLT) seemed well bid.
As indicated, volume once again was light, and breadth per the WSJ was positive.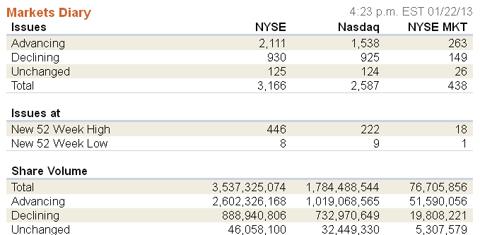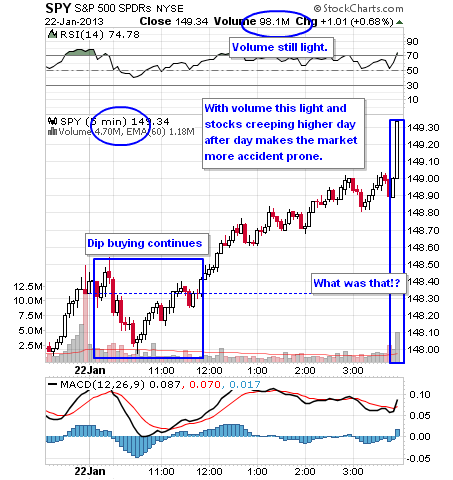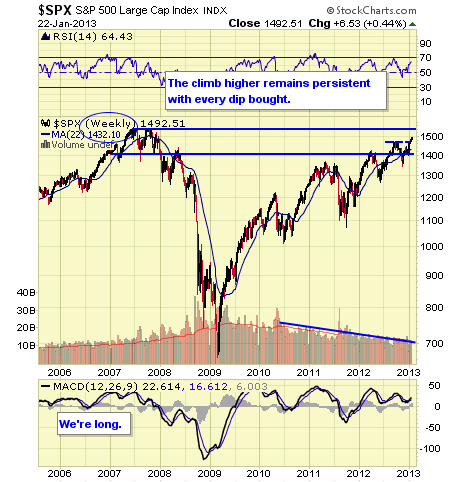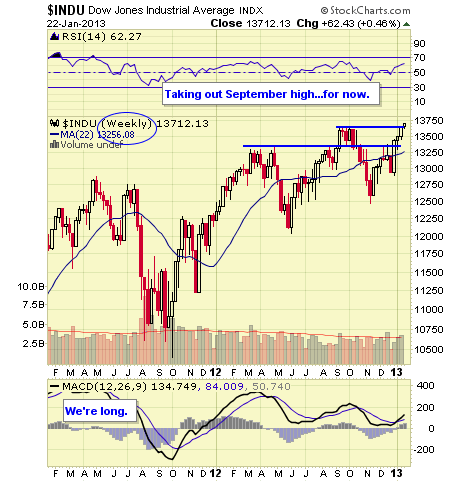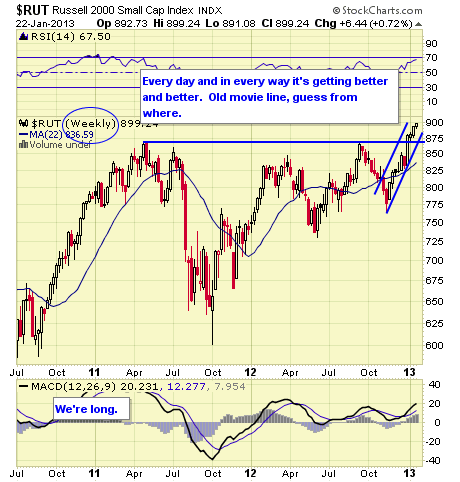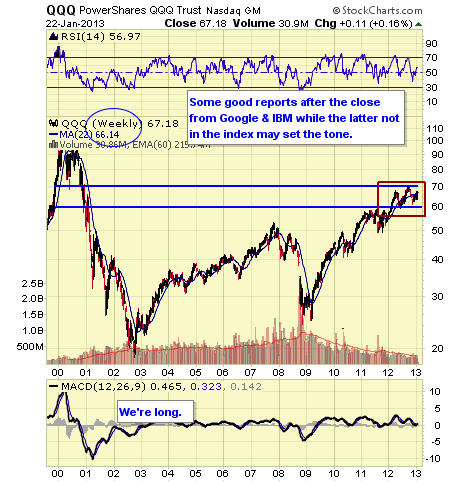 Continue to U.S. Sector, Stocks & Bond ETFs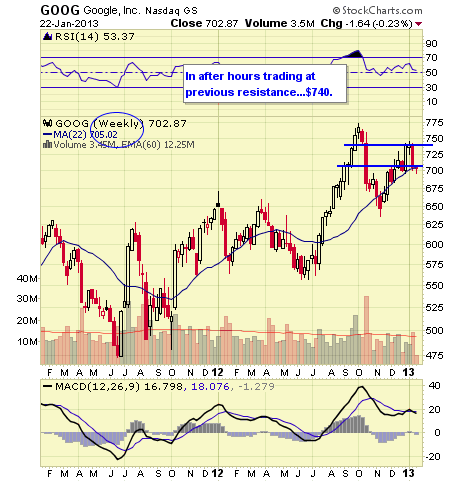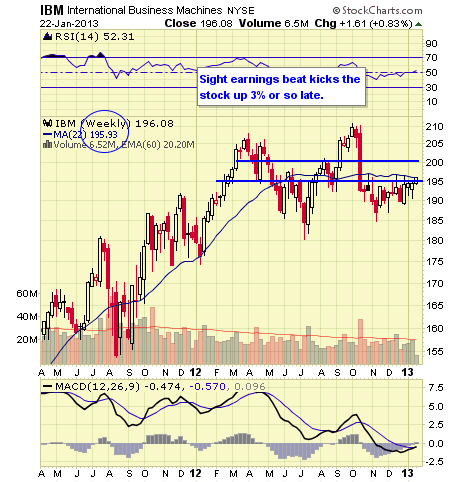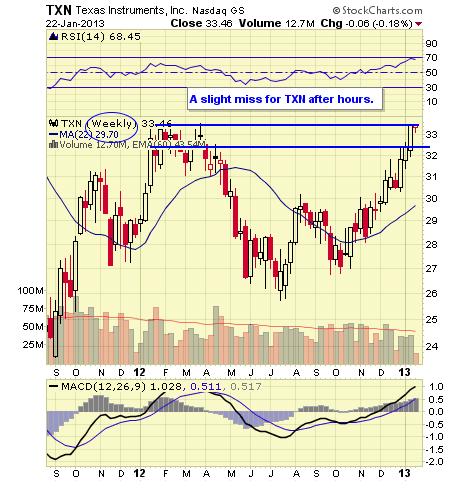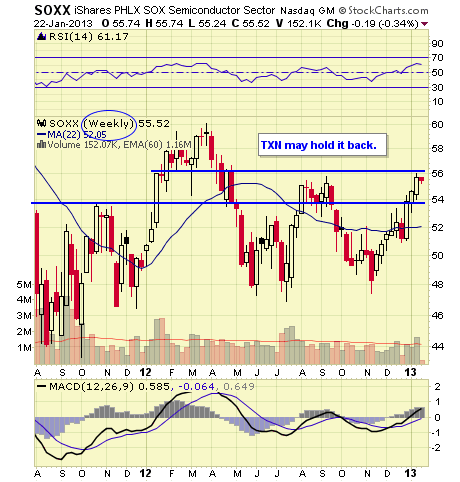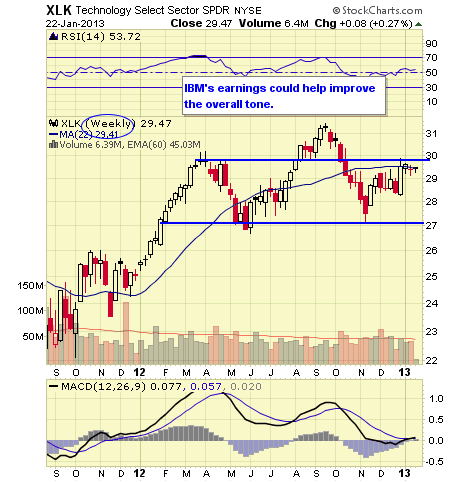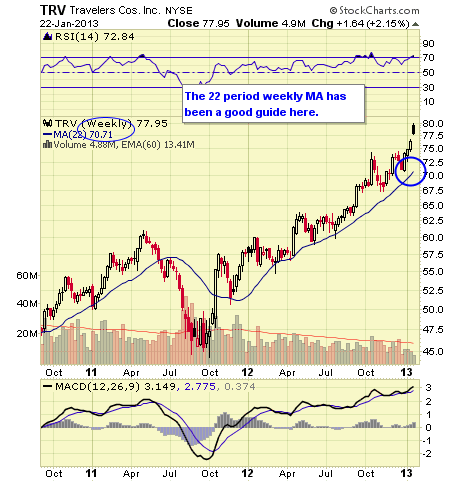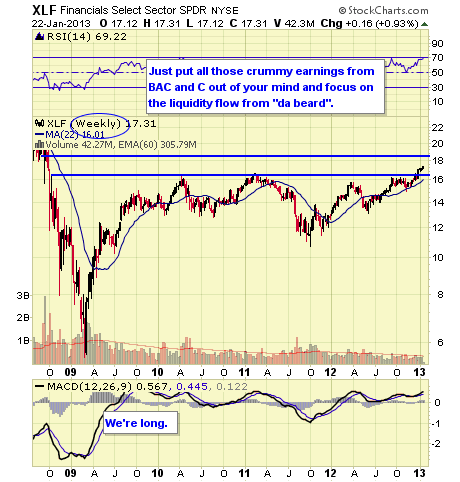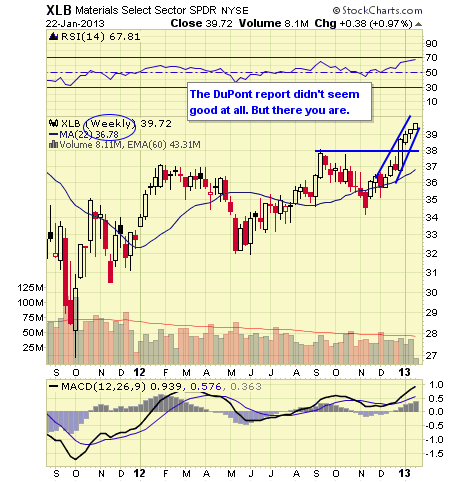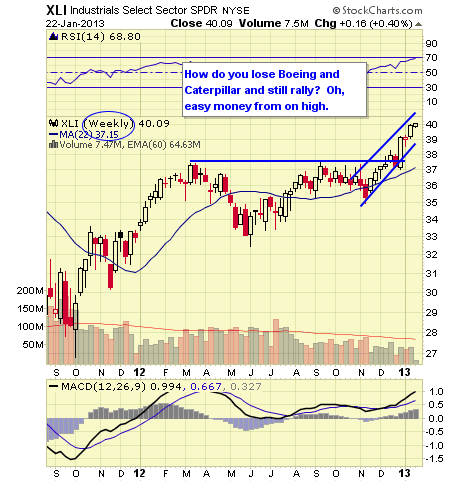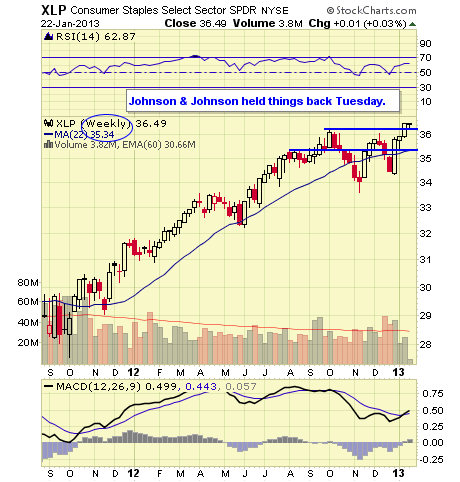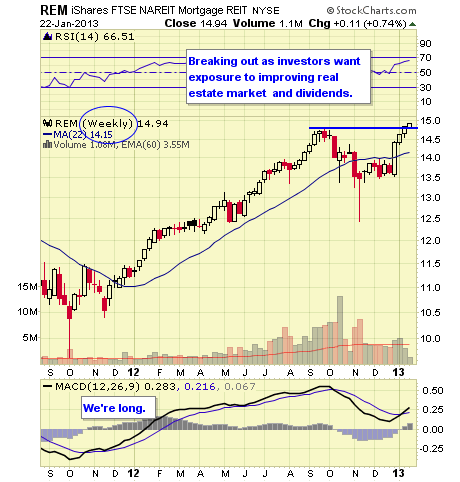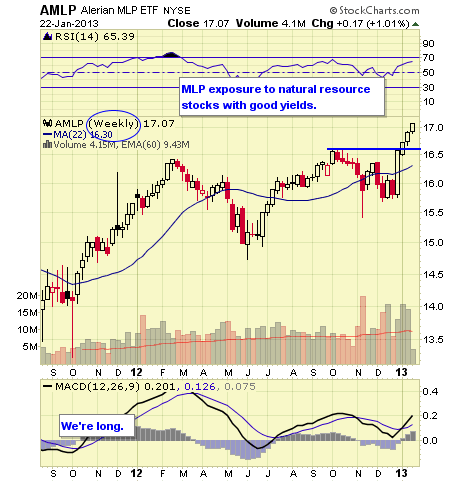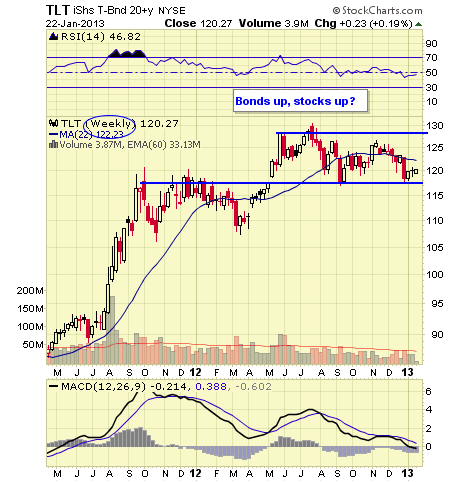 Continue to Currency & Commodity Market ETFs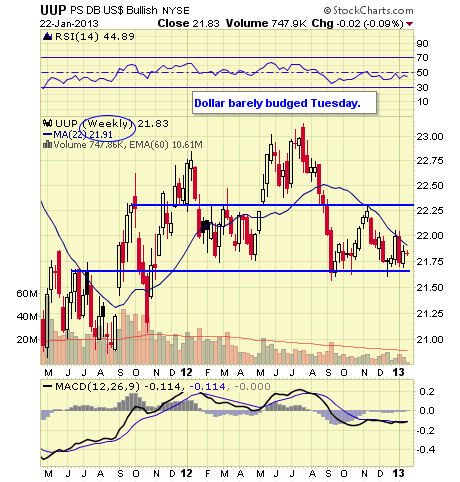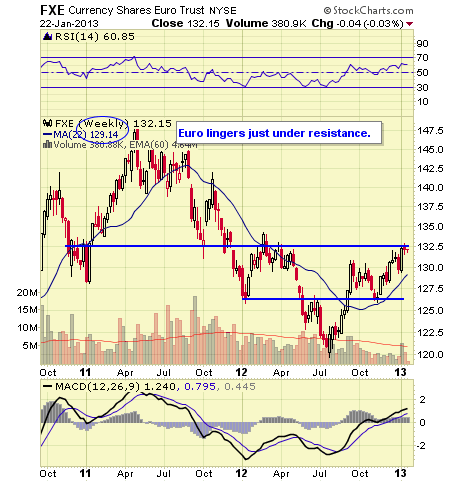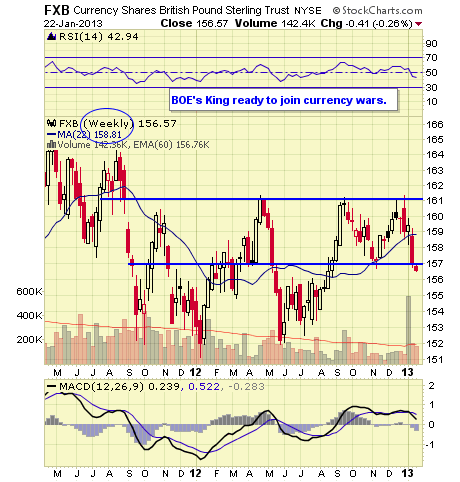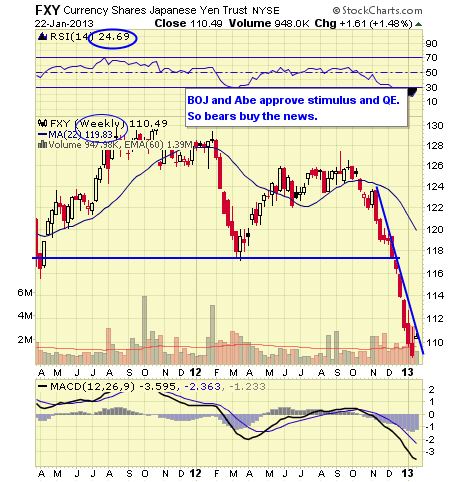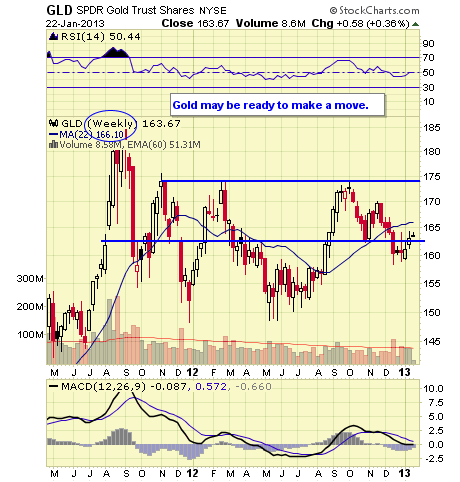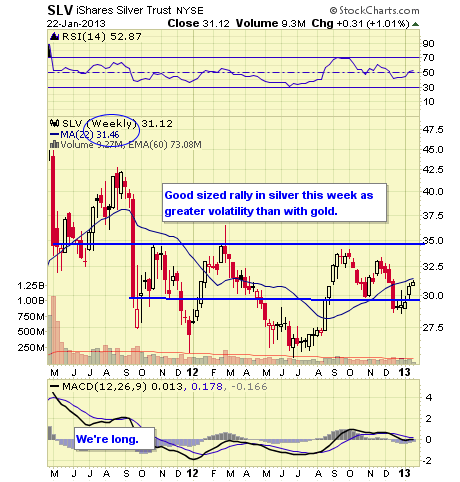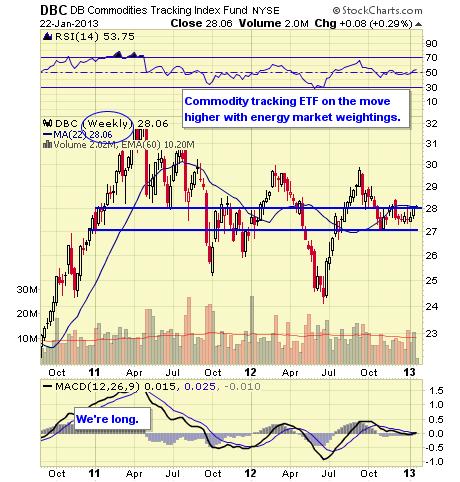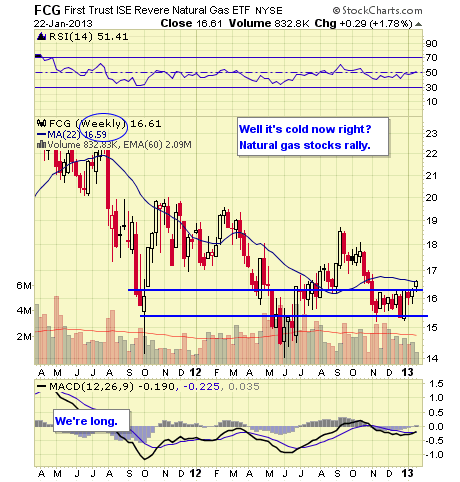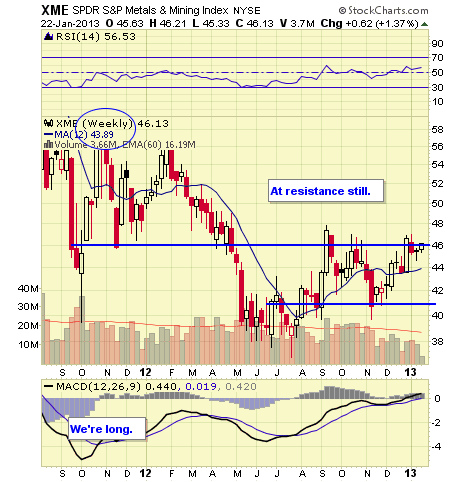 Continue to Overseas Sectors & ETFs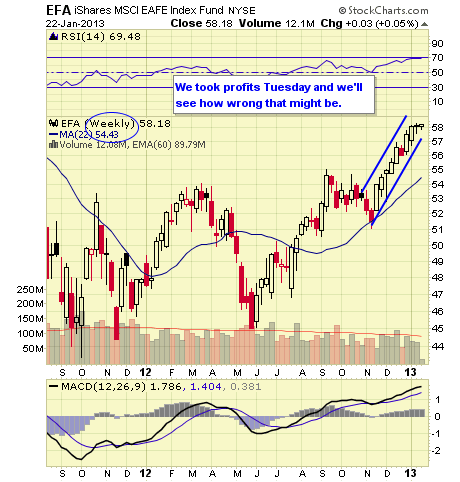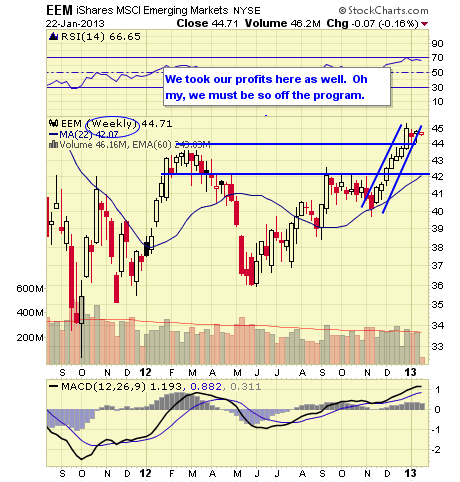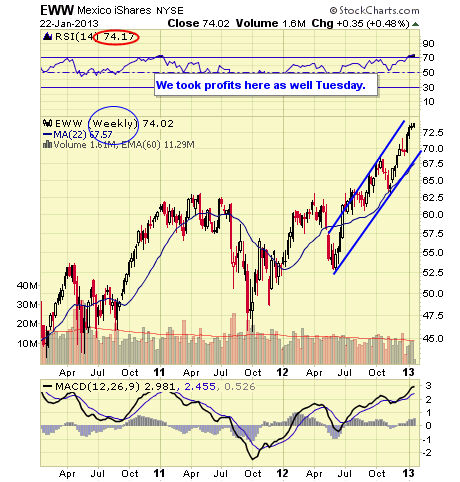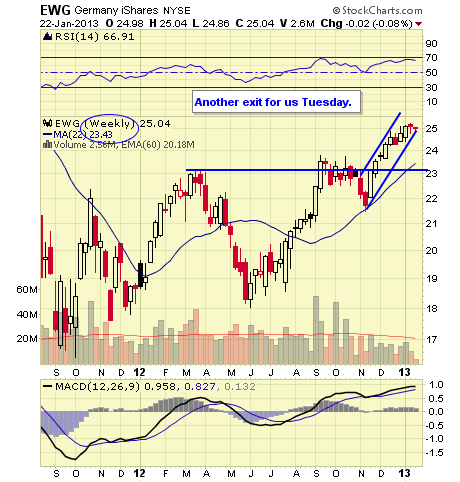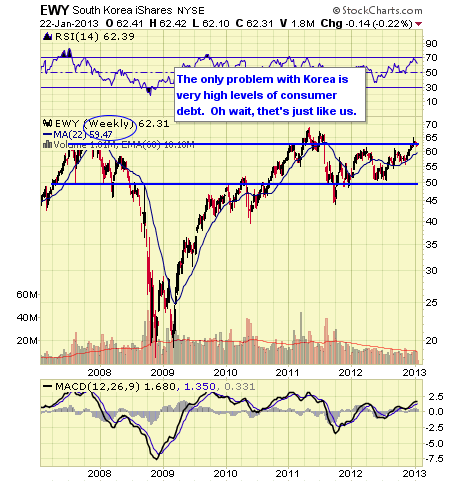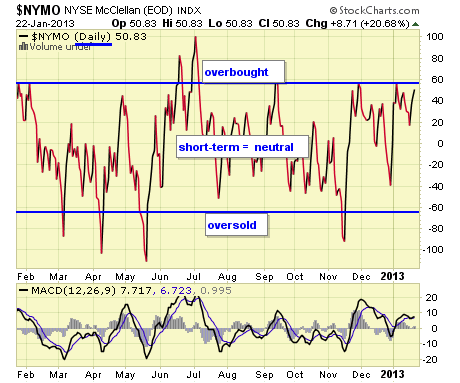 The NYMO is a market breadth indicator that is based on the difference between the number of advancing and declining issues on the NYSE. When readings are +60/-60, markets are extended short term.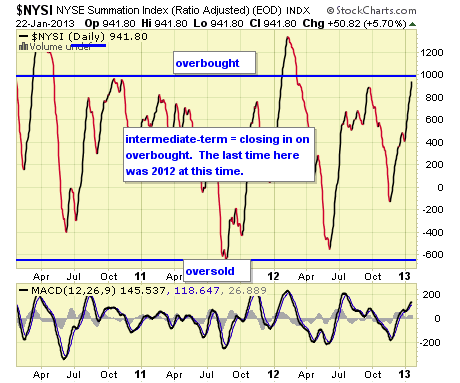 The McClellan Summation Index is a long-term version of the McClellan Oscillator. It is a market breadth indicator, and interpretation is similar to that of the McClellan Oscillator, except that it is more suited to major trends. I believe readings of +1000/-1000 reveal markets as much extended.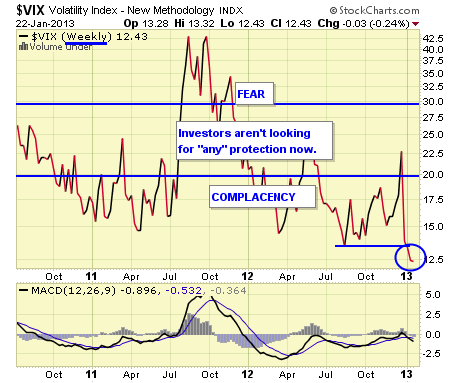 The VIX is a widely used measure of market risk, and is often referred to as the "investor fear gauge." Our own interpretation is highlighted in the chart above. The VIX measures the level of put option activity over a 30-day period. Greater buying of put options (protection) causes the index to rise.
Concluding Remarks
Earnings news is good overall for some companies, while others just meet lowered expectations. This week will feature plenty of earnings as we move toward the end of January in another week of trading. Bulls want to promote the "January Effect," whereas goes January, so goes the year.
The bottom line overall is the massive amounts of liquidity supporting buying, even if it is on the light side.
More earnings are on tap for the rest of this week, and then Thursday will feature more important economic data.
Disclaimer: The ETF Digest maintains an active ETF trading portfolio and a wide selection of ETFs away from portfolios in an independent listing. Current "trading" positions in active portfolios, if any, are embedded within charts: Lazy & Hedged Lazy Portfolios maintain the follow positions: VT, MGV, BND, BSV, VGT, VWO, VNO, IAU, DJCI, DJP, VMBS, VIG, ILF, EWA, IEV, EWC, EWJ, EWG, & EWU.
The charts and comments are only the author's view of market activity and aren't recommendations to buy or sell any security. Market sectors and related ETFs are selected based on his opinion as to their importance in providing the viewer a comprehensive summary of market conditions for the featured period. Chart annotations aren't predictive of any future market action rather, they only demonstrate the author's opinion as to a range of possibilities going forward.
Disclosure: I have no positions in any stocks mentioned, and no plans to initiate any positions within the next 72 hours. I wrote this article myself, and it expresses my own opinions. I am not receiving compensation for it. I have no business relationship with any company whose stock is mentioned in this article.