Microsoft (NASDAQ:MSFT) continues to trade under US$20 a share. We have previously looked at $MSFT and felt it was undervalued in the US$20-25 range. We decided it was time to revisit our valuation.
Valuecruncher valuation model of $MSFT with interactive assumptions
Valuecruncher produces a valuation of US$25.34 for $MSFT. This is a current valuation (an estimate of intrinsic value using a discounted cash flow model) not a target price. This valuation is 33.6% above the current share price of US$18.96.
Assumptions
Revenue: Reuters aggregates 30 analysts covering $MSFT and the mean estimate of 2009 revenues is US$67.3 billion. For our analysis we have used US$64.0 billion in 2009, US$68.5 billion in 2010 and US$72.5 billion in 2011. Between 2004 and 2008 $MSFT grew revenues at a compound annual growth rate of 13.2% - revenues of US$36.8 billion in 2004 to US$60.4 billion in 2008.
Profitability: We have used an EBITDA margin of 40.0% to 2011. Reuters has $MSFT's EBITD margin at 39.25% last year and an average of 37.0% over the last five-years.
Capital Expenditure: We have assumed capital expenditures of US$3.75 billion per annum moving forward.
Discount Rate: 11.0%.
Terminal Growth Rate: 3.0%. In our assumptions we have 2010/11 revenue growth at 5.8% - we have assumed that growth eventually slows to a 3.0% long-term stable growth rate. We have used 3.0% as our terminal growth rate.
Our analysis incorporates the cash on the $MSFT balance sheet – Valuecruncher calculates a net debt number.
Comparator Analysis
Comparator analysis (sometimes called comparison company analysis) is a relative valuation approach. For $MSFT we looked at four peer companies - IBM (NYSE:IBM), Apple (NASDAQ:AAPL), HP (NYSE:HPQ) and Google (NASDAQ:GOOG). We calculated enterprise values - market capitalisation plus net debt (long-term borrowings less cash). Then we measured a range of metrics against the enterprise value for $MSFT and the peer set.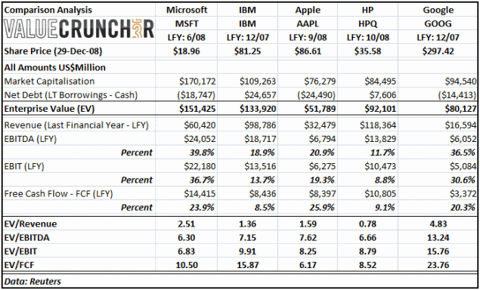 We have used the last financial year (LFY) as the base set of metrics. $MSFT is currently priced at the bottom of the peer group for the EV/EBITDA and EV/EBIT metrics and in the middle for the EV/FCF metric. The market is currently valuing the profits (EBIT and EBITDA) and free cash flow produced by $MSFT at less than half that of the comparable numbers for $GOOG. This reflects the perceived different future growth prospects of the two businesses. The comparator numbers show $MSFT is comparably priced against the peer group - even with the strengths of its business model (39.8% EBITDA margins vs 18.9% for $IBM and 11.7% for $HPQ). $MSFT's growth is slowing - but it is still a very good business. Should $MSFT's profits (at the EBITDA and EBIT levels) really be valued less than $IBM and $HPQ?
Play with our assumptions – what does your analysis say? We think that $MSFT looks undervalued. Our model is interactive - you can change any of our assumptions.
Disclosure: None.