Did you listen last August when managing editor Brad Zigler warned you to grab cocoa while you could? If you did, you might be feeling pretty good right now, especially if you caught the Financial Times headline last week: Cocoa hits 23-year high on supply fears.
Or, you could be like me and wonder if it's time to start stocking up your favorite chocolate bars.
Either way, it's interesting to pull up a chart and take a look...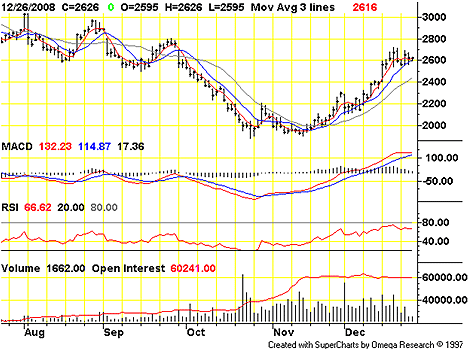 This doesn't look like a 23-year high. What is going on? Well, that's the U.S. chart...
The UK chart (from FT.com) looks like this:

The culprit behind the disparity in charts can be traced to the British pound. London cocoa is priced in sterling - and when sterling fell last month, an arbitrage opportunity occurred for investors with foreign currencies. Those investors were able to buy the cheaper sterling-based contracts, rather than the dollar-based NY contracts, which served to further drive London's cocoa price up.
But the currency impact is only part of it: There is no question that cocoa has been on an upward tear recently. In fact, if you look back over the past 18 years, you can see that cocoa has been riding high recently.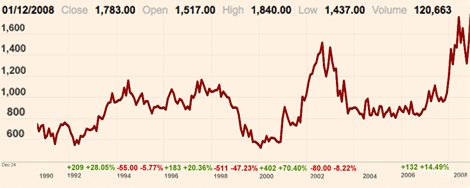 It's Supply, Stupid
What's driving cocoa prices higher? Supply, supply, supply.
Back in February of 2008, tight supplies were forecast in the cocoa market, along with higher prices. Analysts called for a 14% rise in cocoa prices in the U.S., which would have pushed prices up to $2,325/tonne.
They underestimated the move: Despite the broader pullback in financial markets, cocoa in NY was sitting at $2,626/tonne on Friday, December 26. If NY cocoa hangs tight, it could end the year some 30% up - an outstanding performance given the other pricing trends in commodities right now.
Why Is Cocoa Rising When Everything Else Is Falling?
In cocoa, we have a situation that is almost the opposite of what is happening in most other hard assets, such as steel, copper and oil. Whereas those commodities are facing a supply glut, in cocoa, supply is already tight and there is some expectation of a global deficit. (Start hoarding those Hershey's Bars now!)
Analysts are bullish. A number of them Reuters spoke with see more upside possibilities as we move into 2009.
"The fundamentals would probably still point to the upside (in price) over the next two or three months," one dealer said.
There is even some chance of seeing 2,000 sterling per tonne in London and even $3,000/tonne in New York.
What's supporting cocoa prices, more than anything, is that cocoa is a fickle plant. Cocoa only grows within specific latitudes no greater than 10 degrees north and south of the equator; the top two cocoa countries are Ivory Coast and Ghana. Even in these perfect climates, however, cocoa is fickle: Extended dry spells can ruin the crop, and too much water breeds disease and lower yields. The worst culprit is something called black pod disease, which can lead to crop losses between 30 and 90%. While this year's outbreak in Ivory Coast and Ghana is only average, strong rains has slowed cocoa harvesting, and deliveries are down 40% from normal in Ivory Coast and Ghana.
The third-largest cocoa producer, Indonesia, is also seeing fewer exports. Exports from its main cocoa-producing island were down 12% during the first 11 months of this year, compared with a year earlier. Expectations are that Indonesia will export 40,000 fewer tonnes this year than last, as its crop suffers from a disease called Vascular-Streak Dieback (VSD).
The question, of course, is whether demand will fall faster than supply. Chocolate, after all, is a luxury item (despite what your spouse says), and we can expect some fall in demand as well.
Still, compared to the other commodities out there, things are looking pretty good.
Links
International Cocoa Organization Monthly Review of the Market
NYMEX Cocoa Futures
LIFFE Cocoa Futures
On the other side of the Atlantic, cocoa is up almost 70% for the year as of Friday.