I believe Procter & Gamble (NYSE:PG) is a good investment opportunity for investors as the company is likely to benefit from its recent restructuring plan. It also has a diverse geographical revenue base and offers a safe dividend yield of 3.3%. Its emerging market exposure will fuel the growth for the company as analysts are expecting a more than 8% annual growth rate for the next five years. On Friday, the company is scheduled to report its FY13'2Q earnings and I believe PG will be able to beat the earnings consensus as it has done in the recent four quarters. Given these facts, I am bullish on the stock.
Procter & Gamble is a great company which has a presence in markets worldwide. Geographical diversification and significant emerging markets exposure are key performance drivers for PG. PG has a rich product portfolio which includes 25 brands that contributes over $1 billion in annual revenues. Almost 60% of the total revenues are earned from markets other than the U.S. and 40% are contributed by emerging markets. Also, 45% of the sales volumes are sold in emerging markets.
In the last few years the company has struggled to post satisfactory results; revenues have increased by low single digits whereas EPS has fallen from $4.25 in 2009 to $3.66 in 2012. Operational inefficiencies, rising input costs and sluggish consumer spending have been the main reasons for the declining trend. To improve upon its operations and grow top and bottom lines, the company has been working on its restructuring plan which was announced last year. The plan is focused on introducing 20 new products, targeting 10 leading developing markets and cost control measures. Moreover, the plan is expected to save up to $10 billion by 2016.
As this plan will be implemented, I believe PG will experience volume improvement and gain market share in developed markets. Furthermore, its costs cutting efforts should offset a rise in commodity costs.
Quarterly Earnings
In FY13' 1Q, the company posted better than expected results. It was able to expand EPS by 5% and increase organic sales by 2% YoY. Following are the quarterly gross and operating margins of PG.
| | | | | |
| --- | --- | --- | --- | --- |
|   | FY12'Q2 | FY12'Q3 | FY12'Q4 | FY13'Q1 |
| GP Margin | 49.5% | 50% | 49% | 51% |
| Operating Margin | 20% | 19% | 16% | 21% |
Source: Earnings Releases
The company is set to report its FY13'2Q earnings on Friday. According to management guidance the company is expected to experience organic sales growth of 1% to 3%. Pricing is expected to contribute 2% to sales growth whereas foreign currency exposure is expected to reduce sales by 2%. Upcoming quarter sales are likely to be in range of down 1% to up 1% YoY basis. Core EPS guidance is in range of $1.07 to $1.13 as compared to core EPS of $1.09 for the same period last year.
Analysts are expecting an EPS of $1.11 and quarterly revenues of $21.9 billion for FY13'2Q. In the last four quarters the company has been able to beat consensus estimates and judging by this it is highly likely that the company will be able to beat earnings consensus for the upcoming quarter as well. Below are the earnings surprises for the last four quarters.

Click to enlarge
Source: Yahoo Finance
Dividend and Share Repurchase
PG has a strong dividend history; it has been paying dividends for 122 consecutive years and increasing dividends for 56 consecutive years. On 8th Jan 2013, the company announced quarterly dividend of 56.2 cents, payable on or after 15th Feb 2013.
PG currently offers a dividend yield of 3.3%, which is supported by its cash flows. The graphs below show the relationship between operating cash flows and dividends in recent quarters and also the growth of quarterly dividends over the years.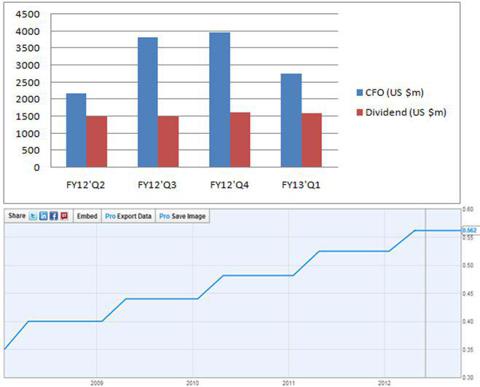 Source: Earnings Release and Ycharts.com
Other than offering an attractive yield, the company also has a share repurchase program of $4 - $6 billion, which makes up to approximately 2% to 3% of current market capitalization.
Disclosure: I have no positions in any stocks mentioned, and no plans to initiate any positions within the next 72 hours. I wrote this article myself, and it expresses my own opinions. I am not receiving compensation for it (other than from Seeking Alpha). I have no business relationship with any company whose stock is mentioned in this article.