While investors are continuing to seek out safe harbor assets, the Triple-Net REIT sector has become a favored anchor for sleep-well-at-night (SWAN) investors. Driven by record low interest rates and contractually long-term leases, the Triple Net REITs have become the favored sector for investors seeking durable income and sound principal preservation.
Just a few days ago, I wrote an article (I explained) explaining the commoditization of the Triple-Net REIT sector and the qualities that differentiated the "best from the rest." As I explained:
Clearly, consumers benefit when goods or services are transformed into commodities since it gives them a choice when interchanging one company's product with another company's same product. Also, consumers benefit because the good (or service) drives prices down since companies have to compete against each other. When goods or services reach a "perfectly competitive" playing field, there are fewer differences and that is when you must find the "alpha" that sets them apart.
The Golden Child
Every sector has a "golden child" and in the case of the Triple-Net sector, we all know it's the Big O - Realty Income (NYSE:O) that is - or more commonly referred to as "The Monthly Dividend Company." Today, the company announced that it had closed on the milestone acquisition of American Realty Capital Trust (NASDAQ:ARCT).
At the opening of the market today, Realty Income will have rolled up ARCT's 515 properties making the total portfolio a "battleship brand" that consists of: 3,528 properties leased to 202 tenants doing business in 48 industries. In addition, Realty Income now has around 34% of lease revenue being generated by investment grade rated tenants (it was previously 19% prior to the ARCT acquisition) - (source: press release).
Most investors are attracted to "Big O" by the dividend history and yesterday the "golden child" has been upgraded to Miss America. Indeed, what a beautiful site now that "the monthly dividend company" has declared a 19.2% dividend increase in the company's common stock to $0.1809167 per share from $0.15175 per share (payable February 15).
The love just keeps on going, for this announced dividend increase is the 70th increase since the company went public in 1994. The new annualized dividend will be $2.171 per share and this time next year "Big O" will be a candidate for inclusion in S&P's Dividend Aristocrat club (20 years in a row of dividends increased). On the recent news, Tom A. Lewis, CEO of Realty Income commented:
We are pleased with the significant increase in our revenue and earnings, resulting from both the ARCT acquisition and our record 2012 property acquisitions, which allowed us to significantly increase the amount of the dividend.

The Rest of the Beauties
Now as I wrote in the previously referenced article, I explained the growing Triple-Net REIT sector has evolved into somewhat of a "commoditization" industry and although the various Triple-Net REITs are similar in their "free-standing" characteristics, they are also becoming more unique as they attempt to carve out a differentiated value proposition strategy.
Let's face it. These REITs are competing for customers - or simply just fighting for market share. Clearly Realty Income has carved out a dominating footprint with a cleverly crafted "monthly dividend brand" that is powered by the extraordinary risk management practices that I explained:
So when you boil it all down, the essence of intelligent investing should be to protect principal AT ALL COSTS (and avoid excessive fees associated with non-listed securities). For that reason, investors should consider the value behind a REIT's management team and specifically the leaders that demonstrate sound risk-control - for that is the mark of a superior investor. Essentially, risk-control is made up of two primary ingredients - integrity and experience - and the most successful REITs (like O, NNN, and WPC) are differentiated by executive management teams that have delivered consistent returns with an "uninterrupted record of dividend payments going back over many years." (Ben Graham)
So how do the less experienced REITs provide differentiation? Could there be an "ugly duckling" that could one day turn into a beautiful SWAN (sleep-well-at-night)? Is there perhaps a Triple-Net REIT that could be a better choice than the Golden Child (Realty Income)?
No Flight to Quality for These Two Ugly Ducklings
Just before Halloween last year, I wrote an article (explained) on Spirit Realty Corporation (NYSE:SRC). In a metaphorical summary, I explained (as a "smack down") that Spirit's IPO "spooked" me:
Spirit spooks me and that is why it is important to compare cost of capital and consider investing in established companies - a proposition that delivers safety in principal and repeatable dividend performance. These higher quality REITs (like Realty Income, National Retail Properties, and W.P. Carey) are proven fixed-income alternatives and accordingly enjoy sustainably robust dividend yields.
Spirit went public on September 19th and shares have climbed over 27% from $15.00 to a close day of $19.05.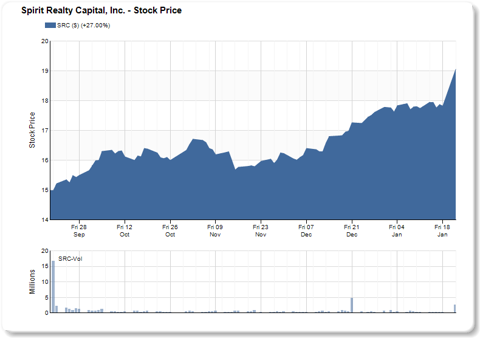 Today Spirit and Cole Credit Property Trust II, Inc., (CCPT II) - a non-traded REIT - announced an agreement and plan to merge the two entities. Shares of Spirit climbed around 6%.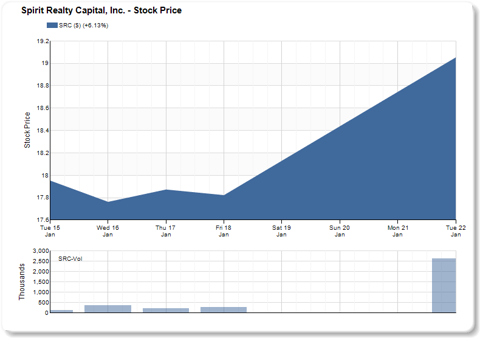 Now judging by Mr. Market's score card, Spirit looks to be beauty queen in the making. And after today's announcement, Mr. Market appears to even be more attracted to the newcomer in the commoditized free-standing REIT contest. But let's take a closer look at the two beauties…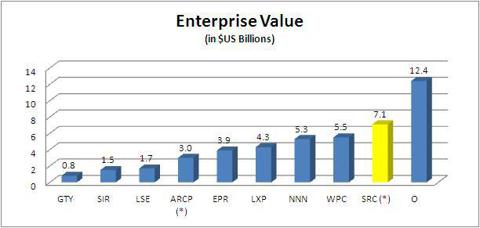 (*) Includes Proposed Merger Assets
Mr. Market Needs Glasses
Looks can be deceiving. Spirit has a market cap of around $1.6 billion and assets of around $3.2 billion. The Scottsdale-based REIT owns 1,190 properties (33.1 million square feet) in 47 states. Only 1% of Spirit's revenue is investment grade rated and a majority of the tenants are unrated small and middle market companies.
Spirit's largest tenant is Shopko/Pamida, a Sun Capital Partners privately-owned entity with around 350 locations in 22 states. Spirit's dominating exposure to Shopko/Pamida (30% of ABR) is considered to be a substantial risk for Spirit given the highly competitive discount environment and the possible future impact related to Shopko's larger rivals such as Wal-Mart Stores Inc. (NYSE:WMT), Kmart Corp. (NASDAQ:SHLD), and Target (NYSE:TGT).
Spirit's second largest tenant (7.7% of ABR), 84 Properties, LLC, is also in the high risk category as the privately-owned building supply chain (280 stores in 35 states) has been said to be staying afloat by "cash generated from the sale of surplus properties and loans to fund operating deficits" (source Spirit S-11).
Now it's becoming clear that Spirit has more than a few pimples. But wait, I'm not done…
Spirit's third largest tenant is Carmike Cinemas (NASDAQ:CKEC). As one of the smaller theater chains, Carmike has seen troubled times in the past (previous bankrupt) and the Columbus-based chain has been rumored to be a takeover target meaning that there could be store closures in the future (due to cannibalization). In addition, many of Carmike's properties are located in smaller markets and the buildings are virtually useless when the leases expire (that means the buildings can be used for a flea market, a church, or bulldozed).
Now, remember I put some light on the second contestant, Cole Capital, just a few weeks ago. In the same article I referenced-above (I explained), I explained that CCPT II was looking hard for love since "many of the non-traded REITs like CCPT II have become "long in the tooth" as they have not been able to exit the market due to the baked-in costs (fees) and cap rates that are seemingly "under water."
I even explained today's news as it was evident that CCPT II was desperate to become the beauty queen of Triple-Net REIT-dom:
In reviewing the CCPT II portfolio, it is clear that many of the properties in the portfolio are non-investment grade and due to the size of the portfolio it could be difficult for one buyer to stomach the broad composition of credits, especially since the valuations are likely to be nowhere close to the recent valuations driving O/ARCT and ARCP/ARCT III.
Heck, I even predicted the dramatic chain of events that sets the stage today when I explained:
Could it be that non-traded REITs like ARCT III and CCPT II are motivated more by fantasized liquidity? Are the two love sick non-listed REITs trying to "recreate what had yet to be created"? In other words, are the "sentimental fools" hoping they will someday be dominating dividend champions like Realty Income, National Retail, or W.P. Carey?
So do the two love sick REITs look better together, than apart? Mr. Market thinks so. Let's check out the new contestant known as the ProForma Spirit Realty Capital.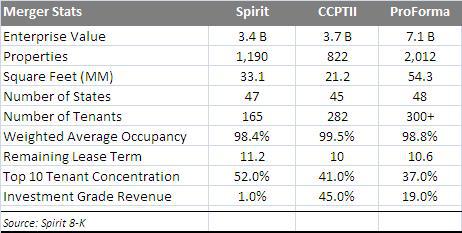 Clearly the strategy behind the merger is to increase diversification for Spirit. As mentioned above, Spirit has only 1% investment grade revenue and the combined deal takes the merged entity to 19% investment grade income. But look closer at the proposed Top 10 list. Shopko is still a significant factor (15.7%) and so is 84 Lumber (3.5%). Also, CCPT II doesn't add much value with its high concentration of credits like Church's Chicken.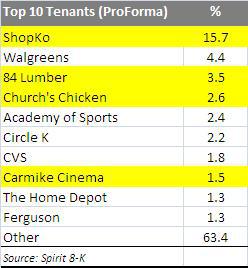 Another ugly feature to the proposed marriage is the un-aligned diversification features of CCPT II. Remember that CCPT II is a non-traded REIT and the company has grown over the years into a $3.7 billion (enterprise value) company with over 40,000 investors. In order to drive distributions, CCPT II has assembled a portfolio of 822 properties with credits ranging from high-quality (like Walgreen) to low-credits like Church's Chicken.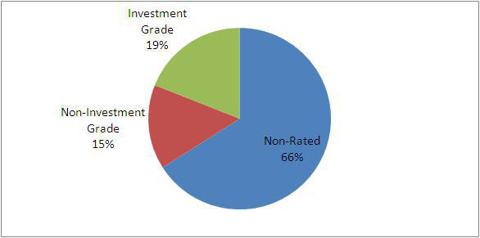 In addition, CCPT II has acquired many non-core properties such as shopping centers (18%), industrial (11%), and office (6%). In other words, CCPT II has around 65% of its portfolio invested in single-tenant assets and the remaining a spread over the other categories mentioned.
That begs the question. What is CCPT II's core competency? Or better yet, what is Spirit's core competency in managing diversified assets?
Let's cut to the chase. There is none.
So what are the motives for the marriage? (Other than winning a beauty contest). CCPT II's motives are plain and simple: Non-traded REITs exist for one reason and one reason only. That is, to provide "blind pool" capital for companies to eventually go public. Over the last 18 months, there has been a wave of liquidity transactions: Healthcare Trust of America (NYSE:HTA), Retail Properties of America (NYSE:RPAI), Corporate Property Associates 15 (merged into W.P. Carey (NYSE:WPC)), American Realty Capital Trust (listed then merged yesterday with Realty Income), and the recently announced merger of American Realty Capital Properties (ARCP) with ARCT III (see article here).
Three out of five of these transactions were orchestrated by Nicholas Schorsch, Chairman and CEO of ARC Properties Advisors and none of the five involved Cole Capital. Could Cole be feeling the pressure?
So what about Spirit? What's driving the merger? Spirit needs diversification. Spirit needs lower leverage and more importantly, better debt terms. Spirit simply needs scale.
But does Spirit have a management team? Is this a diversified REIT now? Remember my closing comments in the previous article in which I explained the "alpha" for commoditized Triple-Net REITs:
So how does the broader group of commoditized Triple-Net REITs become highly differentiated? What is the strongest source of a REIT's differentiation that drives the power of the repeatable income model into durable and sustainable dividends?
And the drum roll (ladies and gentlemen)… as I explained:
Accordingly, the very best Triple-Net REITs are distinguished by their internalized management teams that have delivered exceptional risk control performance and the sharpest and strongest sources of differentiation (with no conflicts of interest). For that is the alpha in the commoditized Triple-Net REIT world.
Spirit's model is different from all of the other Triple-Net REITs in that the company acquires properties based more on "unit level economics" more so than "credit-rated economics". The problem with that strategy is that Spirit investors are basing their criteria on higher risk tenants and the bets are big, not small.
As most know, that was part of Realty Income's strategy in the early days - when the company was placing "little bets" on smaller ticket deals like Taco Bell, Econo Lube N' Tune, and Ryan's. But, as the ticket sizes (boxes) have gotten bigger, Realty Income has become more "credit focused."
But Spirit has some "big bets" and simply means high risk. For example, what do you do with an 84 Lumber property when it is no longer an 84 Lumber? What do you do with a Carmike Cinema when it is no longer a Carmike? How do you operate a discount store when Wal-Mart has surrounded you from all sides? This is simply an unsound business model.
To add fuel to the fire, you combine a portfolio of diversified assets with varied credit profiles, you simply end up with a $7 billion junk bond, with no proven management team!
And The Winner Is?
Nick Schorsch (and his company) has become the dominating aggregator of non-traded REIT products. Although still a newcomer for internalized management products, Schorsch has made some intelligent decisions and his hard work has now paid off in the form of around $45 million of stock (including common, OP and Preferred shares) in Realty Income (that includes monies related to Schorsch and his management team).
There aren't many non-traded REIT sponsors that have been as successful and I credit Schorsch for paving the way for investors to achieve full-cycle liquidity while also building a scalable empire of non-volatile REIT products.
However, there is one important feature that Schorsch does not have. That is why he is the runner up, not the crowned champion.
Remember, when you purchase shares in a publicly listed REIT, you are buying two things: Real estate and a management team. Oftentimes, investors inspect the individual hard assets but they never look behind the curtain to see who is managing the risk. That is, who is buying and selling the assets? Who is managing the balance sheet risk? Who is protecting me from risk? Who is helping me to maintain my dividend? Most importantly, who is helping me increase my dividend?
Realty Income is the clear winner! I congratulate the "blue chip" on a milestone merger and an exceptional track record for performance. The evolution of the "commoditized" triple-net REIT sector will continue to attract new players and some will survive and some will fail. Always consider the risks and especially the alignment of ownership interests.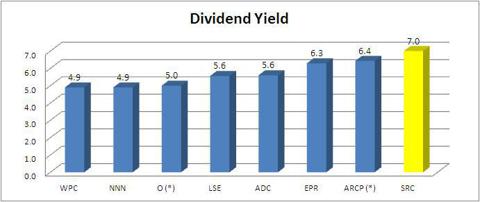 (*) Includes Announced Dividend Increase
One Footnote for My Friends:
Ladies and gentlemen: I know you hear me time and time again preaching principal preservation and my clever "sleep-well-at-night" pitch. Remember, I'm not trying to sell you anything. I am trying to protect you from everything. Most importantly, your checkbook.
There are many REIT options available today and the "commoditization" of products has created a beneficial market for investors to achieve wide diversification. It is important to consider the reason for investing in the various REIT sectors and the fundamentals that are driving your asset allocation strategy.
Remember that Triple-Net REITs own assets with long-term leases. Accordingly, the income generated from these Triple-Net leases do not grow as rapidly as the other shorter term counterparts. (i.e. hotels, apartments, self storage, etc.). In other words, I think it is important to balance your portfolio with a diverse number of REITs - some more focused on income and others more focused on growth. It's what I like to call the "anchor and the buoy" strategy.
The reason behind my footnote is simply that investors should not be fooled by a REIT that appears to be an anchor, but is really not. An anchor should be a sound stock that has demonstrated a track record of consistency and growth. There is no better benchmark than a dividend contender like Realty Income, National Retail (NYSE:NNN), or W.P. Carey. Sleep Well at Night!
Other REITs referenced: (NYSE:GTY), (NYSE:SIR), (NYSE:LSE), (NYSE:EPR), (NYSE:LXP)
Disclosure: I have no positions in any stocks mentioned, and no plans to initiate any positions within the next 72 hours. I wrote this article myself, and it expresses my own opinions. I am not receiving compensation for it (other than from Seeking Alpha). I have no business relationship with any company whose stock is mentioned in this article.