Though I still own a fair amount of gold and silver mining stocks, like many other investors, I've fallen out of love with them in recent years for reasons that should be obvious in the charts below.
More importantly, with the remarkable performance of silver over the last four years and again here in 2012, I'm starting to wonder whether investors need mining stocks at all.
With silver, investors have seen some remarkable gains with some equally remarkable volatility but, lately, with mining stocks, about all investors have been getting is the volatility.
It wasn't always like this, but, as shown below using the iShares Silver Trust (NYSEARCA:SLV), Market Vectors Gold Miners ETF (NYSEARCA:GDX), and Junior Gold Miners Index (NYSEARCA:GDXJ), it's been a dismal stretch for the mining shares and, even when they did see big gains in 2009 and 2010, they still underperformed relative to silver.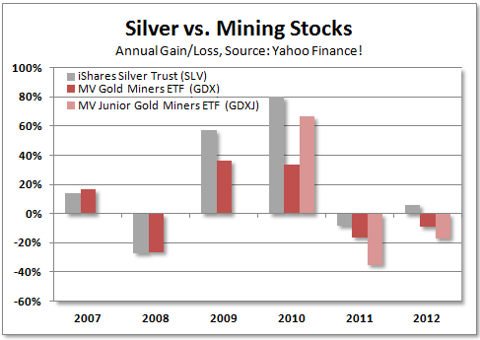 Click to enlarge
In fact, after seeing similar size losses in 2007 and 2008, from 2009 through 2012, the metal's 180 percent gain has trounced the 40 percent increase for large cap mining stocks in the GDX ETF.
It's even worse for the junior miners ETF since, with only three full years of data to compare, silver's 78 percent gain over this period is far better than the 10 percent loss for GDXJ.
Long-time gold and silver stock holders are accustomed to the kind of volatility seen in recent years, but, since the precious metals bull market began, they're not used to losing money over a period of two or three years.
As detailed previously in Gold vs. Gold Stocks Part I and Part II, there are many reasons for the metals to have done better than the miners in recent years, but, most investors have held out hope for a return to what was seen a decade ago when mining stocks acted as a leveraged bet on the price of the metal.
I'm not so sure we'll ever see those days again.
Going back a bit further and looking at silver along with gold and the HUI Gold Bugs Index as shown below, it's easy to understand how mining stocks got their reputation as a leveraged bet. Relatively modest increases in gold and silver prices led to huge gains for mining stocks from 2001 to 2003 after this sector had bottomed out following a 20-year bear market.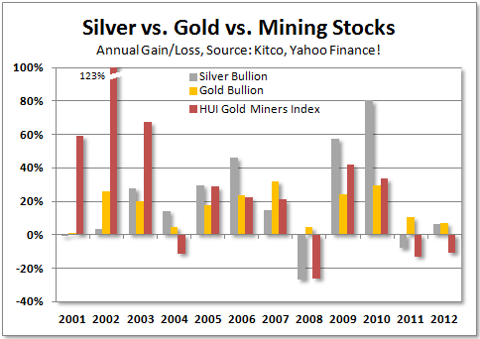 Click to enlarge
The steady performance of gold is also clear to see here - not a single losing year going all the way back to 2001 as compared to big losses for silver and mining stocks in multiple years.
Going all the way back to 2001, the performance of these three investments is remarkably close with the mining shares actually doing better than either metal:
Silver bullion: +563%
Gold bullion: +495%
HUI Gold Bugs: +581%
But, that outperformance is due entirely to the three year run from 2001 to 2003. Beginning in 2004, it's a completely different story:
Silver bullion: +403%
Gold bullion: +296%
HUI Gold Bugs: +83%
And it just gets worse the later you begin the comparison.
While it's true that you could have achieved better results with mining shares in recent years by carefully selecting individual stocks, that's easier said than done.
Moreover, as evidenced by the size of the two ETFs above (about $9 billion for GDX and about $3 billion for GDXJ), an increasing number of investors have become accustomed to using ETF products rather than individual shares and ETFs are a major vehicle for attracting new investors to this sector, so, for gold and silver stocks to do well, the ETFs have to do well.
I haven't given up on mining stocks because, as I will detail in the third and final installment of the Gold vs. Gold Stock series, there is one increasingly likely outcome that, in my view, favors a return to the good 'ol days of early in the last decade when the shares really were a leveraged bet on the price of the metal.
But, the thought of just ditching all my gold and silver stocks has certainly crossed my mind since, in recent years, if you owned silver, you really didn't need mining stocks.
Disclosure: I am long SLV, GDX, GDXJ. I wrote this article myself, and it expresses my own opinions. I am not receiving compensation for it (other than from Seeking Alpha). I have no business relationship with any company whose stock is mentioned in this article.
Additional disclosure: I also own silver bars and coins