Growth and value are ubiquitous names in the mutual fund and investing business, but are rather vague in their descriptive nature. With names like Discover Growth and Opportunity Growth, Morningstar lists thousands of funds with a growth focus, and an equal number of value funds.
The Alliance Bernstein Large Cap Growth Fund prospectus lists the research focus as companies with high sustainable growth prospects, high or improving return on invested capital, transparent business models, and strong and lasting competitive advantages.
The same firm's Value fund lists that its focus is to identify a universe of securities that are considered to be undervalued because they are attractively priced relative to their future earnings power and dividend-paying capability. The prospectus goes on to say,
The research staff focuses on the valuation implied by the current price, relative to the earnings the company will be generating five years from now, or "normalized" earnings, assuming average mid-economic cycle growth for the fifth year.
Both appear to be legitimately value-added traits for profitable investments, and do not appear to be mutually exclusive. Nevertheless, there appears to be a clear cut divide on investment strategy philosophy. The differentiating feature between the two Alliance Bernstein funds (as well as most growth vs. value distinctions) is the focus on a stock's current price.
Investopedia defines a growth stock as follows: "Shares in a company whose earnings are expected to grow at an above-average rate relative to the market." Consequently, earnings growth is more important than the price paid today. As such, investors are willing to pay a higher P/E ratio than a typical "value" name since the earnings in the out-years will exceed those of today by a wide margin. The logic seems simple enough: you are paying a higher price today for the company's future earnings, and those earnings eventually play catch up with the ratio - normalizing over the longer term. Growth stocks are generally regarded as the top third of the market in terms of valuation, and value the bottom third. Many growth investors view value stocks as "dogs", and value investors portray growth investors as "lemmings." The divide is vast.
William J. O'Neil, founder of Investors Business Daily, wrote in his book, How to Make Money in Stocks, that,
The fact is, investors with a bias against what they consider to be high P-Es will miss out on some of the greatest opportunities of this or any other time."
History provides plenty of examples of winners profiting from high P/Es growth stocks such as Google (NASDAQ:GOOG), Amazon (NASDAQ:AMZN), Apple (NASDAQ:AAPL), and Cisco (NASDAQ:CSCO) among numerous others. However, the benefit of hindsight likely skews our view of such 'high-fliers'. High P/E ratios and high expectations for growth do not necessarily go hand in hand.
We looked at the Value Line database of over 6,000 companies to compare expected growth rates to P/E ratios. There are 1,800 domestic names in the database with 5-year forward expected growth rates. Company growth in its own right is not as important as profitable growth. The old saying, we lose money on every widget, but make it up in volume, is prevalent in Graph 1. There is almost no connection between how fast a company can grow its revenue and what an investor will pay for it.
Graph 1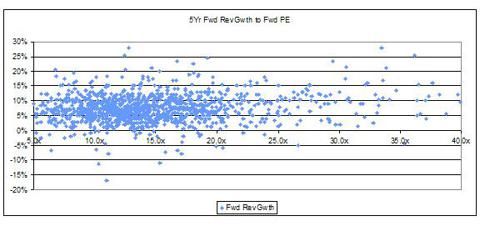 Source: Bloodhound Investment Research, Value Line
However, as seen in Graph 2, there is not much more correlation between earnings growth expectations and forward P/E. The correlation is there, but with a tremendous amount of noise.
Graph 2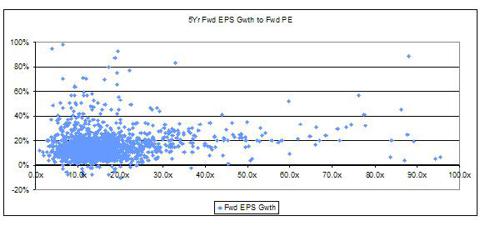 Source: Bloodhound Investment Research, Value Line
When one removes the outliers as we have done in Graph 3, a correlation remains visible, but the variance is great. Just among companies expected to generate 25% earnings growth, the P/E ranges from 6.2x to 87.6x. Picking the next Amazon or Google out of this mess is more a matter of luck than science.
Graph 3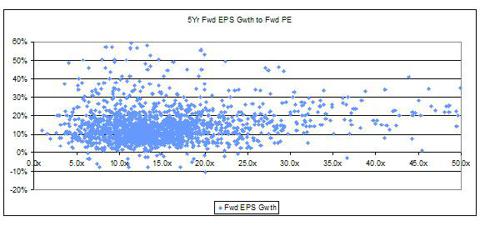 Source: Bloodhound Investment Research, Value Line
The data suggests that P/E and expected growth rates have little connection, despite that the numbers have some upward bias built in. Out of the 1,800 companies with 5-year earnings expectations, only 24 (less than 2%) are expected to see earnings decline, and the largest decline is 10.5%. We manage a unique 26-year point-in-time database that tracks all 40,000 stocks that have been listed since 1987, including those that are no longer listed. As such, there is no survivorship bias. Our analysis indicates that in any given year since 1987, an average of 16% of companies experienced a trailing 5-year earnings decline (the results are higher since 2008).
Speaking of trailing growth rates, the average individual investor is even at more of a disadvantage since he/she often does not have access to consensus earnings growth targets. The correlation to the more commonly available Historical Earnings Growth - using the trailing 5-year growth - is even worse, as one might expect. In fact, the correlation is slightly negative.
With our system we can create an investment strategy using any combination of up to 1,400 different fundamental and technical parameters, and test the results of that strategy against our 26-year database. For this article, we created a simple strategy that holds the 20 highest P/E names for each calendar year, and the 20 lowest P/E names. The Low P/E portfolio actually outperformed the High P/E strategy by an average of 90 basis points. Adding the stipulation that any investments need to be above $5 per share eliminates some of the lottery tickets in the High P/E strategy, while keeping the Low P/E strategy mostly unchanged. In that scenario, the average outperformance grows to 310 basis points with more consistent returns.
Disclosure: I have no positions in any stocks mentioned, and no plans to initiate any positions within the next 72 hours. I wrote this article myself, and it expresses my own opinions. I am not receiving compensation for it (other than from Seeking Alpha). I have no business relationship with any company whose stock is mentioned in this article.