Wal-Mart Stores, Inc. (NYSE:WMT) is an ideal dividend growth stock. The company has a leading edge presence as a low cost retailer. The company is intensely focused upon cutting corporate costs. Wal-Mart Stores is buying back shares, increasing dividends, and creating shareholder value. These are the perfect elements in a dividend growth story.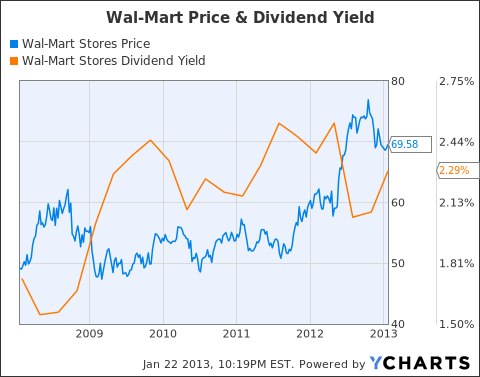 data by YCharts
Dividend Reinvestment Results
The Wal-Mart shares have provided initial investors an annualized 20.25% total return with dividends reinvested since their IPO.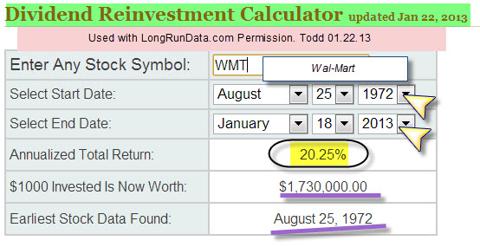 Wal-Mart's Dividend Growth
Wal-Mart continues to grow from strength to strength. Over the past five years, net sales are up 4.4%, an increase of $70 billion over a 2008 revenue base of $373.8 billion. This is pretty remarkable because it's difficult to grow revenues by such large dollar amounts from an already high base. The company is using free cash flow to buy back stock. The share repurchases are accretive to earnings.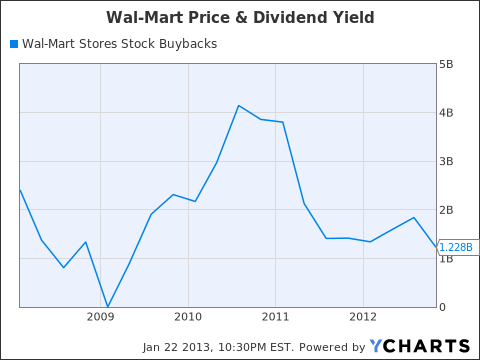 data by YCharts
What's even more remarkable is that this revenue increase was accompanied by an annualized earnings increase of 9.6% per share and an annualized dividend increase of 13.5%. That dividend growth was higher is not surprising because dividends are paid out of cash flows which are typically higher, in well run companies, than earnings which are impacted by non-cash items such as depreciation.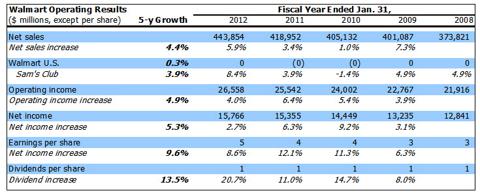 Dividends
Wal-Mart shareholders have been nicely rewarded with a growing stream of dividends, up 13.5% from fiscal year 2008 through fiscal year 2011 (ended Jan. 31, 2012).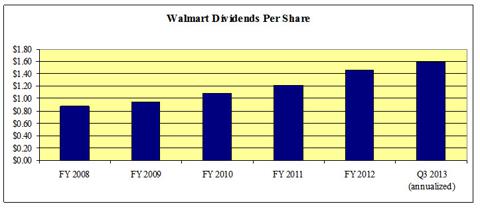 For its most recent quarter, third quarter 2013, Wal-Mart declared dividends of $0.3975 per share ($1.59 annualized), up 8.9% from $0.365 per share ($1.46 annualized) in third endr 2012. Wal-Mart pays a fixed dividend in each quarter of a fiscal year and typically raises dividends in the first quarter of each new fiscal year. Payments are made in April, June, September and January of each year.
With shares trading at $69.58 as of January 23, Wal-Mart shares carry a dividend yield of 2.3%. Shares are up almost 14% over the last twelve months and have nicely rewarded shareholders with capital gains and dividends.
Third Quarter 2013 Results
For its third quarter ended October 31, 2012, Wal-Mart reported total revenues of $113.93 billion, up 3.4% from the year ago quarter, operating income of $6.12 billion, up 4%, and net income of $3.64 billion, up 9%. The fourth quarter ends January 31st, 2013. Earnings per share were up 11.5% to $1.08 from $0.96 in the year ago quarter, partly aided by 2.3% lower shares outstanding. The quarter also saw improved operating and net margins than the year ago. Earnings increases at more than twice the rate of revenue growth suggest that Wal-Mart continues to gain from productivity and scale increases.
Revenue gains were driven by a 1.5% increase in Wal-Mart U.S., a 2.7% increase in Sam's Club and a 2.4% increase in international sales. Revenues were adversely impacted, by $1.7 billion, due to currency fluctuations.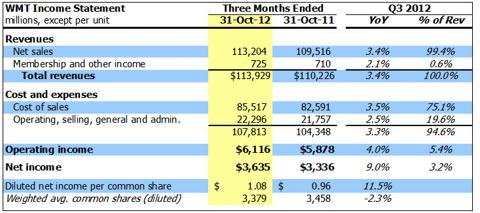 Wal-Mart sees online sales as a major segment and is actively focused on e-commerce enablement and improvements to its transactional website. Wal-Mart also upped its equity stake in a leading Chinese e-commerce portal to 51%.
And in November 2012, Wal-Mart announced record Black Friday sales which should boost fourth quarter revenue.
At quarter end, Wal-Mart reported cash and cash equivalents of $8.64 billion, up 32% since the beginning of the fiscal year. Wal-Mart also reported a 2.7% increase in net property and equipment. Total assets were up 6.4% to $205.82 billion while long-term debt was down almost 12% to $38.87 billion. Stockholders' equity gained 3.7% in the fiscal year to $78.6 billion. Wal-Mart's sizable reduction in debt brings leverage down to a fairly manageable level while also lowering interest expenses going forward.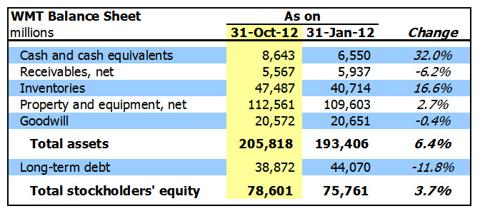 For the nine months ended end 31, 2012, Wal-Mart generated $15.9 billion from operating activities, almost $3 billion more than in 2011. The company spent $9.35 billion in investing activities, most of it on the acquisition of property and equipment. The company used $4.7 billion in financing activities, with $4.7 billion generated from short-term borrowings and $4.03 billion used to pay dividends and $4.66 billion used for stock buybacks.

Summary
Wal-Mart has an attractive and growing business with tremendous global untapped opportunity. The company executes on their business model. The Chief Financial Officer (NASDAQ:CFO), and team, efficiently bought back stock and increased dividends to benefit long-time shareholders. In my view, this is an ideal "buy and hold" dividend growth stock.
Disclosure: I am long WMT. I wrote this article myself, and it expresses my own opinions. I am not receiving compensation for it (other than from Seeking Alpha). I have no business relationship with any company whose stock is mentioned in this article.