Last week, I published an article to this site that suggested that it could be beneficial for Seadrill (NYSE:SDRL) if the company used some of the money that it will be receiving from SapuraKencana to acquire Sevan Drilling (OTCPK:SDRNF). By acquiring Sevan Drilling, Seadrill could quickly and significantly expand its presence in the rapidly strengthening ultra-deepwater sector of the offshore drilling industry. An interesting discussion ensued in the comments to this article including some speculation about another possible takeover target: Pacific Drilling (NYSE:PACD). Pacific Drilling is another company that appears to be a good match for Seadrill given its modern and technologically sophisticated ultra-deepwater fleet. Pacific Drilling would also be a much larger acquisition than Sevan Drilling. Seadrill could not acquire the company solely with the money from SapuraKencana. I have heard considerable speculation about a possible tie up between these two companies over the past few months and, for that reason, I think that it is appropriate to take a more in-depth look at the possibility.
First, I will provide some background. On November 5, 2012, Seadrill announced that it is selling its tender rig division to Malaysia's SapuraKencana Petroleum in a $2.9 billion deal. While the deal has not yet been finalized, Seadrill announced on January 21, 2013 that significant progress has been made in the first part of the due diligence phase of this deal. Thus, it is looking ever more likely that this deal will go through. Seadrill will not be receiving all of the deal's $2.9 billion total consideration in the form of cash. I discussed the various forms of consideration and amounts in the previous article (linked above) but, in the end, Seadrill will pocket approximately $1.2 billion in cash. The remainder of the deal's total consideration will come in other forms.
Seadrill stated in its third quarter earnings report that it intends to use this money to invest in either newbuildings or M&A to expand its presence in the ultra-deepwater and jack-up sectors of the market. In my previous article, I discussed reasons why an acquisition of Sevan Drilling could make sense for Seadrill. Some of the reasons are also valid for a potential takeover of Pacific Drilling. In particular, Seadrill would be able to acquire rigs much more rapidly through an acquisition than the company could build them. This would result in faster growth because Seadrill could start using the acquired rigs immediately to generate revenues, cash flows, and profits instead of having to wait for more than two years to generate revenues and profits if it builds new rigs.
One of Seadrill's biggest competitive advantages is that it possesses one of the most modern ultra-deepwater fleets in the world today. In a recent article, I stated that oil and gas companies are more interested in procuring the use of modern drilling rigs than older ultra-deepwater drilling rigs. These companies are, in fact, paying a sizable premium to acquire the use of these rigs compared to their older cousins. There are a few reasons for this but two of the major ones are that newer rigs are safer and perform better than older ones. The quality of Seadrill's fleet combined with this customer preference for modern rigs has resulted in Seadrill becoming one of the preferred contractors to the industry. If Seadrill wishes to preserve this advantage, then it would need to ensure that any acquisition target has a comparable fleet.
Pacific Drilling meets this requirement. Pacific Drilling's fleet consists of eight ultra-deepwater drillships. Of these, four are in operation and four are under construction. The oldest rig in the company's fleet is the 2010-built Pacific Bora. All of the company's other rigs are newer than this. Therefore, Pacific Drilling's fleet is every bit as modern as Seadrill's and would therefore fit nicely into Seadrill's own fleet.
Pacific Drilling also has a unique capability that could be quite valuable to Seadrill in any potential merger or takeover. Five of Pacific Drilling's rigs have the ability to perform dual-gradient drilling operations with the addition of a special operator-provided kit. These are the only five ultra-deepwater rigs in the world that have this ability. The acquisition of these rigs would add a very desirable capability to Seadrill's fleet, particularly due to the many advantages that dual-gradient drilling offers over traditional methods. Acquiring these rigs through a takeover of Pacific Drilling would ensure that Seadrill remains at the technological forefront of the industry.
Seadrill does have some very good reasons to attempt a takeover of Pacific Drilling. Pacific Drilling's rigs would make a wonderful addition to Seadrill's fleet and acquiring these rigs and Pacific Drilling's rigs under construction would generate strong growth for Seadrill. A takeover of Pacific Drilling would also greatly expand Seadrill's presence in the ultra-deepwater sector. These are the same benefits that Seadrill would get through a takeover of Sevan Drilling as discussed in my previous article. However, Pacific Drilling is much larger than Sevan Drilling and so would be much more difficult and expensive to acquire.
In my previous article, I discussed the importance of enterprise value when determining what a potential acquisition would cost. Investopedia defines enterprise value as,
"A measure of a company's value, often used as an alternative to straightforward market capitalization. Enterprise value is calculated as market cap plus debt, minority interest and preferred shares, minus total cash and cash equivalents.

Think of enterprise value as the theoretical takeover price. In the event of a buyout, an acquirer would have to take on the company's debt, but would pocket its cash. EV differs significantly from simple market capitalization in several ways and many consider it to be a more accurate representation of a firm's value. The value of a firm's debt, for example, would need to be paid by the buyer when taking over a company, thus EV provides a much more accurate takeover valuation because it includes debt in its value calculation."
We can therefore use Pacific Drilling's enterprise value to approximate the total cost to Seadrill to take over the company. At the time of writing, Pacific Drilling had a market cap of $2.23 billion. The company also had a total of $1.866 billion in short- and long-term debt as of September 30, 2012, the date of its most recent financial report. Pacific Drilling has no preferred shares or minority interest. The company also had $153,512,000 in cash and cash equivalents. Pacific Drilling also had approximately $100 million in restricted cash on its balance sheet but that will not be netted as part of the enterprise value because it will not be available for an acquirer to use for its own purposes. Therefore, Pacific Drilling's enterprise value is $3.94 billion. This gives an approximation of the total cost that Seadrill will have to pay to take over Pacific Drilling.
Typically, an acquirer will need to pay a premium to the market cap of the target. This is done to induce the shareholders of the target to sell. Here would be the approximate cost of a takeover of Pacific Drilling, including possible takeover premiums, should Seadrill attempt one: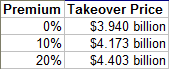 As is immediately obvious, the $1.2 billion in cash that Seadrill is receiving from SapuraKencana is nowhere near enough to cover the costs of a Pacific Drilling buyout. In order to raise the money to purchase Pacific Drilling, Seadrill would have to either issue new shares or take on additional debt. Even if Seadrill re-borrows the $800 million that SapuraKencana is taking over in the tender rig deal, this would still not be enough for Seadrill to take over Pacific Drilling without some source of additional funding.
In addition to these costs, Pacific Drilling owes installment payments to SHI for its four newbuilds under construction. As of the September 30, 2012 report, the expected installment payments totaled $797 million in 2013 and $330 million in 2014. Since the time of that report, Pacific Drilling has ordered an additional drilling rig at a cost of approximately $620 million, which will also be paid off in installments. Seadrill would be responsible for these payments should it take over Pacific Drilling. This would thus impose additional costs of $1.72 billion onto Seadrill in addition to the costs of the takeover. Seadrill likely could cover these costs, although it would have difficulty in 2013. Seadrill has enormous costs in 2013 and 2014 due to its own newbuild program and the sale of the tender rig division already puts pressure on the dividend, so this would make for a few financially difficult years. The company that emerges in 2015 would be a true powerhouse, however.
Seadrill and Pacific Drilling would seem to be a match made in heaven. Both companies have some of the most modern offshore drilling fleets in the industry. Both companies also have stellar safety and performance records. Pacific Drilling's dual-gradient drilling capabilities would also make an excellent addition to Seadrill's fleet. However, the size of this acquisition would certainly make it infeasible to accomplish solely using the money that Seadrill received from SapuraKencana through the sale of its tender rig division. All in all, given the total costs that would be involved in pulling this off, I do not think that this is a very good idea for Seadrill to attempt at this time. Pacific Drilling itself has already stated that it will be taking on additional long-term debt to fund its newbuilding program. Considering Seadrill's heavy leverage, it is difficult to see how Seadrill could fund this without either taking on significant leverage or diluting stockholders. With that said, Seadrill could financially pull off such an acquisition, but I am not convinced that it would be beneficial to do so.
As is the case with my previous article, I would like to emphasize that this is all speculation. Seadrill has said absolutely nothing about taking over Pacific Drilling, nor has either company bought shares in the other. This article is merely intended to add to the discussion among several Seadrill holders and offshore drilling investors that I have seen recently regarding a pairing between these two.
Disclosure: I am long SDRL, PACD, OTCPK:SDRNF. I wrote this article myself, and it expresses my own opinions. I am not receiving compensation for it (other than from Seeking Alpha). I have no business relationship with any company whose stock is mentioned in this article.
Additional disclosure: My long position in Sevan are the shares traded on the Oslo Bors and not the U.S. pink sheets.