After doubling in two years, PetSmart (NASDAQ:PETM) has been range bound between $64-$72. This pet specialty retailer looks ready to roll over and play dead.
The company is trading at valuations that are greater than its 5-year historical PE, P/B, P/S, and P/CF averages. At a pricey 21 P/E, it's poised for a correction.
PetSmart's high-growth days are behind it. The company is no longer putting up lots of new stores as its market is becoming saturated. Last year, PetSmart added 46 stores to a 1232 base, a 3.7% increase. Gone are the heady days when the company grew its store count by 14% (2005).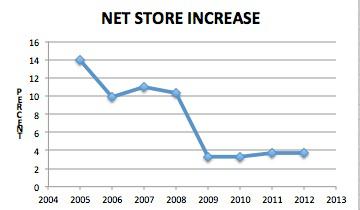 (Sourced from 10ks)
Instead, PetSmart is relying on boosting its margins to deliver earnings growth. That's been successful so far. However, it's hard to improve on a 9.2% operating margin. Very few brick-and-mortar retailers top that.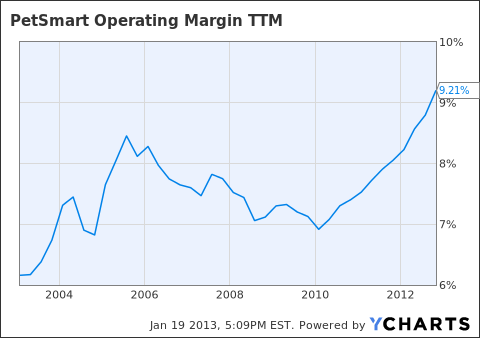 PetSmart's margins are unlikely to keep climbing. In fact, they might start to decline for the following reasons.
Th

e payroll tax has reverted back to 6.2% leaving less money in the pocket. That should help drive more customers back to the less expensive grocery store, Wal-Mart (NYSE:WMT), Target (NYSE:TGT), feed stores, Sam's and Costco (NASDAQ:COST), and on-line shopping.

There's nothing unique about PetSmart. Walk into any Petco, a private chain selling pet products. Petco looks identical to PetSmart - same merchandise, dog grooming and training. Petco has a similar store count and its stores are in the same zip codes as PetSmart.

PetSmart's higher margin service business doesn't have as much room to run. The chart below shows the gradual deceleration in service growth. Services as a share of revenue have topped out.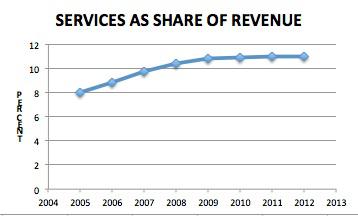 (Sourced from 10Ks)
4. PetSmart is over-staffed. PetSmart has over 23,000 full-time and 27,000 part-time employees. The company has 1278 stores. That's an average of 18 full-time employees supporting an average store. In contrast, Tractor Supply (NASDAQ:TSCO) is similarly sized with 1151 stores but has a far fewer 8700 employees for a much lower eight workers per store count.
While pet owners love their pets, there are other options. I'm reminded of another retailer, Toys "R" Us (TOYS). Investors believed that customers would never abandon the toy retailer. Eventually, that's what shoppers did, spending their money at Wal-Mart and Target instead, and cratering Toys "R" Us.
PetSmart may be the next Toys "R" Us. I would look to a significant pull back in PetSmart.
Disclosure: I have no positions in any stocks mentioned, and no plans to initiate any positions within the next 72 hours. I wrote this article myself, and it expresses my own opinions. I am not receiving compensation for it (other than from Seeking Alpha). I have no business relationship with any company whose stock is mentioned in this article.
Disclaimer: The opinions in this document are for informational and educational purposes only and should not be construed as a recommendation to buy or sell the stocks mentioned. Past performance of the companies discussed may not continue and the companies may not achieve the earnings growth as predicted. The information in this document is believed to be accurate, but under no circumstances should a person act upon the information contained within. We do not recommend that anyone act upon any investment information without first consulting an investment advisor as to the suitability of such investments for his specific situation.