Prior to the open on Tuesday, Verizon Communications, Inc. (NYSE:VZ) reported disappointing Q4 adjusted earnings as high subsidy costs for Apple (NASDAQ:AAPL) iPhones hurt margins.
While the company is becoming the leading domestic provider for 4G wireless services, the biggest question in the telecom sector remains whether it can continue to generate enough cash flow to pay for the capital expenditures to constantly upgrade the networks.
Q4 2012 Highlights
Outside of the normal revenue and earnings, the company reported the following financial highlights for Q4:
Debt dropped to $52B, yet the net debt jumped substantially to $48.9B due to the Verizon Wireless distribution to Vodafone (NASDAQ:VOD) that reduced cash levels.
2012 capital expenditures dropped roughly $70M from 2011 levels. The CFO forecast 2013 capital expenditures to match the 2012 levels of around $16.2B.
Free cash flow increased 13% to $15.3B.
Annual dividend payments exceeded $5.2B.
Interest expense declined to $575M for Q4 2012.
Company expects to investigate initiating a stock buyback in 2013.
A key metric for the company will be whether it can stay on the path of higher free cash flow. The ability to grow cash from operations while keeping capital expenditures steady could drive the stock higher. Unfortunately, as the analysts kept pointing out on the earnings call, three competitors have already announced intentions to increase spending next year. These moves tend to lead to margin pressure and higher expenses in the sector.
See the below slide highlighting the cash flow summary: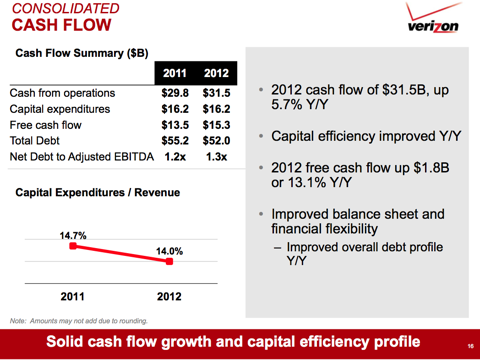 Stock Performance
The stock performance over the last 6 months remains disappointing as it originally hit over $45 back in July of 2012. It peaked over $46.50 in October and now appears headed lower due to a possible head and shoulders formation.
1-Year Chart - Verizon Communications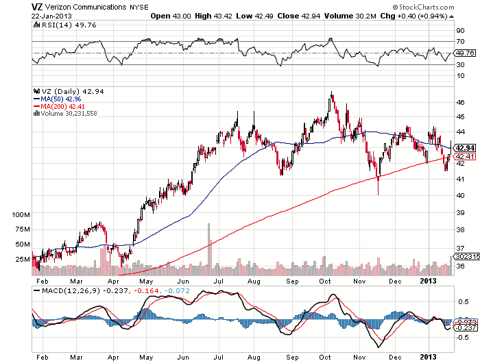 Conclusion
Verizon continues to maintain that 2013 capital expenditures will be flat compared to 2012. If that occurs, Verizon might make another move higher. While great news for the stock, investors and analysts oddly appear consumed by dividends and buybacks when the company has around $52B in total debt.
The company currently has enough coverage for those debt loads, but the future can't always be predicted. General Motors (NYSE:GM) thought the large debt load it incurred was manageable until it wasn't. It seems implausible that a company facing major pension obligations, never-ending capital expenditures, and already has a huge debt load would even consider spending a dime on a share buyback. Imagine how the balance sheet would look if the company furloughed the dividend payments for a year or so.
With Sprint (NYSE:S) and T-Mobile pressing to become legitimate forces in the wireless market, one has to wonder if Verizon can truly keep expenses down in 2013. The stock already suggests the investment community has become skeptical.
Disclosure: I am long VOD. I wrote this article myself, and it expresses my own opinions. I am not receiving compensation for it (other than from Seeking Alpha). I have no business relationship with any company whose stock is mentioned in this article.
Additional disclosure: Please consult your financial advisor before making any investment decisions. Previously, the author worked as a project manager and financial analyst for Verizon.