by Serkan Unal
According to BlackRock, dividend growth has been a key driver of nominal total returns over the long haul. Improving earnings and free cash flow positions in recent years have enabled an increasing number of companies to raise dividends. According to FactSet, "Q2 2012 had the largest number of (S&P 500) companies increasing TTM dividends per share in at least 20 years." Some companies are in better positions than others to raise dividends substantially. Raising dividends by double digits, some companies send a signal to the market about their confidence in their overall business prospects.
Here is a closer look at five dividend-paying stocks yielding above 2% that have recently raised dividends at or above the 10% rate. Some of these companies, such as BlackRock Inc. are consistent dividend growers, while others, such as Ford Motor Co. are well-positioned for sustained, strong dividend growth in the future.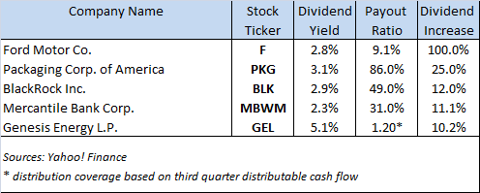 Ford Motor Co (NYSE:F) doubled its quarterly payout from 5 cents to 10 cents a share. The company had suspended dividends in 2006 but resumed them in the first quarter of 2012. Being the only U.S. automaker not to seek bailout funds during the financial crisis, Ford has emerged strong out of the Great Recession. Its EPS is expected to grow 9% in 2013, while its long-term EPS growth will average a more moderate 6.5% per year, according to analysts. Ford's U.S. sales inched slightly in December 2012 from the year ago, driven by higher car sales, against a drop in light truck sales. Still, automotive forecasting firm R.L. Polk & Co. predicts higher auto sales in 2013, totaling 15.4 million and surpassing 16.2 million by 2015, which should bode well for Ford and other automakers.
On January 11, Goldman Sachs added Ford to its Conviction Buy List, based on the company's having "the best EBITDA growth opportunities in the group driven by pickups, its global product story, and the European restructuring." Ford is trading below industry at 9.7x forward earnings; however, its price-to-book is more than double the industry average. Ford is popular with Capital Growth Management's Ken Heebner and billionaire David Tepper (see David Tepper's top picks).
Packaging Corp. of America (NYSE:PKG), a U.S. containerboard and corrugated products company, boosted its quarterly payout by 25%, from 25 cents to 31.25 cents per share. Its quarterly dividend was halved in 2009, but has more than doubled since. The company recently raised prices of its domestic containerboard products on a run-down of inventories. It is also likely to raise prices of corrugated products. However, according to RISI, growth in U.S. containerboard apparent consumption is expected to be modest for the next two years. Still, against that backdrop, the company's long-term annualized EPS growth is forecasted at a robust 10.9%.
The company's free cash flow has increased substantially on a trailing-twelve-months basis as the capex has come down. Nevertheless, given the payout ratio, dividend growth is likely to moderate from here, barring major boosts to EPS and free cash flow in the future. On a forward P/E basis of 14.7x, the stock is trading on par with its peers on average. Value investor Jean-Marie Eveillard's First Eagle Investment Management was bullish about the stock in the third quarter of 2012.
BlackRock Inc (NYSE:BLK), the world's largest asset manager, increased its quarterly dividend by 12.0%, from $1.50 to $1.68 per share. The company's dividend has grown at an average annual rate of nearly 24% over the past five years. The company posted a 24% jump in earnings from the year earlier on strong inflows into ETFs and on expansion in assets under management. The company is benefiting from investors' shift of assets into equity funds. BlackRock is heavily focused on ETFs, which account for 25% of the company's long-term assets under management. The company's CEO, Larry Fink, sees an investment shift into passive investing in the ETFs, which bodes well for BlackRock's growth.
According to Barron's, JPMorgan gives a positive view of BlackRock based on the momentum in the sector and strong trends in ETF flows. With a forward P/E of 15.3x, BLK trades on par with the industry, despite stronger-than-average 6% estimated increase in flows, according to Goldman Sachs estimates. At the end of the third quarter of 2012, the stock was popular with Highfields Capital's Jonathon Jacobson and billionaire Ken Griffin.
Mercantile Bank Corp. (NASDAQ:MBWM), a bank holding company, recently raised its quarterly dividend by 11.1% from 9 cents to 10 cents per share. The bank's dividend has been on a rollercoaster over the past several years and has not been paid regularly each quarter. However, now that the bank's free cash flow has improved on a trailing-twelve-month basis, the regularity of the dividend payout will likely be restored. The bank has had a "positive (earnings) momentum" with eighth consecutive quarters of positive earnings. The profitability is supported by improving asset quality and strong net interest margin. The bank is trading at book value. Its return on equity of 29.5% is well above that of its industry on average. The bank has a high free cash flow yield of 7.5% and trades at a small premium to industry, based on the forward P/E of 12.6x. Jim Simons held a small stake in the stock in the third quarter of 2012.
Genesis Energy L.P. (NYSE:GEL), a midstream energy infrastructure company, operating pipelines and providing refinery services, hiked its distribution by 10.2% on a year-over-year basis. Its new quarterly distribution of 48.5 cents per share in the fourth quarter of 2012 compares to 44 cents per share in the same quarter a year ago. The MLP has a five-year average annualized dividend growth rate of 13.3%. Its distributions have now increased for 30 consecutive quarters, out of which 25 increases were 10% or higher on a year-over-year basis.
As is the case with other midstream infrastructure MLPs, GEL is a play on the surge in transported volumes of unconventional energy supplies. Its business benefits from strong volume growth in the Permian Basin and Eagle Ford Shale. In the company's third quarter, distributable cash flow jumped 24% over the year-earlier levels to a new record of $45.9 million. With distributable cash flow rising, the company remains committed to "continue delivering disciplined growth in distributions." Fund manager Richard Driehaus and RenTech's Jim Simons held small stakes in the MLP at the end of the third quarter of last year.
Disclosure: I have no positions in any stocks mentioned, and no plans to initiate any positions within the next 72 hours.
Business relationship disclosure: Dividendinvestr is a team of analysts. This article was written by Serkan Unal, one of our writers. We did not receive compensation for this article (other than from Seeking Alpha), and we have no business relationship with any company whose stock is mentioned in this article.