Markets in Japan have become quite volatile as the new government moves to implement their agenda moving forward. Regardless of the ups and downs short-term we believe that the focus on improving the economy and beating deflation will ultimately pay off and has the potential not only to change the economy in Japan but also the demographics. It is a country which has grayed over the past few years and long-term if that trend is not reversed then there will be little in terms of financial engineering that the government can do to boost the economy and will instead have to focus their attention upon social programs designed to help increase the birthrate and thus population.
Chart of the Day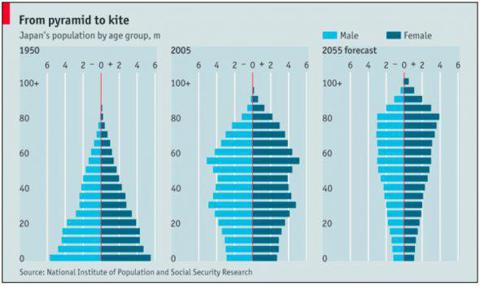 Click to enlarge
Chart Courtesy of Business Insider.
Japan is a perfect case study in demographics and the three phases of growth (or lack thereof) as starting from the left the demographics indicate a growth economy, then a mature economy, and finally a shrinking economy.
We have economic news due out today, and it is as follows (these are the consensus estimates):
MBA Mortgage Index (7:00 AM EST): N/A
FHFA Price Index (9:00 AM EST): N/A
Asian markets finished mixed today:
All Ordinaries - up 0.19%
Shanghai Composite - up 0.25%
Nikkei 225 - down 2.08%
NZSE 50 - up 0.02%
Seoul Composite - down 0.81%
In Europe markets are mostly higher this morning:
CAC 40 - down 0.18%
DAX - up 0.21%
FTSE 100 - up 0.11%
OSE - up 0.17%
Biotechnology
Shortly after we submitted yesterday's article Arena Pharmaceuticals (NASDAQ:ARNA) issued a statement regarding a request from the CHMP for further information regarding their concerns with Belviq. So apparently they DID in fact get some feedback from the Europeans and it mirrors what US regulators at first gave Arena. It seems that these are just old issues which the company has already addressed to the satisfaction of US regulators so it is possible that these 'fixes' could be carried over to Europe in order to gain their approval. Even with the apparent setback, the company still anticipates that the CHMP will issue final approval in the first half of 2013. Either way the market did not like the news and sent shares down $0.95 (9.72%) to close at $8.82/share on volume of 27.2 million shares.
We are left to wonder if this is the dog wagging the tail or the tail wagging the dog. It would be easy to say that this was data which was concerning due to both the US and European regulators calling it into question, specifically the rat tumor issue, but it seems all too common in instances such as these where one regulator piggy-backs off of the work of another because they are looking at the exact same information and there is already an answer out there.
Transports
Delta Airlines (NYSE:DAL) continues to benefit from their venturing into the oil refining business and it is now apparent that they will be a beneficiary of the explosive growth in Bakken oil production. The company is benefiting from cost savings realized from the refinery they purchased earlier but just as those numbers from past quarters come up to be compared to current quarters we will have Bakken crude coming to the east coast. This will have the effect of lowering the cost of oil on the east coast of the United States and thus lowering the input costs incurred by Delta at their refinery in the US northeast. Right now it seems that the chips are just falling in place for Delta. This is all great in the current environment, but shareholders also need to ponder where the company would be in an environment which was opposite of this and rather than a boost the refinery segment was a drag.
Natural Gas
Speaking of the price of energy, a cold snap has begun to hit the east coast of the United States setting in on the southeastern US last night and it is indeed cold this morning. This weather has pushed the price of natural gas higher and yesterday Chesapeake Energy (NYSE:CHK) saw shares shoot higher by $0.91 (5.11%) to close at $18.73/share with a surge in volume to 22.5 million shares - which simply goes to remind everyone that for all the bad things one can say about Chesapeake, it sure is a great way to play short-term movements in natural gas. Anyone who disagrees needs merely to look at the chart of the recent price action (right side up of course!) and compare it to that of natural gas, which we think would effectively put an end to any further comments to that end (and we mention this only because there are a number of people who seem to like to argue this whenever it is mentioned.
Manufacturing
3D Systems (NYSE:DDD) continues its rise and closed the session at $69.80/share after rising $3.98 (6.05%) with volume registering at 5.1 million shares on this momentum which seems to have been built up here. It seems every day that the company or its peers are hitting new 52-week and/or all-time highs and we believe that this is one of those tiny bull markets within a bull market. They are hard to find and slowly attract more and more people in before they explode higher and then fall back to earth, much like the rare earths did not so long ago. This has all of the classic tell tell signs and the chart is looking a bit over extended, but in markets such as these you hold issues like 3D Systems and ride the gains until the pullback indicates that the rally is in fact over. Yes, it does risk some of your gains, but it keeps one from getting shaken down during those routine pullbacks on the way up. The company announced that they would report financial results on February 25, 2013 (see release here).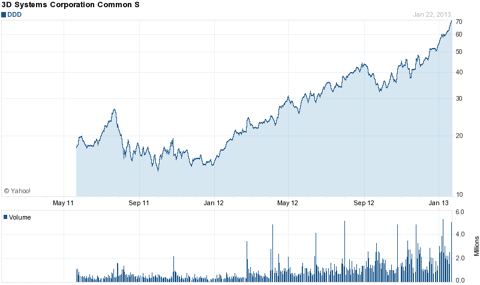 Click to enlarge
Chart courtesy of Yahoo Finance.
Financial
We finally got the quarter we were awaiting from Regions Financial (NYSE:RF) which pushed shares higher by $0.33 (4.44%) to close at $7.76/share on volume of 37.5 million shares. The shares hit a new 52-week high on the news before backing off and although it is turning around for reasons opposite of our original thinking, the turnaround is occurring nevertheless. As readers will remember, we believed that Regions would be able to benefit from the turnaround in housing in the southeast but that has lagged in previous quarters; a result which carried over into this quarter as well as residential loans fell 15% sequentially.
The company was able to beat analysts' expectations due to a higher than anticipated net interest margin as well as indirect auto loans, which rose by 7%, and C&I loans, which rose by 1.5%. Previously we had discussed the possibility of turning bearish and moving on here, but with this news we would recommend that readers keep the portion of that original position if you still have it and see if this momentum can carry over to the next quarter.
Disclosure: I have no positions in any stocks mentioned, and no plans to initiate any positions within the next 72 hours. I wrote this article myself, and it expresses my own opinions. I am not receiving compensation for it (other than from Seeking Alpha). I have no business relationship with any company whose stock is mentioned in this article.