Waste Management Inc. (NYSE:WM) is the largest integrated waste services provider in the U.S., operating 271 active landfills and 294 transfer stations. Since our last publication of "Waste Management: Solid Cash Flow Through This Simple Business Model, Collects And Disposes," WM had gained 7.67% and closed at $35.25 on January 18, 2013. Our reviewed credit put options play resulted in the maximum profit of 17.65% return on margin as the options expired and became worthless on January 18. New developments for Waste Management and a new options strategy will be presented and reviewed in the following article.
Bullish Factors
Landfill dominance. Waste Management's dominance in landfill ownership and its massive scale in collection routes are hard to duplicate and are creating efficient waste streams that funnel volumes to valuable landfill space.
A simple business model with strong cash flow. The core business model of collecting wastes and depositing at landfills are generating consistent and stable cash flow. WM also enjoys pricing power at landfills, which is under strict environmental regulation.
Waste-to-biofuel expansion. Waste Management and EB Investment ULC acquired Enerkem Inc.'s stake in an ethanol plant in Alberta for $37.5M. The facility will initially produce methanol, which will be sold to Methanex Corp., until ethanol production begins in 2014. The project in Edmonton is also funded by government grants and will convert garbage into about 10 million gallons of ethanol a year.
Growing earnings. Analysts, on average, are expecting an EPS of $2.10 with revenue of $13.59B for fiscal 2012. For 2013, analysts are estimating an EPS of $2.29 with revenue of $13.88B, which is 2.20% higher than 2012.
Analyst's upgrade. On January 18, 2013, Wedbush Securities upgraded WM from Underperform to Neutral and raised its price target from $30.00 to $34.00. Wedbush Securities noted, "1. Q4 survey results suggest uptick to landfill volumes in the quarter and into 1H:13, aided by Hurricane Sandy; 2. 1.5-1.9% base yield (price) in 2013 and 2014, up from sub-1% in 2012; 3. recovery in commodity prices suggest guidance above our model and more consistent with five-year price average; 4. uptick in volume and stabilized pricing suggests that downside risk to FCF expectations is significantly reduced. While we do not expect the recovery in WM's operating profile to be smooth, we believe downside risk to our estimates has eased considerably. We now see a more balanced risk/reward profile, with 2013 downside risk likely protected by the monetization of cost savings and restructuring efforts. In addition, we are more confident about a marginal improvement in the business environment and, with reduced pricing concerns, we now believe WM can deliver EBITDA margin improvement of 40-60 bps over the next 4-6 quarters."
Fundamentally, WM generates a steady cash flow with an operating cash flow of $2.45B with a levered free cash flow of $661.62M. WM has higher operating margin of 14.1%, ttm, and net margin of 6.3%, ttm, as compared with the industry averages of 13.2% and 6.0%, ttm, respectively. WM is undervalued with P/E of 19.0, which is lower than the industry average of 29.5. WM's forward P/E of 12.8 is also lower than the S&P 500's average of 13.3
Technically, the MACD (12, 26, 9) is showing a bullish trend and the momentum indicator, RSI (14), is indicating a strong bullish momentum at 75.48. WM is currently trading above its 50-day MA of $33.21 and 200-day MA of $32.85. The next resistance is $35.62, the R2, pivot point, as seen from the chart below.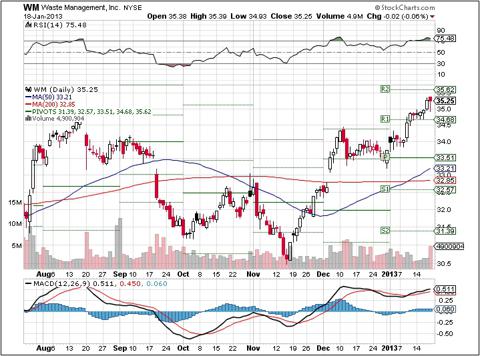 Source: StockCharts.com
Risks/Concerns
Commodity price impact. Declining commodity price could impact Waste Management's earnings negatively. Analysts are expecting a recovery in commodity prices in 2013.
Over-bought concern. WM is in the over-bought territory as indicated by RSI (14) indicator, currently at 75.48, where above 70 is considered as over-bought.
Options Strategy
For bullish WM investors, a new credit put strategy is reviewed, which will allow investors to acquire WM stock at a lower price while gaining some upside potentials.
Short 1x April 20, 2013 put at the strike price of $33 for the credit of $0.35
Buy 1x April 20, 2013 put at the strike price of $31 for the cost of $0.15
The maximum return is $0.20, and the maximum risk/margin requirement is $1.80 ($2 loss - $0.20 credit received). If WM closes above $33 on April 20, 2013, 11.11% return on margin will be gained. If WM falls below $33 upon options expiration, WM stock will be acquired at $32.80, which is 6.95% lower than the current price of $35.25. The expected annual dividend yield will be 4.33% based on the acquisition cost of $32.80 with the projected dividend of $1.42 per year.
Note: All prices are quoted from the closing of January 18, 2013 and all calculations are before fees and expenses. Investors and traders are recommended to do their own due diligence and research before making any trading/investing decisions.
Disclosure: I have no positions in any stocks mentioned, but may initiate a long position in WM over the next 72 hours. I wrote this article myself, and it expresses my own opinions. I am not receiving compensation for it (other than from Seeking Alpha). I have no business relationship with any company whose stock is mentioned in this article.