By: John J. Critchley, Jr.
Apple (NASDAQ:AAPL) is bruised, but is the tech giant down for the count? The wait is almost over as the investing world waits with baited breath as AAPL reports its first-quarter earnings on Wednesday, January 23, after the close. There have rarely, if ever, been earnings that have been more anticipated than these numbers due after the close from AAPL.
The investing public is well acquainted with the tale of woe that has plagued the underlying stock price for the last few months. Since a 52-week high hit in September of $705, AAPL has been on a precipitous decline, closing at $505.47 last night. That's a 28.6 percent plunge in just over the past four months.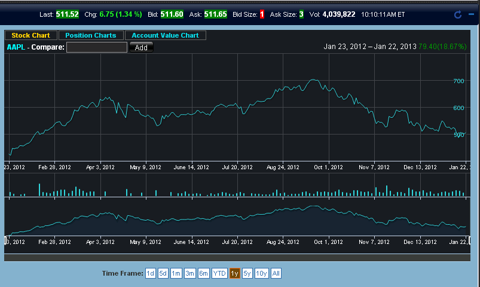 Source: sogotrade.com
AAPL forecast $52 billion in revenue and earnings of $11.75 per share when it reported its last earnings results in October. Analysts are expecting the company to exceed that at $54.69 billion and earnings per share of $13.41 based on a poll of 47 analysts done by Thomson First Call. (source here)
Will this downside swoon continue post-earnings or will sentiment emerge that the recent bout with selling was overdone?
Positive earnings from other tech stalwarts, IBM (NYSE:IBM) and Google (NASDAQ:GOOG), may present a bullish harbinger of things to come going into the Wednesday earnings release.
The bearish camp rests its bets, however, on the fact that AAPL's reputation for blowing away even the highest expectations was dented by the latest two earnings "misses" in July and October.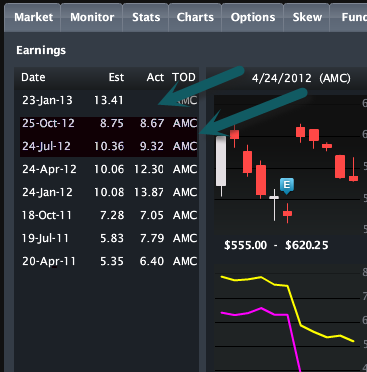 Source: Livevol(NYSE:R) Pro (livevol.com)

How AAPL has reacted after reporting earnings over the last year and a half does not offer us much guidance directionally. In this aspect, AAPL has a mixed record over the past 6 earnings reports. The shares have gone higher the following day in three of the past six earnings releases and lower after the other three reports. The underlying moving (non-directionally) is an average of around 4.91%.

The analyst community continues to be smitten with AAPL. There are 54 analysts that follow AAPL and out of these, 47 rate AAPL a Buy/Outperform and 7 have it as a hold. There are no sell recommendations on the underlying despite some possible deterioration in some core fundamental metrics.
Options Play
Confused on what to do with the earnings? Long or short? How about playing both ways? We present an option play for those inclined to believe that AAPL will have an outsized move, but aren't sure which way it will go and do not want to pay too much premium on this speculative bet.
With AAPL trading over 28% off its 52-week highs, the implied volatility of the options is not far away from its 52 week highs. The 30 day implied volatility is trading around 42.91%, only a touch less from the 52 week implied volatility high of 45.18 % hit in April of this year.
These elevated implied volatilities make initiating a long At-the-Money straddle position (Buying the 505 calls and puts) a very expensive proposition. How can we take advantage of any post-earnings move in the underlying in either direction if the premium is so elevated?
Let's buy a strangle which is a cheaper alternative in a pure premium sense than straight buying a straddle.
This is not a specific trade recommendation, but a trade analysis.
Trade idea #1-A Long Options Premium Play with a slight bullish tint
To find a pure earnings option play, one could go out to the January '25 2013 weekly options, which present some short term value.
The play:
a) Buy January '25 2013 weekly 475 put/520 call strangle for $15.90. The implied volatility of this strangle is seemingly quite high at approximately 74.4% IV (Implied Volatility). This IV reading is, however, misleading because the most important determinant of an options real value as it gets closer to expiration is the premium only, not the actual IV% reading. The premium over parity ((POP)) number of $15.90 is what is really important in this case.
Net debit: $15.90.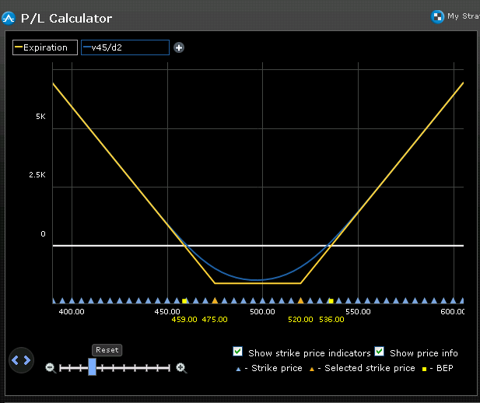 Why the January '25 2012 weekly 475 put/520 call strangle? The answer is fourfold:
1) The At-the-Money (ATM) January '25'2013 505 straddle is trading for $24.40 and the breakevens for this straddle in the underlying are $480.60 and $529.40 respectively. These breakeven points represent a 4.8% move in the underlying. This percentage is exactly in line with the average post earnings move in AAPL mentioned earlier in the article and seems very fairly priced. Not much of a bargain.
2) If we look at the 30 Day Implied Volatility calculation in AAPL options over the last 7 earnings periods, we see that the current 30 Day IV calculation of 42.39% is higher than the other readings in 6 out of the 7 past earnings periods. This rules out making a straight volatility play in options in the further out months (February'22 2013 expiration, for example).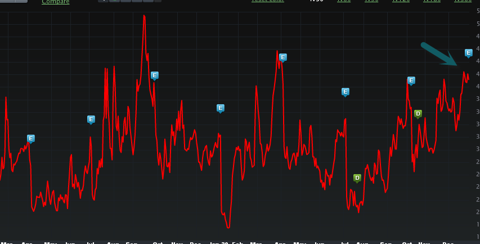 Source: Livevol(R) Pro (livevol.com)

3) The January '25 2013 weekly 475 puts/520 calls strangle is priced at $15.90, making the breakeven points in this strangle, $459.10 and $535.90 respectively. These breakeven points do represent a greater move in the underlying ($20 on the downside and $6.50 on the upside) than buying the ATM (AT-the-Money) straddle, but has the advantage of costing less in pure premium. This lessens the potential total loss in the unexpected case that the AAPL underlying has a muted response in a similar fashion to the last earnings release.
4) This strangle has an upside bias. Why? AAPL has fallen 28% from its highs of just over three months ago and there may be more upside potential than downside potential. The majority of the downside may be already baked in, but if there is an upside earnings surprise, we could see a massive upside squeeze. Let's lean to the long side.
Risk: The earnings report does not cause the expected movement in the underlying. Be forewarned. You may lose the entire premium. This play is for speculative monies only.
Note: The Prices are quoted at time of submission and do not reflect current market prices.
Disclaimer
We are not liable for any trading decisions made by any reader. NO advice is given or implied. The information offered in this article is for demonstration purposes ONLY and should not to be either construed as an offer or considered to be a recommendation to buy or sell any options.
Your use of this information is entirely at your own risk. It is your sole responsibility to evaluate the accuracy, completeness and usefulness of the information. You must assess the risk of any trade with a professional broker, or financial planner, and make your own independent decisions regarding any trades mentioned herein. This is not a solicitation to buy or sell any options, or to purchase or sell any credit spreads. Trading options only carries a high degree of risk, is not suitable for all traders/investors, and you may lose all of your premium money invested in the options. If you have never traded options before, we strongly recommend that you read a little background information made available by the government. Only you can determine what level of risk is appropriate for you. Also, prior to buying or selling an option, a person must receive a copy of Characteristics and Risks of Standardized Options.
Past performances DO NOT guarantee future results. Please consult with your own independent tax, business and financial advisors with respect to any trade. We will NOT be responsible for the consequences of anyone acting on this purely demonstration material.
Important Note: Options involve risk and are not suitable for all investors. For more information, please read the Characteristics and Risks of Standardized Options.
Disclosure: I have no positions in any stocks mentioned, and no plans to initiate any positions within the next 72 hours. I wrote this article myself, and it expresses my own opinions. I am not receiving compensation for it (other than from Seeking Alpha). I have no business relationship with any company whose stock is mentioned in this article.