By Joseph Morrison
Firm Overview
Celgene (NASDAQ:CELG) is a biotechnology company which was founded in 1986 by Dr. David Stirling, Ph.D. and Dr. Sol Barer, Ph.D. This Summit, NJ, based firm completed its IPO in 1987 and has been innovating in its space ever since. Celgene has a patent portfolio of over 800 issued and pending patents including proprietary distribution programs. Celgene's product portfolio consists of six main products and services. REVLIMID, a treatment for multiple myeloma, is the revenue leader with $970M in Q3 sales. Second is VIZADA, which is a treatment for anemia which had $220M in Q3 sales. Third is a treatment for breast cancer called ABRAXANE which brought in $160M Q3 revenues. The rest of the portfolio, THALOMID, Life bank USA, and ISTODAX accounted for a combined $92M in revenues.
Fundamentals
Celgene is the third largest biotechnology firm by market capitalization behind Amgen Inc. (NASDAQ:AMGN) and Gilead Sciences Inc. (NASDAQ:GILD). Celgene is growing at a rapid pace with the 5-year revenue growth rate at 40.04%, and is outpacing the competition with Amgen which is growing at 1.78% and Gilead which has grown at 22.61% over the same time period. That growth rate does come at a premium for the stock since Celgene has a 27.79 P/E Ratio versus 24.46 for Gilead and 14.68 for Amgen. Celgene has a 94.45% gross margin which is the best in the cohort and a 30.01% profit margin which is also the best in the cohort. Even more encouraging to me is that the debt-to-equity is low at 0.54 versus 1.02 for Gilead and 1.33 for Amgen.
Technicals
The price for Celgene's stock has jumped in parabolic fashion since the beginning of 2013. The closing price on 12/31/12 for this stock was $78.47 and it has since spiked to a closing price of $100.03 on 1/18/13. This is new territory for this stock and has been trading at all-time highs since 1/7 and it has not retested that level. With the stock reaching these heights, there are no prior chart patterns to find support or resistance. I see the first line of support at $98.12 with the two candlestick bottoms on that level and the bottoming tail at that level on three consecutive bars. Beyond that, a Fibonacci Retracement displays the next best lines of support, should this stock drop and retest these levels.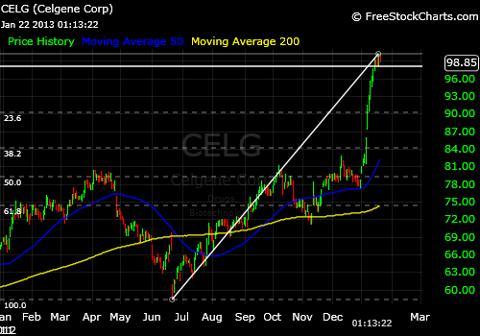 What is most striking to me, however, is the stark correlation between Celgene and the XLV ETF (NYSEARCA:XLV).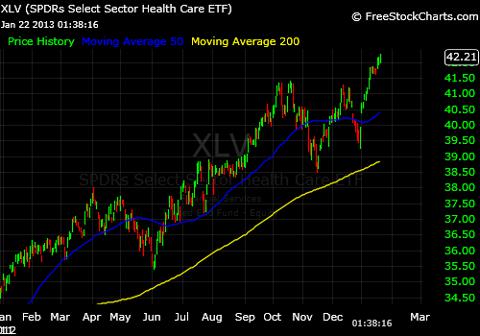 Earnings
Celgene reports earnings before the market opens on Thursday, 1/24/13, with a conference call at 9:00 AM that day. The average estimate for Celgene's quarterly EPS is $1.31 and $4.88 for 2012. Gaming earnings is typically a difficult chore but Celgene investors got a preview of what to expect on 1/7 when the firm pre-announced that earnings for the 2012 fiscal year would be at the higher end of the guided range at approximately $4.90 as well as preliminary 2013 guidance of $5.50-$5.60 EPS. Though Amgen announces earnings a day earlier than Celgene, it will not have the change to impact the stock since that announcement is after-market and Celgene reports pre-market on the following day. I do not believe that Celgene's earnings announcement to the upside will have any real impact on the stock since the earnings beat is priced in. If Celgene reports a miss, I'd look for the stock to retrace at least to the $90 level.
I see Celgene as a rapidly growing company with strong fundamentals. While I am wary to buy at highs, I would take the opportunity to buy this stock on any dips so long as fundamentals remain as strong as they currently are. I do caution to pay close attention to the XLV ETF when investing in this stock. There is a strong correlation between Celgene's stock and the sector ETF and weakness in the sector may result in weakness in the stock price, despite the firm remaining a high performer.
Disclosure: I have no positions in any stocks mentioned, and no plans to initiate any positions within the next 72 hours. I wrote this article myself, and it expresses my own opinions. I am not receiving compensation for it (other than from Seeking Alpha). I have no business relationship with any company whose stock is mentioned in this article.
Additional disclosure: Business relationship disclosure: The article has been written by Wall Street Trading, a group of junior market analysts. Wall Street Trading is not receiving compensation for it (other than from Seeking Alpha). Wall Street Trading has no business relationship with any company whose stock is mentioned in this article.