The oilfield services behemoth Schlumberger (SLB) has recently announced its fourth-quarter results for fiscal year 2012. The company's revenue increased by 8.5% to $11.17 billion while profits dropped by 3.5% to $1.36 billion. However, due to an increase in drilling at the U.S Gulf of Mexico, the business managed to beat analysts' estimates for both revenue and profits. Excluding one-off items, the profit translated into earnings per share of $1.08. Despite the falling demand from onshore operations in the U.S. and Canada, Schlumberger is eying a double-digit growth in earnings for 2013 on the back of increasing exploration and production activity outside of North America.
Schlumberger's strength comes from its massive research and development expenditure and the geographic diversity of its portfolio that helps it to deliver superior customer solutions that are tailored to specific geographic needs. In 2012, the company spent $1.168 billion in R&D, increasing by 8.9% from $1.07 billion in 2011. Unlike its competitors such as Halliburton (HAL) that gets more than half of its revenue from North America, Schlumberger earns 68.1% of its revenue from outside of its home territory. Schlumberger is truly global with operations in 85 countries where it employs 115,000 people and operates either independently, through its associates or through joint ventures.
Like most of the leading firms in oil and gas sector, Schlumberger also has operations in Algeria, which was recently the epicenter of a hostage crisis at a BP (BP) facility. Schlumberger is currently working at Zemoul el Kbar field for Groupement Sonatrach Agip (GSA) in the country. Just about four months ago, Schlumberger and HESP secured a contract worth a total of $573 million with the Algerian government owned oil and gas firm Sonatrach. Schlumberger's share is $341 million while HESP's share is worth $232 million. The latter is a joint venture between Algeria's ENSP Group (51%) and Halliburton (49%). In Q4, the business earned $2.96 billion in revenue from Europe, Commonwealth of Independent States (CIS) and the Africa region, or 26.5% of the total revenue. The firm is reassessing the security of its employees in North Africa in countries such as Algeria, Libya and Egypt.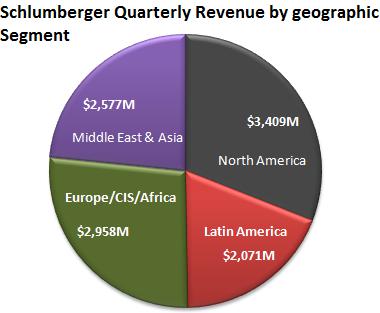 The Europe/CIS/Africa is also the only region where both revenue and income (before taxes) for the fourth quarter have fallen by 1% and 10.4% sequentially to $2.96 billion and $579 million respectively. The decline was attributed mainly to project delays.
Overall, for the fiscal year ending December 2012, North America is the only region that has witnessed a decline in income (before taxes) by 10.4% from $3.05 billion in 2011 to $2.74 billion. On the other hand, the pre-tax income from Middle East/Asia, Latin America and Europe/CIS/Africa region have increased by 14.83%, 29.14% and 52% respectively. However, this has come as no surprise as Schlumberger has already warned on December 14, about the delays in Europe/CIS/Africa and softening demand in North America, which was likely to impact earnings per share by 5 to 7 cents. In other words, increasing demand from the rest of the world is making up for the falling levels in North America.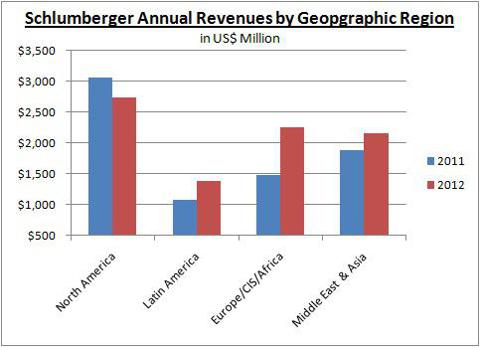 For 2013, Schlumberger expects some improvements in the first quarter with an addition of 100-150 rigs in North America but the demand for dry natural gas drilling will remain weak and overall annual rig count in 2013 will be lower compared with 2012. Therefore, like in 2012, growth in the current year will be driven by activities outside of North America. The demand for oil is continuously rising but it looks like shale gas will also have an important role to play in the future.
There are new opportunities springing up in the Chinese shale gas sector. After its second round of shale gas auctions, China's Ministry of Land Resources has announced that 16 firms, mostly state-owned enterprises, have pledged to invest $2.06 billion in the next three years on shale gas projects. Although the country is home to the world's largest technically recoverable shale gas reserves of 1,275 trillion cubic feet or 36.10 trillion cubic meters (2009 estimates of U.S. Energy Information Administration) but the Chinese government officials have admitted that the country would rely on the technological support of Western firms to tap into its unconventional gas resources. This is where the three American oil field services firms in general -- Schlumberger, Halliburton and Baker Hughes (NYSE:BHI) -- and Schlumberger in particular come into play.
Backed by its extensive experience and millions spent on research and development, Schlumberger has developed a new fracking (or hydraulic fracturing) technique called channel hydraulic fracturing that can reduce the water consumption by up to 60% and increase production by 20%. Moreover, Schlumberger has about three decades of experience of working in China and has acquired a 20% stake in its Chinese peer Anton Oilfield Services for $82 million in July 2012. Traditionally, the Chinese authorities have favored those foreign firms that bring new technology into the country rather than considering it as a source of cheap labor. China is planning to increase shale gas production from nothing to 6.5 billion cubic meters in the next two years and aspires to become one of the world's biggest shale gas producers by 2030.
I believe there is every reason to be bullish on Schlumberger. With its technological supremacy and international exposure, Schlumberger will continue to deliver strong results in 2013. The business's stock closed at $76.50 after rising by more than 4% in the last two days of the week ending January 18, on the back of the better-than-expected results. RBC Capital has a price target of $85 on the stock, S&P Capital IQ gives an average price target of $88.10, MarketWatch's average is $89.38, while Barclays Capital thinks that $90 is more appropriate. On January 17, the company announced a 13.6% increase in quarterly dividends. Schlumberger will now give a dividend of $0.31 per share on April 12, to all the investors who are on its books by February 20. This translates into an annualized dividend of $1.25 with an improvement in yield from 1.40% to 1.70%.
Disclosure: I have no positions in any stocks mentioned, and no plans to initiate any positions within the next 72 hours. I wrote this article myself, and it expresses my own opinions. I am not receiving compensation for it (other than from Seeking Alpha). I have no business relationship with any company whose stock is mentioned in this article.