There have been a lot of people trying to explain the huge 6.3% drop in Intel's (NASDAQ:INTC) stock after its earning release. Most of them focused on Intel's guidance for a so-so 2013 and the decline that analysts predict for Intel's profits. However my take is that this is a clear-cut case of the stock market's inefficiency .
But how would I know such a thing? Well, I'm going to demonstrate two things to prove my point:
Intel is worth at least $21 even in the case its 2013 net earnings are going down from 2012.
This year (2013) is the year that a lot of Intel's moves will start to boost growth. By 2014 Intel will resume its earnings growth or its earnings will just stop falling. In either case its stock is worth a lot more than the current price.
Let's start with Intel's bottom value. The average analyst estimate about Intel's 2013 EPS according to Zacks is $1.93. But these estimates are based on the actual earnings and don't account for share buybacks. As you can see below, Intel's remaining authorization to buy back its stock is for $5.3 billion. Given its record it will probably exercise at least $4.5 billion of it into 2013.
However, that move alone will reduce Intel's shares by 4% (assuming a $23 average execution price) and will increase Intel's 2013 EPS from $1.93 to $2. Add to that Intel's $1 surplus cash per share and you have a rock bottom value of $21 per share.
To calculate that price I applied a P/E ratio of 10 to Intel. I believe that this P/E ratio is appropriate in this case, because at that valuation Intel can afford to buy back up to 5% of its own stock every year seemingly forever. Acting this way costs only half of its net earnings and produces a side-effect that is extremely favorable to shareholders.
The side-effect is that Intel can keep paying the same dollar amount of dividends every year but the remaining shareholders will receive it increased by 5% annually because it will be spread over to less shares.
(click to enlarge)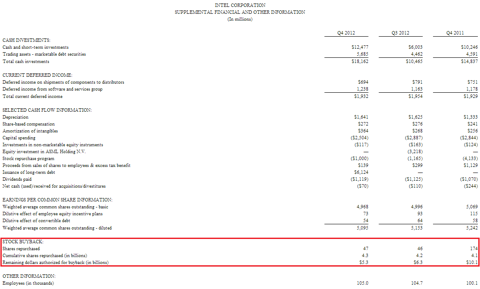 (Source: Intel's SEC filings - 8-K, Jan 17 2013)
But this is what will happen if Intel's actual earnings continue to fall for an average 3.5% every year from now to eternity. However, this is an unlikely outcome for the following reasons:
1.The gap between tablets and laptops is closing fast. Especially after the launch of Window 8, tablets will be treated more like keyboard-less high-performance notebooks. This shift will bring the market directly at Intel's lap, especially now that it has solved the high power consumption problem of its chips.
Tablets will be more in need to continually increase performance than battery life in order to execute the vast majority of desktop apps, games and programs that traditional laptops are able to do. Finally, with Haswell coming in the first half of 2013 Intel will start gaining share in the tablet market and I believe that this share increase will be more than enough to offset the cyclical and the structural part of the traditional PC market's decline.
More on the subject from Intel's Q4 earnings call transcript (emphasis added):
Paul Otellini - President, Chief Executive Officer, Director

It's no longer necessary to choose between a PC and a tablet. Convertibles and detachables, combined with Windows 8 and Touch, provide a two for one, no compromise computing experience. [..]

Last quarter, our customers also began shipping tablets based upon our Clover Trail SoC and Windows 8. These systems boost up to 10 hours of battery life, three weeks of connected standby and come in a range of sleek ultra light form factors, all while bringing the benefits of software compatibility with the millions of Windows applications written for Intel architecture. There are now 10 Clover Trail tablets shipping today with several more launching in the coming months.

Paul Otellini - President, Chief Executive Officer, Director

No, I don't. Now that we've met the power battery life curves and we are still on 32-nanometers as we move to 22 in 2014, you will see us accelerate. [...] Micro architecture is hard and it's something we've got 30 years of experience at, and these devices are simply becoming very small computers and that's what Intel is exceptional at.

[...] In the first half of this year, we will launch Haswell, enabling one of the most significant changes to the PC since Centrino in 2003. [...] It will deliver the single largest generation-to-generation battery life improvement in Intel's history and it is inspiring a new wave of ultra-sleek, convertible, touch-based designs across our customer base.
2. Intel will begin to gain more market share in smartphones by 2014, when it'll bring to market its LTE solution. While I expect that smartphones won't be significant to Intel's revenue for a couple of years, 2014 will be the year it'll gain a permanent foothold and start to increase its share.
More on the subject from Intel's Q4 earnings call transcript (emphasis added):
Paul Otellini - President, Chief Executive Officer, Director

[...] First LTE phones, I would expect to have launched early next year, principally around MWC-14. We believe we have a very competitive solution. The Infineon team is known for not necessarily being first to market, but being really good at engineering a very solid solution and being cost-effective and cost competitive and I think that they are doing a very good job with respect to this product. [...]

Stacy Smith - Chief Financial Officer, Executive Vice President

[...]The thing I'm struck by in this space is how hungry it is that the customers are to work with us in this space. So I think it's a nice combination. We got a good roll of products across the year and it looks like people are really lining up to have us as one of their key partners.
3. And lastly, after Intel begins manufacturing its chips in 14nm it will be ahead of everybody else manufacturing-wise as I pointed out in a previous article.
Again from Intel's Q4 earnings call transcript (emphasis added):
Last, but not least, we will begin our transition to 14 nanometers as we begin the world's first 14 nanometer products towards the end of this year. [...] We are well-positioned to take advantage of these trends across the spectrum of computing from the lowest-power portable devices to the most powerful data center servers and everywhere in between.
Conclusion
Putting all these together we can easily assert that Intel's earnings will stabilize or even rise after 2013. With stable earnings Intel can grow its EPS 4% to 5% just by buying back its shares. This means that a P/E of 14 to 15 is appropriate to value its stock.
Using the average analyst estimate of $1.93 EPS for 2013, we can easily conclude that Intel's zero-growth value range is $27 to $29 per share.
Disclosure: I am long INTC. I wrote this article myself, and it expresses my own opinions. I am not receiving compensation for it (other than from Seeking Alpha). I have no business relationship with any company whose stock is mentioned in this article.