United Technologies Corporation (NYSE:UTX) closed the day on Tuesday, January 22, 2013 at $87.47, above 0.60% from its closing on Friday. UTX also reported its fourth quarter results and outlook for 2013 today, Wednesday, January 23, 2013. (At the very last reading, UTX was $88.17, so not much has changed today).
Apparently, the probe into the grounding of Boeing's (NYSE:BA) 787 Dreamliners in Japan that put the Hartford-based United Technologies Corporation in spotlight failed to make an impact on the stock price. Also under the lens of investigators is Securapalne Technologies, a Tucson-based subsidiary of Meggitt plc. While UTX builds the auxiliary power unit of the Dreamliner, the other company makes the charger for the batteries. UTX has been in the news for other reasons as well.
Also of interest has been the UTX announcement last week that it had reached an agreement with the Triumph Group (NYSE:TGI) to sell the pump and engine control systems business of Goodrich Corporation, the company that it acquired in July 2012. As a matter of fact, sale of this segment of Goodrich was one of the divestitures under which the regulator allowed the acquisition. The transaction is expected to be completed in the first quarter 2013.
Earlier last week, a report in Reuters had also mentioned that Lockheed Martin Corp (NYSE:LMT) saw good prospects for overseas sales of the MH-60 maritime helicopter that it manufacturers in collaboration with Sikorsky Aircraft, a subsidiary of UTX. According to the report, Lockheed Martin expects to sell over 200 units of MH-60 in the coming years.
Fourth Quarter Results
As you can see from the table below, UTX showed quite a bit of positive earnings surprises in the last three quarters.

However, this time the earnings surprise has been a little disappointing.
The consensus quarterly earnings forecast for the quarter ending December 2012 was $1.02 and $5.32 for the full year.
Results declared today reported a net income of $4.8 billion attributable to common shares and annual EPS of $5.35, which is a tad above what the analysts had forecast. It could have been more had it not been for the EPS dilution of $0.06 due to the acquisition of Goodrich Corporation. The quarterly EPS suffered also and was up by only $0.02 from what was being forecast and also down 27% as compared to the same quarter the prior year.
Sales were up by 4% at $57.7 billion. However, consolidated operating margin dropped from 15.1% to 14% mostly due to the acquisition of Goodrich and the Canadian Maritime Helicopter charge that Sikorsky Corporation had to take.
As per the company's guidance for 2013 is concerned, it is targeting an EPS in the range of $5.85 to $6.15. Analysts have an almost similar take on UTX and expect the earnings to grow at 11.38% over the next five years.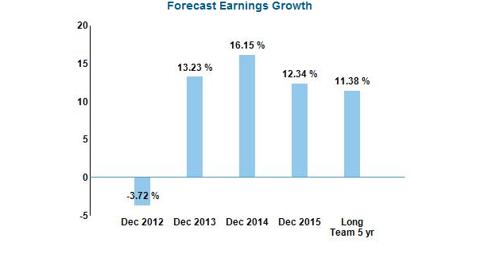 Source: Nasdaq
United Technologies is a high technology product and services company that serves the building systems and aerospace industries globally. It operates under six segments:
Otis, the elevator and escalator manufacturing, installation and services company.
Carrier, the HVAC solutions company.
UTC Fire & Security, a global provider of security and fire safety products.
Pratt & Whitney, supplies aircraft engines.
Hamilton Sundstrand, global supplier of technologically advanced aerospace and industrial products and aftermarket services to diversified industries.
Sikorsky, the helicopter manufacturing company
The first three, collectively referred to as commercial businesses, serve customers in commercial, residential and government infrastructure. The latter three, collectively known as aerospace businesses, cater to commercial and government customers in both the original equipment and aftermarket parts and services markets of the aerospace industry.
At $87.47 for a share, UTX is trading at a price-to-book ratio of 3:21. It has a market cap of $80.17 billion and an enterprise value of $102.63 billion. With an EPS of $5.78 and a dividend yield of 2.45 it is among the top dividend giants with long history of uninterrupted dividend payouts as shown by the chart below.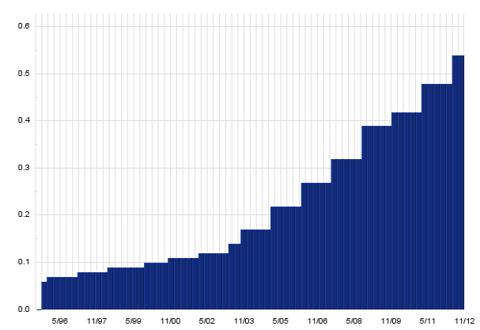 The stock is currently trading at a P/E ratio of 15.23, which considering industry standards (Boeing has a P/E ratio of 13.08 and Triumph Group is trading at 11.23 P/E) suggests that UTX is fairly valued if not overvalued. However, the fact of UTX's presence in six segments across diversified industries and its dividend yield cannot be ignored.
There is nothing to suggest that the company's outlook for 2013 and growth for the next few years will not be on the expected lines. However, I am a firm believer in the efficient market hypothesis and hold the opinion that there is a fair chance that the market has already discounted the company's quarterly results. Moreover, the stock is trading almost at its 52-week high. Personally, I believe that UTX is a great dividend play but investors looking for appreciation should wait for a substantial correction.
Disclosure: I have no positions in any stocks mentioned, and no plans to initiate any positions within the next 72 hours. I wrote this article myself, and it expresses my own opinions. I am not receiving compensation for it (other than from Seeking Alpha). I have no business relationship with any company whose stock is mentioned in this article.