Standard & Poor's provides frequent bottom-up estimates for operating earnings of the S&P 500 index. Their estimates have been declining since March 2012, but are still well above 2012 estimated actual.
Operating earnings do not include write-offs and other "non-recurring items." Bottom-up earnings are the sum of the earnings estimates for each of the component companies in the index.
The earnings history and projections are:
2007 actual: $82.54
2008 actual: $49.51
2009 actual: $56.86
2010 actual: $83.77
2011 actual: $96.44
2012 actual Q1,Q2,Q3, est. Q4: $98.85
2013 estimated: $112.49
Here are the estimates for S&P 500 operating earnings over time since March 2012 as made by Standard & Poor's analysts: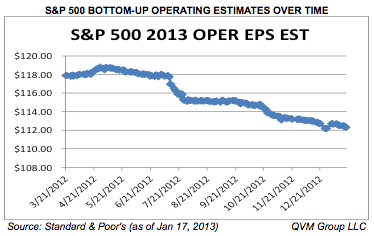 Here is a table showing what level the S&P 500 index would be based on various multiples of either the trailing 12 months (2012) operating earnings, or the forward (2013) operating earnings: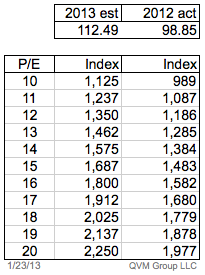 We have done our own sort of bottom-up for the index. We identified the ThompsonReuters "consensus" estimate for 12-month price targets for the S&P 500 constituents, then weighted those consensus numbers by the weight of each company in the index. That produced an index consensus 12-month price target.
We made the analysis on December 20, when the S&P index was at 1443 and found a 9.4% appreciation estimate to 1600 for year-end 2013. We did it again today (Jan. 23) when the S&P was at 1492, and found a 10.9% 12-month appreciation estimate to 1632.
The December 20 review equates to a P/E of 14.2 on Standard & Poor's current 2013 operating earnings estimate, and 16.2 on the trailing operating earnings.
The January 23 review equates to a P/E of 14.5 on Standard & Poor's current 2013 operating earnings estimate, and 16.5 on the trailing operating earnings.
For those who prefer earnings yields to P/E multiples (one being the reciprocal of the other), P/E multiples of 14.2, 14.5, 16.2 and 16.5 equate to earnings yields of 7.0%, 6.9%, 6.2% and 6.1%.
So we see the average analyst becoming more optimistic about price targets over the past month while Standard & Poor's is roughly flat on its operating earnings estimates. That equates to the modest multiple expansion from 14.2 to 14.5 on forward estimates, and 16.2 to 16.5 on trailing estimates.
Directly Relevant ETFs: SPY, IVV and VOO.
Disclosure: QVM has positions in SPY as of the creation date of this article (January 23, 2013). We certify that except as cited herein, this is our work product. We received no compensation or other inducement from any party to produce this article, but are compensated retroactively by Seeking Alpha based on readership of this specific article.
General Disclaimer: This article provides opinions and information, but does not contain recommendations or personal investment advice to any specific person for any particular purpose. Do your own research or obtain suitable personal advice. You are responsible for your own investment decisions. This article is presented subject to our full disclaimer found on the QVM site available here.