Yesterday on CNBC, Anthony Scaramucci, managing director of SkyBridge Capital, reported in a short segment from Davos, Switzerland with his top four picks based on "Macro Phenomena." Scaramucci founded SkyBridge Capital in 2005 to be an incubator for hedge funds, to seed the best talent. In 2010 SkyBridge acquired the Citigroup Alternative Investment - Hedge Fund Management Group.
I waited until today to see if they would save a video of the report but, I was unable to find one. Luckily, I took this picture of my TV screen to remind me of the picks for this article.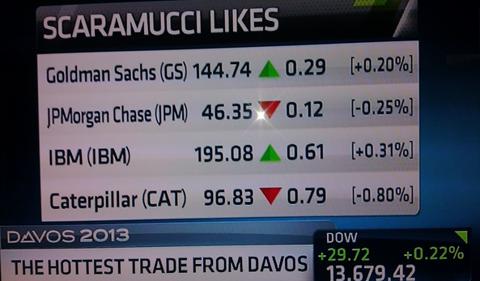 Scaramucci likes Goldman Sachs (NYSE:GS), JPMorgan Chase (NYSE:JPM), IBM (NYSE:IBM) and Caterpillar (NYSE:CAT) based on global "macro phenomena." Scaramucci based his picks in part on talking to others at the "World Economic Forum" in Davos, Switzerland where he is listed as a contributor for the 2013 meeting. For more information
You can listen live to the forum here
Schedule of public sessions: World Economic Forum Annual Meeting 2013
The next four graphics with five year charts paint an interesting picture of these four picks.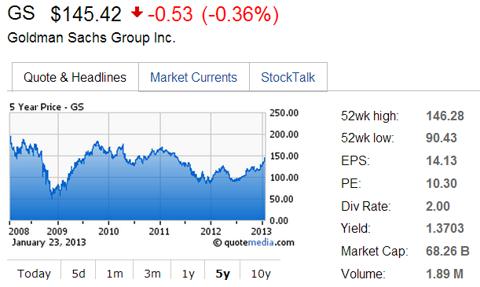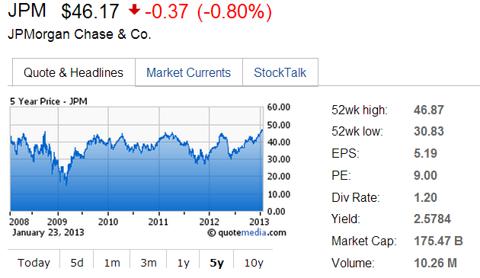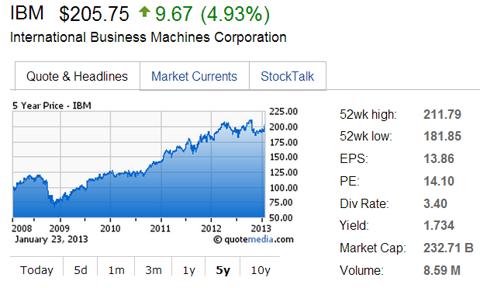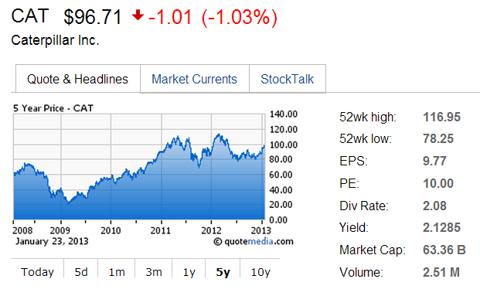 Using Seeking Alpha's "Portfolio" function, here is a look at these picks compared to the S&P500 using SPY, the exchange traded fund (ETF) for the S&P500, and XLF, the ETF for the financial sector, XLF.


This is an excerpt from my Newsletter showing 2012 operating and GAAP earnings using estimates of Q4-2012 earnings for the S&P500 index that we can compare to Scaramucci's stocks:
S&P500 Earnings for 2012

Key Observations:
All four of Scaramucci's stocks have a lower dividend yield than SPY, a well-diversified way to invest in US stocks that I recommended here nearly two years ago In my February 2011 article "How to Play Expected Inflation from the TIPS Spread.

"I also believe it is a good time to own equities including SPY, the exchange traded fund for the S&P 500, for both inflation protection and income."

Only JPM has a higher dividend yield than XLF, a more diversified way to invest in the financial sector. I own XLF in my personal portfolio and recommend and trade it as a current position in my newsletter "explore portfolio."
All four of Scaramucci's stocks have significantly lower PE ratios than the average stock in the S&P500. From the few comments he made during the interview, I got the impression he believes global economic conditions have bottomed so these four will benefit from PE expansion as they do well in growing economies.
My Take
I like his four picks but only own IBM directly with my last purchase made twenty years ago (in 1993 at $11 and change on a split adjusted basks) when it was greatly out of favor. I have taken profits over the years in IBM after it recovered to limit its weighting in my portfolio (I don't like any stock to be over 10% max and typically 5% is where I take profits in large positions these days). I own GS and JPM indirectly via XLF and to a lesser extent via SPY and other index funds. I've considered CAT on and off for years but have not bought any so far.
Disclosure: I am long IBM, SPY, XLF. I wrote this article myself, and it expresses my own opinions. I am not receiving compensation for it (other than from Seeking Alpha). I have no business relationship with any company whose stock is mentioned in this article.