Yield-oriented investing was cold for a generation, became a bit more fashionable when the tax treatment of dividends changed a few years ago, and then seems to have cooled again. But it's often seen as a good bear-market strategy so nowadays, it's at least in the conversation. With the magnitude of the losses we've seen in the past year, one can hardly argue, as many once did, that dividends can effectively offset capital losses. But assuming markets won't spiral downward indefinitely, the yields we're seeing might attract some buying interest when things change for the better and produce some nice upside movement early on, thus providing an opportunistic flavor which we don't usually see in the income arena.
The Income Bargains Screen
After establishing a basic universe (no OTC or ADRs, no finance stocks, market cap at least $250 million and price at least $5), this screen uses the following rules:
The current yield is greater than or equal to one-half the ten-year treasury yield and less than or equal to triple the treasury yield.


Some may find it odd to accept an inherently-risky dividend yield that is below the risk-free treasury yield. But recall that dividends are expected to grow over time. That being the case, it's OK for the dividend yield to be lower (or even zero in a non-income screen) on day-one.
Minimum yields are standard for income-oriented screens. What's unusual here is the notion of a maximum yield. At a time like this, with the economy experiencing so much difficulty, we need this sort of warning along the lines of "if it seems too good to be true, it probably is." Very high yields indicate a perception in the marketplace that the dividend is very likely to be reduced or eliminated in the near future. At most times, it may be reasonable to accept the high yields and rely on other screening rules (relating to financial strength and profitability) to keep us away from bona fide danger. But now, with so many fires igniting so quickly, it may be helpful to add a qualitative sentiment-based indicator.

The dividend payout ratio is below 35 percent and below the industry average.


These are standard tests used in income screens, although in this instance, it's more stringent than might be warranted in non-recessionary periods (one of these two tests would usually suffice).

Interest coverage in the trailing 12 months was at least 5.00, as was the annualized interest coverage in the latest quarter.


Conservative investors don't generally like debt. But in this environment, we may be able to re-think this issue. Credit is tight. Interest rates are spectacularly low. While little or no debt is still a good thing, could we really condemn a CFO who is willing to hold, or even wants to hoard, debt? For this screen, I'm willing to tolerate as high a debt ratio as the company wants, so long as the borrowings can be comfortably serviced. Coverage ratios at the levels specified here seem sufficient in this regard.

Free cash flow in the trailing 12 months was positive.


Free cash flow isn't always my favorite metric because capital spending can be so erratic year to year as major projects ramp up or wind down. But nowadays, with conditions so difficult, this screen is designed to simply count the cash that's there. When the economy normalizes, I can go back to the economically more viable notion of matching revenues and expenses.
Screen performance
The screen was backtested on Portfolio123.com based on three-month holding periods and assumption of 0.5 percent price slippage on each trade. I normally backtest using four-week periods, but with an income-oriented screen, it seems more reasonable to assume we'd hold each stocks long enough to receive at least one quarterly dividend. At times when more than 20 stocks pass, we limit the holdings to the 20 issues having the highest yields.
Figure 1 shows the backtest results for the full screen from 3/31/01 - 12/30/08.
Figure 1 - 3/31/01 - 12/30/08 backtest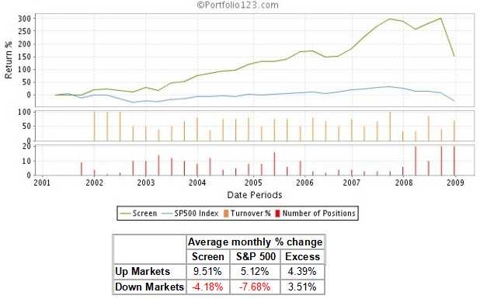 For the most part, the performance looks fine (bearing in mind that we're looking here at capital gains and losses only), but the down-swing in 2008 definitely raises an eyebrow. Income seekers hope for less downside vulnerability than we've seen, especially since financial stocks, which often have nice yields, were eliminated from the screen.
Figure 2 gives us a closer look at the past year.
Figure 2 - 12/30/07 - 12/30/08 backtest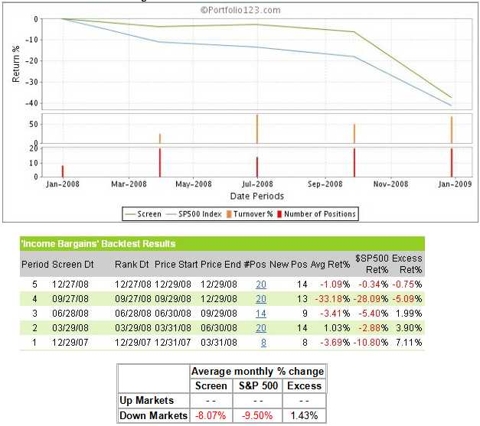 For most of the year, the screen actually did a good job in terms of downside protection. But since last fall, performance has been poor. Looking at the lists, I saw that the worst performers were in the resources area, which fell hard as oil and commodities struggled. When interpreting backtests, we need to remember that the future isn't guaranteed to resemble the past, and applying that notion here, we might suggest that the worst has been seen in this area. One who believes that, and is inclined to buy with an eye toward picking up post-crash bargains, should not be discouraged by the 2008 backtest.
Figure 3 examines a past period of post-crash recovery.
Figure 3 - 6/30/02 - 12/31/03 backtest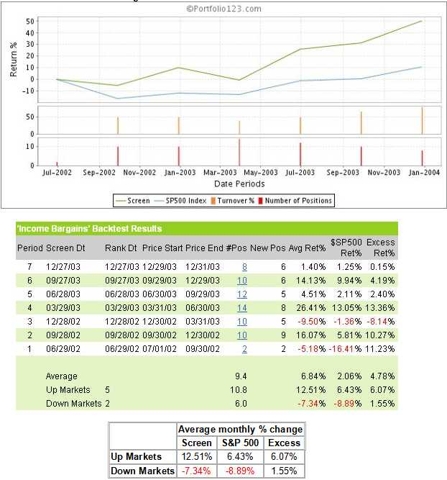 The analogy between then and now is imperfect. That crash, centered mainly in formerly-inflated tech, telecomm and internet names, was not nearly as broad as was the one in 2008, which was characterized by a widespread liquidation of the equities asset class. Nevertheless, the performance numbers we see are as encouraging as any such back-test can be.
The stocks
Table 1 lists the top 20 stocks (based on yield) that currently appear in this screen.
Table 1
Income Bargains

Companies

Industry

Yield (%)

Knoll, Inc. (NYSE:KNL)

Furniture & Fixtures

5.83%

Harte-Hanks, Inc. (NYSE:HHS)

Printing & Publishing

5.56%

Meredith Corporation (NYSE:MDP)

Printing & Publishing

5.29%

NutriSystem Inc. (NASDAQ:NTRI)

Personal Services

4.86%

Black & Decker Corporation (BDK)

Appliance & Tool

3.97%

Herbalife Ltd. (NYSE:HLF)

Personal & Household Prods.

3.93%

Innophos Holdings, Inc. (NASDAQ:IPHS)

Chemical Manufacturing

3.88%

The McGraw-Hill Companies (MHP)

Printing & Publishing

3.87%

ConocoPhillips (NYSE:COP)

Oil & Gas - Integrated

3.84%

National Semiconductor Corp. (NSM)

Semiconductors

3.37%

Major Drugs

3.29%

Applied Industrial Technologies (NYSE:AIT)

Auto & Truck Parts

3.26%

Dover Corporation (NYSE:DOV)

Conglomerates

3.25%

Carlisle Companies, Inc. (NYSE:CSL)

Fabricated Plastic & Rubber

3.24%

Joy Global Inc. (JOYG)

Constr. & Agric. Machinery

3.22%

Lufkin Industries, Inc. (NASDAQ:LUFK)

Constr. & Agric. Machinery

3.06%

Cascade Corporation (NYSE:CAE)

Misc. Capital Goods

3.03%

Atlantic Tele-Network, Inc. (NASDAQ:ATNI)

Communications Services

3.01%

United Technologies Corp. (NYSE:UTX)

Conglomerates

3.00%

Goodrich Corporation (NYSE:GR)

Aerospace & Defense

2.90%
For the most part, this seems like a nice list of cyclicals that might have appeal as recovery plays even absent the good yields.
If I'd be inclined to look behind the screen and consider dropping some names, Herbalife and NutriSystem would loom large.
Herbalife sells personal care products via network (grass roots, so to speak) marketing. When the economy is bad, recruitment of sales representatives becomes very easy. But, of course, finding customers willing and able to purchase products that are arguably not essential becomes more of a challenge.
As to NutriSystem, weight-loss programs such as those marketed by the company are on the minds of many nowadays. But when money is tight, customers may be more inclined to roll up their sleeves and prepare their own meals, perhaps with help of a paperback diet book, as opposed to paying up for NutriSystem's pre-packaged meals.
Even so, I'm not overly inclined to over-ride the screen, even with these two selections. The whole point, here, is to look for depressed-market bargains worth holding if things improve, or even stabilize. When the cyclicals theme is articulated, investors usually think of manufacturing firms, such as those that comprise most of the entries on this list. But for better or worse, Herbalife and NutriSystem seem to also fit the de-facto cyclicals theme (and in this case, the mandated income theme) as well as many others.