In the original article in this series, Time to Short The Homebuilders, I detailed out the base case that homebuilding stocks over time trade based off a Price to Book Value metric and how Price to Earnings is less important in valuing this industry. The basis being that homebuilder earnings are derived through their land acquisitions and that historically the majority of their earnings have come through land price appreciation (thus book value appreciation). Below you will see how far overvalued RYL is on this metric compared to some of its peers.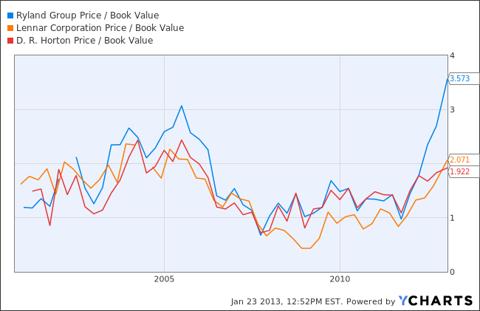 The second part of this series will focus on how the recovery in earnings, or better said the end of huge losses, has been driven almost entirely by the land impairments taken over the past years and also to a lesser extent by huge cuts to overhead expenses which have cut all the fat from the organizations and will not be a future source of earnings power.
This article will specifically focus on Ryland (NYSE:RYL) again as I previously noted on a PB value metric they are the most overvalued builder in terms of this metric.
First it is important to understand what land impairmnents were and why they were taken. Basically from an accounting standpoint, when the future un-discounted cash flows from a piece of land were less than the current value of that land, then the land is deemed impaired. To simplify the example as a homebuilder if I own a piece of land and it is valued at $25 I need to be able to pay for additional land development costs if needed, construct a house on that piece of land, cover my overhead, and ultimately net more than $25 when I sell that piece of land. If I can't do that then the land is impaired. The actual impairment calculation is somewhat of an accounting wonk exercise so to spare you the details just see the table below to see the total amount of impairments recognized by Ryland from 2006-2011:
| | | | | | | |
| --- | --- | --- | --- | --- | --- | --- |
| Fiscal Year | 2011 | 2010 | 2009 | 2008 | 2007 | 2006 |
| Impairments ($MM's) | 17,319 | 41,938 | 184,281 | 325,480 | 583,363 | 81,314 |
Over that time period Ryland recognized Impairments and Write-Offs of over $1.2B.
Obviously those impairments contributed significantly to the crash in Ryland's stock price from over $80 a share to under $10 a share in a 5 year time frame. However here we are today and the stock price of Ryland has recovered almost to half of its record high. Note that when that record high was set Ryland had a book value of about $1.5B and today that book value is less than $.5B (or 1/3 of where it was at its peak yet its stock is only 1/2 below its peak).
What analysts and investors alike in my opinion are overlooking is how those painful impairments from what seems like years ago now are artificially inflating the true earnings power of the homebuilding model today. I don't mean to suggest the accounting is incorrect but I am saying that the majority of the earnings being generated today from RYL are most likely coming from communities and assets that were significantly impaired in the past few years. Put one other, extremely important way, when RYL has to purchase a new community to replace its heavily impaired community it will not be able to achieve the same profitability because its cost for the land in the new community will be higher than the impaired community (i.e, impaired community has lots with a basis of $25 but new community has lots with a basis/cost of $35).
The best part about this argument is even though the company does not want you to know just how poor their core operating business is by not disclosing how many of their closings each quarter come from impaired lots we can back into this number somewhat by reviewing their most recent 10-Q. Located here in Note 7, we see that Ryland had $234M in valuation adjustments related to their current inventory as of 9/30/12. They had about $953M of inventory after the valuation adjustments. So put another way Ryland's inventory balance even after years of closing out impaired lots still is about 20% lower than it would be without impairments of $234M related to land they still own today. Extrapolating this you could interpret this to mean that the land side of their COGS each quarter is seeing a 20% benefit that will eventually go away when they are only seeing closings from non-impaired lots (assuming all closings came from impaired lots ... which is not the case in reality but is for assumptions purposes).
In the 2nd Qtr of 2012 10Q report RYL disclosed on page 12 that their remaining valuation allowance (i.e, balance of previous impairments remaining on lots that have not yet closed) was $250.3M. In the 3rd Qtr of 2012 the 10-Q discloses on page 12 that the valuation allowance has decreased to $234.3M or by $16M. So now that I have you confused let me try to explain what this means. RYL reported a gross margin % (revenues less cost of sales) of 19.3% in Q3 2012. The table below shows you reported gross margin $ and % compared to the modified amounts when you exclude the $16M positive impact they had during the quarter related to lots they previously impaired.
| | | | |
| --- | --- | --- | --- |
| | | As Reported | Excluding Impairment Benefit |
| | | | |
| Revenue | | 349,196 | 349,196 |
| Cost of Sales | | 281,961 | 297,961 |
| Gross Margin $ | | 67,235 | 51,235 |
| Gross Margin % | | 19.3% | 14.7% |
Notice that without the benefit of the lots that have been impaired Ryland would only be making a gross margin of 14.7%.
This is critical because if you read anything at all you know that the competition to buy land right now is fierce. Just peruse through the earnings transcripts of any homebuilder and you will read comments that support the difficult land buying environment today for builders due to the competition.
The key point that I am making is that I believe RYL is having to purchase lots today that will have a dilutive effect to future gross margins because those lots will be more expensive than the impaired lots they are currently burning through. As the table above shows the impact of the impairments taken previously is increasing their current GM% by 460bps. As the benefits from the impaired lots go away and the more expensive lots come online I do not feel the investment community realizes that gross margins could actually begin to decrease. I do not believe price increases will materialize at the level that will offset the increased land cost and in the final part of this series we will talk about the other headwind which is the house construction cost which is skyrocketing right now (tight supply of labor, increasing commodities, etc...).
Disclosure: I have no positions in any stocks mentioned, and no plans to initiate any positions within the next 72 hours. I wrote this article myself, and it expresses my own opinions. I am not receiving compensation for it (other than from Seeking Alpha). I have no business relationship with any company whose stock is mentioned in this article.
Additional disclosure: I am waiting for a capitulation spike higher in RYL (a day when the stock spikes 10%) and at that point I intend to purchase 2 month OTM Put's at a price 10% below the current stock price.