By: Brendan Gilmartin
Microsoft (NASDAQ:MSFT) is scheduled to report 2Q 2013 earnings after the close of trading on Thursday, January 24. Results are typically reported between 4:05 p.m. and 4:15 p.m. EST with a conference call to follow at 5:30 p.m. Aside from the underlying shares, the technology related ETFs (PowerShares (NASDAQ:QQQ)/SPDR Technology ETF (NYSEARCA:XLK)) may also move off the Microsoft report, along with the index futures, provided the results precede the CME scheduled maintenance shutdown at 4:15 p.m.

For the 1Q 2013, the estimate is $0.75 (Source: Yahoo Finance) with revenue reaching $21.57 bln. The high number on the Street is $0.87.
Recent News
01/22: Citing a report on WSJ, CNBC reported that Microsoft was considering being a part of the group aimed at taking Dell (NASDAQ:DELL) private. Microsoft shares sold off on the news that it may contribute a couple billion dollars or preferred shares to fund the deal.
01/22: Microsoft announced its Surface Windows

8 Pro will b

e available for purchase on Feb. 9, 2013, in the US and Canada.
01/11: Goldman Sachs issued cautious comments on Microsoft ahead of the 2Q 2013 earnings release, according to a post on StreetInsider.com. The firm sees Microsoft earning $0.71 per share on revenue of $21.3 billion, due in part to a decline in PC shipments and slower adoption of Windows 8. Goldman Sachs carries a Neutral rating on the shares with a $31 price target.
01/10: Morgan Stanley downgraded Microsoft from Overweight to Equal-weight, according to Barron's Online. The firm sited slow adoption of Windows 8 and the weak PC market.
12/12: Standpoint Research upgraded Microsoft from Hold to Buy with a price target of $32.00, following a 15% share price pullback over a 3-month period, according to StreetInsider.com. The firm also sites new products - Xbox, Windows

8 and Su

rface.
11/28: Microsoft declared a quarterly dividend of $0.23/share. The current estimate is 3.39%.
Technical Review
Microsoft shares have been meandering in a narrow trading range over the past couple months between $26.50 and $27.50. More recently the shares nudged up against the high end of that range - a key resistance area. A move through $27.50 could set up a run back toward the 200-Day SMA near $29.00 if results surprise to the upside. Conversely, shares could easily drop to the recent lows at $26.50 if results fall shy of consensus. (Chart courtesy of StockCharts.com)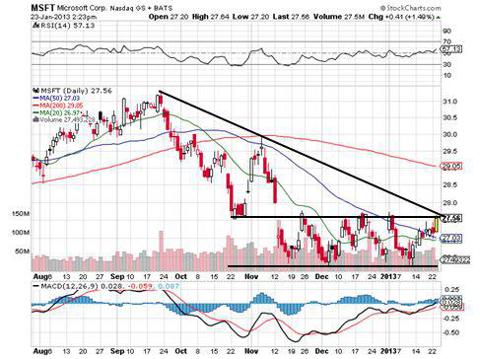 Summary
Microsoft shares have been meandering in a narrow trading range over the past couple months. On one hand, new product offerings, including expansion of the Xbox line, the Surface tablet, and a solid dividend yield are luring buyers. However, weaker PC sales (down 6.4% in the 4Q to 89.8 mln units - IDC) and slower than expected adoption of Windows 8 have weighed on the shares. Against this backdrop, a marginal beat on earnings could drive the shares through a key resistance level in the $27.50-area, with room to run toward $29.00 (200-Day SMA). On the contrary, Microsoft could re-test the low end of the trading channel at $26.50 and longer-term support near $26.00 should results fail to meet estimates.
DISCLAIMER: By using this report, you acknowledge that Selerity, Inc. is in no way liable for losses or gains arising out of commentary, analysis, and or data in this report. Your investment decisions and recommendations are made entirely at your discretion. Selerity does not own securities in companies that they write about, is not an investment adviser, and the content contained herein is not an endorsement to buy or sell any securities. No content published as part of this report constitutes a recommendation that any particular investment, security, portfolio of securities, transaction or investment strategy is suitable for any specific person.
Disclosure: I have no positions in any stocks mentioned, and no plans to initiate any positions within the next 72 hours. I wrote this article myself, and it expresses my own opinions. I am not receiving compensation for it (other than from Seeking Alpha). I have no business relationship with any company whose stock is mentioned in this article.