With a current market cap of over $100 B and operations spanning 85 countries, Schlumberger Limited (NYSE:SLB) is the world's leading publicly traded oil well services and equipment company, and is often considered the bellwether of the industry. As per the website, SLB comprises two primary business segments:
Oilfield Services:
Supplies formation evaluation through directional drilling, well cementing and stimulation, well completions and productivity to consulting, software, information management and IT infrastructure services that support core industry operational processes.
Seismic Data Processing:
WesternGeco, a subsidiary of SLB, is the world's largest seismic company and provides advanced acquisition and data processing services. This subsidiary offers comprehensive worldwide reservoir imaging, monitoring, and development services, and has most extensive seismic crews and data processing centers in the industry, as well as the world's largest multi-client seismic library.
Growth Despite Challenges:
Over the several years, SLB has been steady growing despite challenging economic conditions and shrunken natural gas prices. Rig counts are important metrics SLB uses to measure business opportunity in the industry, and this number has been somewhat stagnant recently. Obviously, the more drilling activity the better for SLB, so this hasn't been a great situation in general.
On the recent Q4 conference call, CEO Paal Kibsgaard told analysts the North American rig count should recover in 2013 but will still remain lower than it was in 2012 in total. He predicts 100 to 150 rigs to be added during Q1, but that will not be enough to boost the overall rig count above the 2012 average. Despite a lower amount of rigs being utilized, he expects the number of wells drilled to be "slightly up" from last year, which is a definite positive considering SLB offers many services benefiting from well development such as seismic processing, for example. Reportedly, North American growth was primarily derived from induced activity in the Gulf of Mexico, which saw an exciting uptick from last year.
Despite a challenging environment SLB has still performed well, as growth in developing markets and the Gulf compensated for a lackluster mainland US and weak Europe. In particular, Iraq showed tremendous growth: Mr Kibsgaard stated,
In Iraq, revenue grew over 60% sequentially, also reaching an all-time high, as we started off the remaining rigs, leading to our recent IPM contract wins. Operational execution continues to be strong on our well construction project in Iraq ..."
Other specific markets Mr. Kibsgaard gave specific numbers for during the call were:
Middle East & Asia: 10% revenue growth sequentially
Latin America: 11% revenue growth sequentially
Russia and Central Asia: Flat
North America: 4% revenue growth sequentially
Europe/CIS/Africa: -1% revenue growth sequentially
Growing revenues and earnings have been particularly lead by developing markets, while increasing dividends for shareholders makes for a bullish performance over the recent past: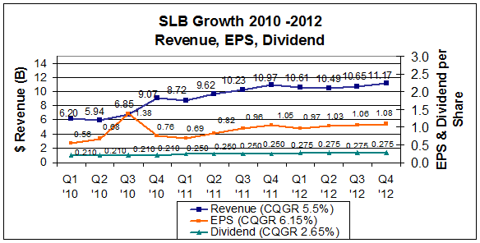 (Click to enlarge)
Revenue has grown roughly 80% over the past 3 years, while EPS grew 92%-impressive statistics. In addition, SLB's dividend has grown roughly 31% over this period, not including the 13.6% increase in the dividend payable in Q1 of 2013.
SLB vs. Peer Growth:
I almost always utilize comparisons when investing- so let's investigate how SLB's peers have grown their businesses over the same period, namely: Halliburton Company (NYSE:HAL), National Oilwell Varco, Inc. (NYSE:NOV), and Baker Hughes Inc (NYSE:BHI):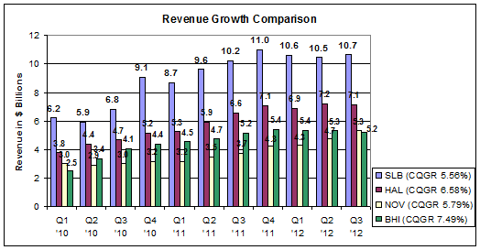 (Click to enlarge)
It turns out that SLB's growth since 2010 hasn't exactly been overwhelming relative to others in the industry. Perhaps SLB's enormous market cap by comparison, which is a strength in terms of stability and safety, is a weakness in this case- as SLB's huge size makes it less nimble in terms of growth possibilities. However, I feel SLB's growth rate over this period was comparable and only slightly behind that of these much smaller more agile peers.
| | | |
| --- | --- | --- |
| Company | Market Cap | CQGR since Q1 2010 |
| SLB | $101.68 B | 5.56% |
| HAL | 34.8 B | 6.58% |
| NOV | 31.1 B | 5.79% |
| BHI | 19.5 B | 7.49% |
In a recent article I wrote covering GE Oil & Gas, which is a smaller yet faster growing industrial segment of General Electric (NYSE:GE), I calculated this "hidden gem" buried within the conglomerate had a 8.64% Compound Quarterly Growth Rate over this same period ($1.593 B in Q1 2010 to $3.650 B in Q3 2012). Perhaps there is in fact some correlation to growth and size in the industry, but that is for another article.
Summary:
SLB is a very safe investment given its huge global footprint, presence in developing countries, leading seismic business, and its history of consistent growth. For investors that feel natural gas can turn around in 2013 SLB is a solid bet; as the coinciding rise in rig counts will surely boost SLB's results. Given SLB's overwhelming size, an added metric of safety is attained. Conversely, some opportunity of growth, which seems correlated to smaller competitors, like GE O&G for example, is sacrificed. To diversify into the industry, utilizing an ETF with primary exposure to SLB may be more appropriate for those looking minimize risk.
ETFs With Primary Exposure to SLB:
ETF's with primary exposure to SLB are the iShares Dow Jones US Oil Equipment Index Fund (NYSEARCA:IEZ), and Market Vectors Oil Services ETF (NYSEARCA:OIH). The IEZ has roughly 16% exposure to SLB and is its largest holding. However, this fund is relatively small with only $324 M in assets and averages just 100,600 shares traded/day. Conversely for the OIH, SLB is weighted heavier in the fund commanding over 20% of assets, which in my opinion only solidifies the market classification of SLB as the bellwether of the industry. The OIH is much larger than the IEZ with $1 B in assets, while also boasting better liquidity with nearly 3 M shares traded per day, or 30x volume by comparison.
In addition to SLB, the OIH also holds industry leaders offering diversity:
Option Play:
In my recent article, I covered bullish technical signals present in the OIH, and also mentioned an advantageous option strategy a bullish investor could use to get long the OIH:
As of 1/14, this bull call spread went for $280. As of market close on Friday 1/18 , the spread is going for roughly $335, a solid 19.6% gain. I feel due to strong technicals in the OIH, and with SLB leading the way so to speak, it's not too late to take a position in this widely held, highly liquid oil well services ETF for exposure to the industry.
Disclosure: I am long GE. I wrote this article myself, and it expresses my own opinions. I am not receiving compensation for it (other than from Seeking Alpha). I have no business relationship with any company whose stock is mentioned in this article.