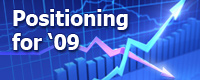 After surveying the carnage that was 2008, it's necessary to regroup and have a game plan for the coming year. The temptation to wait on the sidelines is great - after all, the losses in some sectors have been tremendous. But investors who sit this year out could be forfeiting some of the strongest gains of their career.
A healthy amount of cash is probably wise for all but the most aggressive accounts to start out this year. Some short positions are also in order as not every sector will rally over the coming months. But there are a few trends that I believe that any opportunistic investment account should consider.
The alternative energy theme will likely come back to the forefront. This is a function of both the new administration's policies, as well as an inflationary environment which makes traditional energy sources more expensive. Secondly, infrastructure plays will be in focus as Obama has made it clear that nearly $1 trillion will be plowed into this area. Investors will be better served buying small infrastructure names with more room for growth than large headline names. Third, the shipping industry will not roll over and die. We should see some sharp rebounds and while it may take years to reach the highest levels seen over the past year, the stocks are now at very attractive valuations. Finally, medical technology will continue to perform well as an aging population and a higher standard of living requires more health care service of a higher quality.
In consideration of all four of these trends, I have outlined a stock in each category that I think will outperform during the current year:
These four stocks have strong fundamentals and should show significant gains over the coming months. In fact, subscribers to the ZachStocks Growth Model will likely be trading all four of these names from time to time. Please take a look at the model as I believe this could be a valuable tool as you manage your investments this coming year.
Disclosure: Long CMED, TBSI, ACM, JASO