By Sumit Roy
The volatile corn market offers ample trading opportunities.
Corn Ending Stocks (USDA Forecast)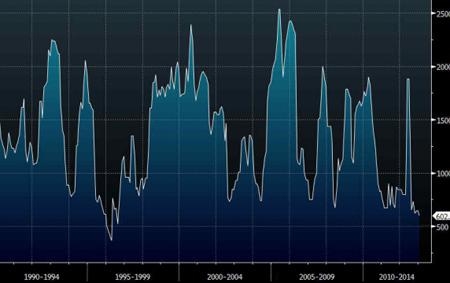 Corn stockpiles at the end of the 2012/2013 season may hit the lowest level in 17 years, the USDA said in its latest Crop Report earlier this month. The department sees stocks at 602 million bushels in September, down from its previous forecast of 647 million.
That's a far cry from the USDA's initial ending-stocks projection of 1.881 billion bushels from early last year. Of course, at that time, the department could not foresee the record-breaking drought that devastated supplies across the Midwest. All told, adverse weather cut the U.S. corn crop by 4 billion bushels, or over 25%.
Could the pattern repeat itself this year? Weather notwithstanding, the USDA is likely to forecast a big rebound in corn supplies for next season when it makes its initial estimates this spring. That may pressure corn prices, which may subsequently rebound if there is another drought. Trading opportunities abound in this very volatile commodity.
Bottom Line: Don't be fooled by early spring forecasts of a bumper crop. A significant correction may provide an opportunity to buy.