iShares S&P Global Telecommunications Sector Index Fund (NYSEARCA:IXP) has slowly been gaining headway in our Sector Momentum Tracker ETF rankings in recent weeks, moving from the No. 30 position on November 18 to the No. 15 spot on December 26 as the fund bested the S&P 500 by 16.06% for the three-month period ending December 26. Year to date, IXP has beaten the benchmark index by nearly 6%, an outperformance that follows on the heels of a banner year in 2007, when the fund saw nearly 26% improvement in NAV.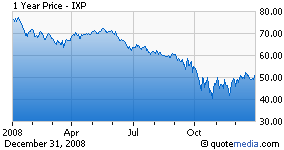 While IXP's assets have cascaded along with the broader market in 2008, the fund has shown some strengthening in recent weeks, with its NAV rising 3.47% for the month ending December 26. IXP seeks to track the S&P Global Telecommunications Sector Index, a subsector of the S&P Global 1200 Index. IXP's index includes diversified telecommunications carriers and wireless communication companies. The country with the largest representation in IXP's portfolio is the United States, composing 28.8% of holdings as of September 30, 2008, followed by the United Kingdom, with 13.43%, and Spain, with 10.29%.
The rush of telecom investing in the late 90s and early 2000s has developed into a more predictable dividend-yielding sector in recent years. An increasing number of consumers are turning to wireless devices for instant access to email and the Internet outside of the confines of their home PCs, a trend that could allow companies composing IXP to grow steadily over time. A recent Morningstar report noted that more than 80% of Americans have a wireless phone, double the number that carried such a device in 2000. Coupled with a recent surge in Internet usage—75% of Americans use the Internet now versus 44% in 2000—many investors are predicting that the telecommunications sector will continue to grow with the wireless population in the U.S. and abroad.
The largest component in IXP's basket is AT&T (NYSE:T), a company that constitutes nearly 17% of the fund's assets. AT&T received notable press in recent weeks as the carrier for Apple's iPod tried to soak up the holiday rush. As Christmas 2008 drew near, rumors flew about the advent of a $99 iPhone in Wal-Mart (NYSE:WMT) stores around the holiday. While this almost inconceivably low price did not hit Wal-Mart shelves, carrier AT&T did announce the sale of "lightly used" $99 iPhones until the company runs out of inventory. In mid-December, AT&T increased its dividend for the 25th consecutive year, enticing some economy-weary investors back into the telecom fold. AT&T has also been aggressive in its cost-cutting measures, recently announcing 12,000 layoffs in an internal strategy.
Telefónica (NYSE:TEF), IXP's second-largest holding, also offers the cushion of a dividend for nervous buyers. This Spain-based company was Michael Kovacocy's No. 1 telecommunications pick for the long term, when the analyst from Daiwa Institute of Research Europe gave a recent interview to CNBC. Telefónica is diversified across Latin America and was trading at 14 times earnings before the global financial meltdown set in. With a wide range of services, from digital network access and public telecommunications to the leasing of terminal equipment, both the size and breadth of Telefónica have analysts positive for 2009.
Two potential snags might make IXP inappropriate for some investors. First, the low trading volume in the fund demonstrates a potential liquidity problem for quick-trading investors. Over the past three months, IXP has traded slightly more than 60,000 shares daily, a number that could be low enough to prompt significant premiums and discounts in the fund over time. Another potential problem is the concentration of assets within IXP's top components. More than 51% of the fund's assets are concentrated in the top five components, with nearly 17% of the fund invested in AT&T alone. It is important for prospective investors to examine their portfolios for these components and look for areas of existing exposure.
IXP's strong portfolio of household telecom names could present an opportunity for new investors looking to get in at the bottom and hold on for the long run. As handheld telecommunications devices become more entrenched in daily life, IXP's components will be offering mobile computers to new sections of the population. This promise of growth, coupled with a historical track record, could boost IXP over the long haul. Top IXP component AT&T has bested the S&P 500 for the ten years that ended in October, and this track record could count for more as the economy remains uncertain.