While the Herbalife (NYSE:HLF) controversy seems to have been put on a back burner, it is still simmering away. Bill Ackman, joined by legions of anonymous followers who respect his earlier calls on companies which imploded such as Green Mountain Coffee Roasters (NASDAQ:GMCR), and have sold HLF short are up against another hedge fund titan Dan Loeb who has purchased 8 million shares or so, joined by others like Carl Ichan who is rumored to be a buyer as well.
Ackman believes the stock is headed for zero and Loeb believes it is headed 40 - 70% higher. Who is likely to be more right, that is the question.
This is the last article I will write on the subject (as I have sold my option positions which benefited by selling short-term puts and calls when implied volatilities where about triple what they are now). When the boiling pot became a simmer, option premiums tumbled so they were no longer interesting to me.
However, I think the prospects of a higher stock price going forward is much greater than the reverse, and hope my thoughts might be important to those who have sold the stock short (or are planning to do so).
Reason #1: The Multi-Level-Marketing Model works. You may not like the Herbalife business model , but it works. I don't participate in these kinds of selling programs and most everyone I know doesn't either. But lots of people embrace the notion of making some extra money in a sort-of business of their own. And they can be expected to do the same in the future.
Several Seeking Articles have argued that any model that does not reward all the participants is doomed to failure - see this example. I disagree. People bet hundreds of millions every day in lotteries and slot machines, and over time, they collectively all lose money. Yet they keep returning to plunk down more money, time after time.
Every year, especially around New Year's resolution time, thousands of Americans sign up for health club memberships and/or buy home exercise equipment that they never use. Does that stop them from doing the same thing a year later when the idea of losing weight or getting in shape once again seems like a good thing to do? Of course not. Yet they are participants in a plan that just doesn't work for them.
It's all about hope - exercise machines, health club memberships, lottery tickets, gambling, MLM opportunities, etc., etc. Pandora may not have done us all a great service when she allowed all the bad things to escape into the universe except hope. It really is over-rated.
The biggest argument against the model seems to be churning (the drop-out rate). If new prospects are necessary for the program to be successful (like a chain letter), at some point, Herbalife and other multi-level marketing programs will run out of potential customers according to this way of thinking. Thirty-two years of growing sales surely means that some one of these days, there won't be anyone left to sell to.
Look at these numbers cited in the above-cited article:
"In Q1 of 2012 439k Distributors signed-up 339k left
In Q2 of 2012 523k signed-up 323k left
In Q3 of 2012 514k signed-up 414k left
The law of large numbers is chasing Herbalife every day.
1,076,000 distributors quit Herbalife in the first 3 quarters of 2012.
Absent economic value created at all parts of the value chain, no business can survive." (Author's conclusion).
These same numbers could have been used to create the following:
Increases in the Total Number of Herbalife Distributors:
Q1 of 2012 - 100k
Q2 of 2012 - 200k
Q3 of 2012 - 100k
Conclusion: In the first three quarters of 2012, Herbalife added 400,000 Distributors to its sales force.
Same numbers, entirely different conclusion. Figures don't lie, but sometimes liars figure.
A statistical fact of economic data is that the odds of the next number in a series is more than twice as likely to be in the same direction as the change in the previous time period. If the total number of distributors became larger in the last quarter, the chances are better than two-to-one that there will be even more next quarter, etc., etc.
For there to be any credence to the argument that churning will destroy the model, we would have to see some quarters when the total number of distributors fell. So far, that has not been the case.
Surely, 32 years of growing sales is a better indicator of the MLM's likely success than some Chicken Little's squawking that the sky is falling. Bottom line, the MLM model works.
Reason #2: The FTC will not step in and shut the company down. One of the most compelling discussions of what constitutes an illegal pyramid scheme does not come from a hedge fund manager named Bill Ackman but from an expert on the subject named Len Clements, a man who has published several books on MLM, spoken at dozens of conferences and media outlets on the subject, and who publishes an industry "watchdog" newsletter focusing on MLM opportunity evaluation. This guy knows his stuff, and has written a well-documented paper on the topic entitled Is Bill Ackman the Next Barry Mankov? Herbalife Victim of Yet Another Short Seller Attack.
I would recommend this article to anyone who has a real or potential interest in Herbalife. If you read it carefully, I think it will abate your concerns about the FTC coming along and killing the cash cow the HLF has been for such a long time.
Reason #3: The company is fairly valued by conventional standards (and undervalued compared to its historical norms). As Dan Loeb reports (when he recently bought 8 million shares of the company's stock), "Let's not forget: the business itself is performing well. Volume, revenue and earnings are all growing double digits and the balance sheet is largely unlevered," "…Applying a modest 10-12x earnings multiple suggests Herbalife's shares are worth $55-$68, offering 40-70% upside from here and making the company a compelling long investment for Third Point."
HLF has a trailing p/e of 11.41 and only 9.51 forward p/e while its revenue growth is 13.8% according to Yahoo! Finance. What other company out there, besides Apple (NASDAQ:AAPL), of course, has a lower p/e than growth rate? Not many, for sure. Nine months ago, before the short sellers started their publicity campaign, the company was selling at about 16 times earnings. Since that time, all the economic results have improved while the stock has been hammered by about a third.
In summary, if one were to look at the actual performance numbers rather than the conjectures of the short sellers or other negative thinkers, the company is fundamentally undervalued at today's stock price.
Reason #4: There is a huge short interest in the stock. According to the latest numbers from Nasdaq, 38 million shares have been sold short out of a total 108 million outstanding (about 35% of total shares). At some point, these short shares are likely to be bought back (pushing up the price of the stock) as the company continues to grow, pay dividends, and buy back shares. Check out the recent growth in short interest: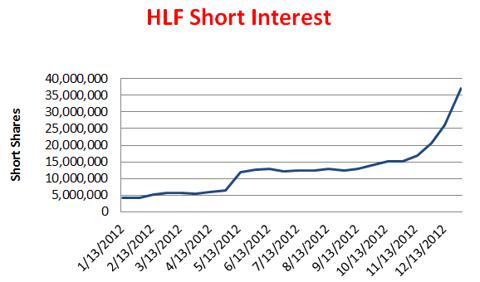 I have written a Seeking Alpha article on this subject - Implications Of Herbalife's Soaring Short Interest Ratio . On February 8th, 15 days from now, the stock will probably go ex-dividend. If the $.30 dividend is continued, the short sellers will have to cough up a collective $12 million to pay the dividend on the phantom shares they sold. I suspect that short-seller buying might start to take place shortly before that date to avoid some of those dividend payments.
In summary, four reasons, all significant, at least to me, why HLF stock should be headed higher. I no longer have an interest in the company (I placed some calendar spreads when the shortest-term options had extremely high implied volatilities and made some money on those spreads, but today I do not have any interest whatsoever). I would caution the short-sellers, however, because of these four reasons. Remember, a stock can go up by an unlimited amount while the downside is limited to what you pay for it.
Being short HLF with all these reasons going for it is not conducive to good sleep, at least in my opinion.
Disclosure: I am long AAPL. I wrote this article myself, and it expresses my own opinions. I am not receiving compensation for it (other than from Seeking Alpha). I have no business relationship with any company whose stock is mentioned in this article.