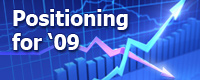 I thought I would summarize a few ideas I've mentioned on World Beta over the past few months as potential trading ideas based on some simple quant research:

1. Follow a simple tactical asset allocation model. With returns near flat, the model performed admirably in 2008 - look for an update to the white paper with out-of-sample numbers sometime in late January. The model is currently 100% in cash/bonds.

2. Look for a particularly pronounced January Effect in beaten down microcaps. I found that following the worst 10 years in stocks since 1927, the average return for microcaps in January was around 18% with no down years. An investor could either go long microcaps outright or create a hedged position by shorting large caps. Sample small and microcap funds are PZI, FDM, and IWC. Large cap ETFs include SPY and VTI. I mentioned a screen for beaten down microcaps here.

3. Look for a bounce across the board in January. In one study I examined asset class performance after a really bad month and the take-aways from this study were:

- It does not pay to buy an asset class after a really bad month for the following 1 month.
- 12 months later the return is not much different than average.
- 3 and 6 month returns, however, are stronger. You pick up on average about 3-4% abnormal returns buying after a terrible month.

4. Follow the smart money. A simple method of following the most popular stock holdings of the Tiger Cubs would have beaten the market by 12% a year since 2000. Current holdings include:

Qualcomm (NASDAQ:QCOM)
Visa (NYSE:V)
Mastercard (NYSE:MA)
America Movil (NYSE:AMX)
Priceline (NASDAQ:PCLN)
Transdigm (NYSE:TDG)
Sandridge Energy (NYSE:SD)
SBA Communications (NASDAQ:SBAC)
American Tower (NYSE:AMT)
XTO Energy (XTO)

AlphaClone lets you create a custom group of managers (and while I am biased it is a lot of fun to play around with the software). In a future post I will take a look at the Hedge Fund Consensus and Hedge Fund Best Ideas Portfolios that would have outperformed the market substantially over the past 8 years.

5. Get long Japan. Japan is back to where they were in 1982, and have experienced three down years in a row - a setup that generates large returns of around 20-30% historically.

Happy New Years!