Introduction
When it comes to diagnostic imaging, drug eluting stents, and hip replacements, healthcare technology in America is without a doubt the best in the world. Sadly, it's a recurring nightmare when it comes to information technology within hospitals and small physician practice, where everything from ballooning bad debt expense to illegible prescriptions and 200,000 preventable deaths a year are bleeding our healthcare budget dry, scarring the people who pay too much for too little, and overworking providers of care.

IT investment per worker in the healthcare industry is roughly half of what private industry in America pays and only 1 in 6 physicians have a fully working healthcare technology platform. The US spends $2.2 trillion, or 16% of GDP, on healthcare, yet we rank #46 and #42 when it comes to life expectancy and infant mortality, respectively. Without adjustment, healthcare spending will double to over $4 trillion by 2016.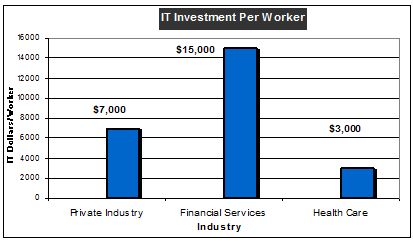 It is no wonder the Congressional Budget Office, Max Baucus, and McKinsey & Co disseminated in the month of December reports on our troubled healthcare system. As the nation prepares for Obama to take office, the health IT dream has been kept alive and major healthcare reform is likely in his first two years (Obama pledges to spend $50 billion over the next 5 years on HCIT initiatives).
One company I believe will benefit from a political push to eradicate waste out of the healthcare system is athenahealth (NASDAQ:ATHN). I will give readers a quick recap of what the business of athenahealth is about, touch on its investment positives, and end with a word on its valuation.
Business Overview
Founded in 1997, athenahealth provides Internet-driven (SaaS) business services to physician practices. Its flagship tool, athenaCollector, is a continuously updated database that automates physicians' payment reimbursements, allowing for faster and more efficient collections from various payers. Its newer offering, athenaClinicals, manages medical record-related functions. athenahealth enables physicians to focus on patients, managing their operations by taking over back-office tasks. Its services have three components: proprietary Internet-based software, a continually updated database of payer reimbursement process rules, and back-office billing and clinical data management. As ATHN's CEO notes, it's "proprietary knowledge of rules" to show doctors their "revenue potential." ATHN currently has over 12,000 medical providers as customers with average doc size per customer site somewhere in the 8-12 range.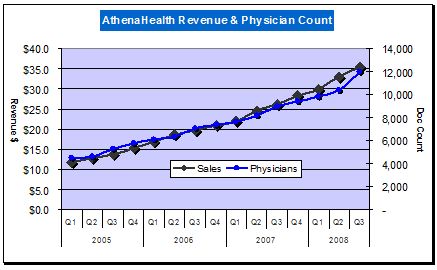 Investment Thesis
Driven by physician office collections, athenahealth takes part in the $448 billion in ambulatory care spending each year, according to 2006 CMS data. ATHN has less than 1% of this market (ATHN current collections are $3.6 billion), and expects to drive market share going forward through client retention and new physician wins. Its software gets doctors paid 33% faster (and increases collections by 10%), something I think will be a win-win for both players as people over the age of 65 increase 50% over the next decade while the physician base grows as little as 7%. The aging population will create an enormous strain on the system, especially on overworked doctors who simply don't have the wherewithal to chase down collection and manage client transaction complexity on their own.
A recent survey found that 94% of physicians saw non-clinical paperwork increase in the last 3 years; a 2008 study by the American Medical Association found that doctors spend as much as 14% of their collections to obtain accurate payments. athenahealth management has cited McKinsey numbers noting that an expected $90 billion could be saved through the use of electronic collections software like athenaCollector. The incoming administration wants to expand healthcare, and athenahealth will be a pivotal beneficiary of the increasing utilization of healthcare services going forward. Leerink Swann estimates ATHN is after a $4 billion dollar market opportunity (roughly 350K physicians, implying ATHN has only captured 3% of its addressable market today). I back of the enveloped it and if ATHN gets just 10% of its TAM, that's an incremental $276 million in sales (assuming 23,000 more docs at an average $12K rev per doc). My estimates only go out to 2009, but it's something to think about as ATHN could achieve $300 million run rate by 2011.
Physicians prefer the SaaS (software as a service) model, since it by definition allows users to access the system via the web, instead of having to install expensive and cumbersome software and then pay maintenance fees. Given physician reticence, generally speaking, to HCIT in their practices, I think the SaaS story is attractive and a product whose benefits are tangible and real for users.
The biggest issue facing doctors and IT today is cost. It costs a physician, on average, $40,000, to install a fully working EHR system. The payback period on that system is at least 3 years by my back of the envelope math, and even then, the overall savings it generates are only 11% of the total amount, the majority of course going to hospitals, pharmacies, and managed care companies/PBMs. In other words, the incentives in HCIT are grossly misaligned – he who pays the most receives the least. When you couple that with the similarly troubling structure of American healthcare – pay for procedures performed, not care received or preventative care established – it becomes no mystery as to why so many have a hard time embracing HCIT, advances whose benefits will accrue to someone other than the payer. Less medical errors and less unneeded tests makes sense from an ethical vantage point, but no so much from that of a hospital or cardiac surgeon whose livelihood depends on high volumes.
In contrast, the ability to shorten your cash collection cycle has much less downside to those who adopt the technology and thus, becomes an easier sell for athenahealth. With SaaS, athena's customers make little in upfront investment and don't have to take on associated hardware. ATHN gets paid a subscription fee (% of billing collections) over time. The SaaS model, in summary, is an easier pill for doctors to swallow than other traditional software business models like enterprise, client-server, and even ASP - and they see the money hit their pockets faster.
ATHN will capitalize on increasingly complicated insurance processing rules, aging software, and government pressures. In order to leverage this growing market, physicians' offices will need to adopt revenue management solutions that can keep pace with increasingly diverse and complex insurance plans. athenahealth's revenue management product is a Web-based platform that is continuously updated with new payer rules. If one physician's claim is denied for a specific reason, athenaCollector is updated with that reason so that other physicians don't make the same mistake. As a result, the more athenaCollector is used, the better the system becomes.
As such, there is a potent network effects dynamic underpinning ATHNs business model. Its EHR product, athenaClinicals, was introduced in 2006 and provides standard EMR benefits like drug interaction data. The case for medical error prevention is well known, as an estimated 1.7 million preventable accidents and 200,000 deaths occur in the US every year. Currently, only 4% of athenahealth's client base has installed athenaClinicals, creating a long cross selling runway if management executes.
Risks
Although mature, revenue cycle management (RCM) is one of the more attractive segments of HCIT and other players are already moving in on athena's market. McKesson, for example, recently introduced its own RCM product. Although new entrants will gradually afflict margins in the industry, it also presents an opportunity for athenahealth to get taken out. ATHN is a feasible fit for any larger HCIT player that wants to add RCM to its product offerings.
Another major risk I see is the possibility that ATHN will be unable to meaningfully penetrate the large physician practices in the US, since those are the least likely to outsource RCM as they typically have their own internal billing experts to do what ATHN does.
ATHN, which does little in the way of marketing (instead relying on word of mouth and its sales force), will have to take down the big legacy players in an already saturated market to really drive the needle over the next five years. athena's new EMR product athenaClinicals is gaining traction, albeit slowly. athenaClinicals is only installed in just 4% of ATHN's customer base. Any failure to penetrate its addressable market will hurt ATHN since investors are depending on this new avenue of growth to offset any price erosion that will eventually befall the RCM area.
The same can be said for the more recent penetration of ATHN's collections software within retail clinics, which have seen tremendous growth in the last two years in the US as a quicker and more affordable alternative to physician visits.
Lastly, as mentioned, ATHN pulls more revenue from small physician settings, but recent data from the AMA reports that the percentage of US doctors working out of 1-2 doc settings has tumbled from 41% a decade ago to an estimated 30% today. With malpractice concerns still a high pain point for docs and medical school recruiters pushing grads to larger settings, I expect this trend to unfortunately continue.
Valuation
Trading at 44x forward earnings, shares of ATHN look expensive on a first glance. For 2009, I modeled $0.84c in non GAAP cash EPS, which is slightly ahead of consensus estimates. I see the stock flooring, in a worst case scenario, at a 15x market multiple, or $12/share – ATHN would have to see Armageddon to hit that level though since the stock went public at $18.The upside gets capped at potentially as much as $70/share (using peak price-to-sales multiples attained by SaaS players in the past; ATHN currently fetches at 9.5x sales).
As one can see, the downside and the upside are almost equal on these simple valuation criteria, assuming you are of the pessimistic type and think the economy will lead to further multiple contraction in 2009. However, ATHN is weathering the economy reasonably well with top line growth in the 30% range and a 97% client retention rate. Bearish investors like Zachary Scheidt may be missing the point – traditional relative valuation for ATHN doesn't work: the company is still in its nascent stages of development and turned its first profit this year; furthermore, its growth is entirely organic and for that you must pay up.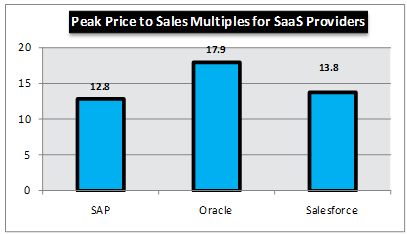 Bottom Line
US healthcare costs are climbing disproportionately and the new administration will be tackling the system to an extent not seen since the Clinton attempt of the early 90s. Healthcare outcomes remain suboptimal and subject to wide variability – as reticent as they may be, physicians in the US will be forced by economic necessity to adopt best in class technology that make the system more efficient. athenahealth strikes me as the sort of "game-changer" company that creates a new and better way of doing business. Bears looking at just a towering P/E are missing the forest for looking at the tree and athenahealth presents a differentiated play on healthcare technology.
Looking at peak price to sales multiples of previous SaaS giants, I would argue that ATHN may actually be cheaper than you think.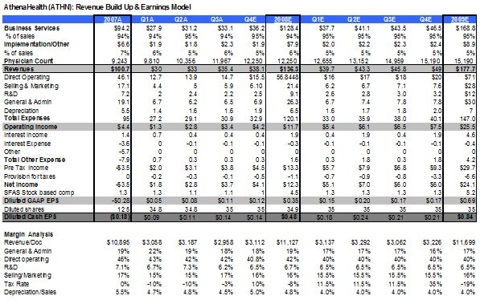 Disclosure: Author and immediate family have no position in the stock. Author has no personal affiliation with ATHN and his current firm neither has a banking relationship with the company nor provides research on the stock.