Wednesday's market sentiment was driven by extreme greed with Fear & Greed Index at 92, which had increased from the previous close of 90. As reported by CBOE, the total put/call ratio was 0.89 for the day. The index put/call ratio was 0.88, and the equity put/call ratio was 0.69. The CBOE volatility index (VIX) put/call ratio was 0.51. In the following, the top stock had been identified through our daily options scanning process, with the scanning criteria where the daily call volume ratio was above 2.00 (2x of the average call volume) with a call volume above 10,000.
| | | | |
| --- | --- | --- | --- |
| Name (Ticker) | Call Volume | Average Call Volume | Daily Volume Ratio |
| EMC Corporation (EMC) | 17,879 | 7,764 | 2.33 |
Source: Schaeffer's Research
Unusual option activities can be an indicator or precursor of a major movement for the underlying stock. This article will try to identify the bullish factors for EMC.
EMC Corporation
EMC Corporation (EMC) is a leading provider for hardware, software, and services for enterprise network storage, operating in two categories: EMC Information Infrastructure and VMware Virtual Infrastructure. EMC holds 80% ownership of outstanding shares in VMWare (NYSE:VMW), the largest global vendor providing virtualization software for server operating systems. EMC closed at $24.53 on Wednesday with a volume of 19.56M, which was 10.81% less than the 30 day average volume of 21.93M. EMC had been trading in the range of $22.77-$30.00 in the past 52 weeks.
Bullish Factors
Pivotal Initiative. EMC and VMW are combining a number of divisions into the new group by the second quarter of 2013. The realignment may eventually result in a spin-out of the new group, where the companies could decide on a partial spin-out of the unit in 2014/2015. As indicated by the analyst, "This realignment should enable EMC to position itself more as a Cloud enabler while VMware can concentrate on its expanded strategy of the software-defined datacenter."
Share repurchase. The board of directors had authorized the purchase of up to $250M of its Class A common stock through the end of 2014. This was in addition to EMC's ongoing $600M stock repurchase program.
New product developments. EMC® Smarts software is further extending EMC's leadership in managing virtual data centers and cloud environments. EMC Smarts 9.1 now includes root-cause and impact analysis for all VMware vSphere attached storage through new and enhanced integrations with VMware vCenter Server and the EMC SRM Suite. In addition, EMC will offer Syncplicity cloud-based online file sharing service with EMC Isilon scale-out storage and EMC Atmos object-based storage. These together will allow customers to store files on-premise as well as in the cloud and give IT more control over where managed files reside. EMC had also updated its market-leading EMC® VMAX® Family, making it more powerful, smarter, more trusted, and more efficient for mission-critical applications in VMware virtualized environments for enterprises of all sizes.
Fundamentally, EMC has a strong balance sheet with a total cash of $5.45B and a total debt of $1.71B. EMC generates strong cash flow with an operating cash flow of $6.55B and a levered free cash flow of $4.51B. EMC has higher revenue growth (3 year average) of 10.4, comparing to the industry average of 5.9. EMC has stronger operating margin of 18.0%, ttm, and net margin of 12.7%, ttm, as compared to the averages of 12.0% and 8.9%, ttm, respectively. The P/E for EMC is 19.8, which is higher than the industry average of 12.7 but lower than EMS's 5 year average of 23.1. EMC's forward P/E of 11.0 is lower than the S&P 500's average of 13.3.
Technically, the MACD (12, 26, 9) indicator started to show a bullish sign on Wednesday and the momentum indicator, RSI (14), is picking up and reversing the selling momentum. EMC tested the 50-day MA of $24.64 on Wednesday but failed to close above it. If EMC can break through its 50-day MA resistance, the next major resistance will be its 200-day MA of $25.69, as seen from the chart below.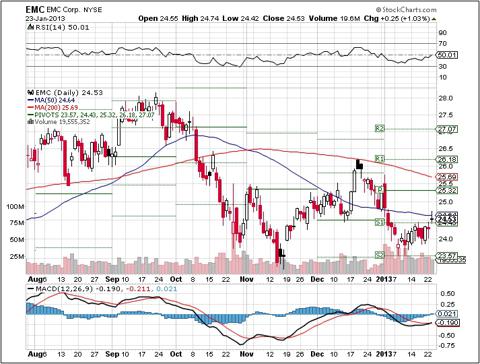 Source: StockCharts.com
Risks/Concerns
On January 14, 2013, EMC was downgraded by JP Morgan to neutral from overweight with a price target of $26.00 due to slower growth in the storage market. On January 10, 2013, Morgan Stanley downgraded EMC to Equalweight from Overweight. Lastly, on January 8, 2013, William Blair downgraded EMC from Outperform to Market Perform, citing reduced confidence in the company's ability to meet 2013 consensus estimates and the storage industry growth headwinds. However, pessimism may be a good thing, as indicated by Paul Mansky, Cantor Fitzgerald's analyst. Mansky maintained his "buy" rating on EMC and said, "With our expectations of re-accelerating fundamentals by mid-year, we view this transient period as an attractive time to continue to build positions." UBS also reiterated its "Buy" rating but lowered its price target to $28.5 from $30 on January 9, 2013.
Earnings
EMC is expected to release its Q4 and full 2012 earnings on January 29, 2013 at around 7:00AM EST. Analysts, on average, are expecting an EPS of $0.52 with revenue of $5.98B for the current quarter ending in December, 2012. Analysts are also expecting an EPS of $1.69 with revenue of $21.66B for fiscal 2012.
Reviewing Options
The most active call was Feb. 15, 2013 call at the strike price of $25.00 with a volume of 5,484 and an open interest of 17,085. The implied volatility is 25.2, and the chance of breakeven is 27.75. The historical volatility for EMC is 15.92 for 1 month, 20.15 for 3 months, and 27.83 for 1 year.
Our reviewed credit put strategy of April 20, 2013 $21/$23 put is currently yielding 12.34% return on margin. For investors who had not established the position, it will not hurt to wait and see until the earnings release to establish the long-term positions.
Note: All numbers/prices are quoted from the closing of January 23, 2013 with the data provided from Barron's, Morningstar, Schaeffer's Investment Research, Inc., Google Finance, and Yahoo! Finance. Investors and traders are recommended to do their own due diligence and research before making any trading/investing decisions.
Disclosure: I am long EMC. I wrote this article myself, and it expresses my own opinions. I am not receiving compensation for it (other than from Seeking Alpha). I have no business relationship with any company whose stock is mentioned in this article.