Although we have Sprint Nextel (NYSE:S) in our portfolio and it is our most covered telecom company for our published research, we find it important to devote reports analyzing and evaluating its two top peers AT&T (NYSE:T) and Verizon Communications (NYSE:VZ). We can see why Verizon's stakeholders have much hubris with regards to Verizon Wireless's new smartphone pricing plans, as Verizon Wireless's new subscriber volumes were higher in H2 2012 versus H1 2012, H2 2011 and H1 2011. Part of the reason why Verizon Wireless is currently the king of the US wireless market is because it has the largest 4G-LTE network. Verizon Wireless has extended its 4G-LTE footprint to 476 U.S. Markets as of Q4 2012 and is expecting to complete its roll-out in the middle of 2013. T-Mobile USA has not begun its 4G-LTE network while AT&T Mobility and Sprint previously bet heavily on different 4G network systems (HSPA+ for AT&T and WIMAX for Sprint).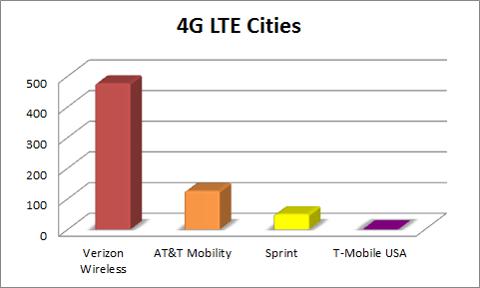 Source: Verizon Wireless
Verizon Wireless
Verizon Wireless continues to be the star-performer and workhorse for Verizon shareholders. VZW grew its Q4 2012 revenues by 9.5% versus Q4 2011 levels and this was the first time in the last four quarters in which its year-over-year fiscal quarter revenue growth rate has improved, though it was lower than the 13% achieved in Q4 2011. Retail service revenues grew by 8.4%, aided by increased smartphone penetration and positive reception for its Share Everything data plan. We were surprised that VZW would increase the number of new customers in Q4 2012 versus Q4 2011 as well as Q3 2012 versus Q3 2011 because we found that VZW's cheapest smartphone plan costs $20/month more than Sprint's Unlimited Data with 450 anytime minutes plan. VZW is leading the way in retaining customers with its enviable 0.95% contract customer churn rate and its 1.24% total retail customer churn rate. Verizon activated 3.6M new Android smartphone and 6.2M new iPhones, half of which were iPhone 5. New iPhone activations increased from 4.3M in the prior year period. 42% of all new smartphone sales were to first-time smartphone customers, versus 44% in Q3 2012 and 40% in Q2 2012.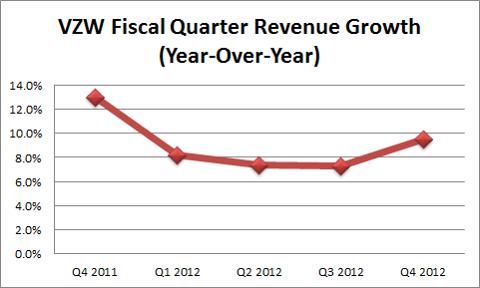 Source: Verizon's Last 5 Earnings Releases
Verizon Wireless has made a strong push towards converting its customers from low-end mobile phones into higher end smartphones. In Q1 2010, its proportion of smartphone customers to total customers was 18.6% but it has steadily increased in each succeeding quarter and reached 58.1% in Q4 2012. VZW's smartphone sales as a % of total phone sales increased from 35.6% in Q1 2010 to 86.5% in Q4 2012. We can see that the division is maturing as its 2012 CapEx declined by 1% relative to 2011 levels and management projected flat CapEx growth for 2013 as it is completing its 4G-LTE network build-out in the middle of 2013.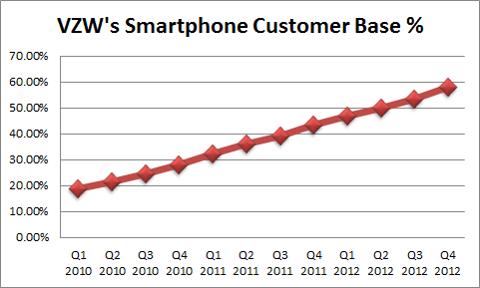 Sources: Verizon's Q4 2012 and Q1 2011 Earnings Supplements
Verizon's Wireline businesses were reliable cash cows in the 1980s and 1990s and we can see that Verizon Wireline is steadily transforming from its phase of breakneck growth into a maturing cash-cow. Although Sprint has nearly doubled its CapEx from $2.2B in 2009 to $3.9B in the last twelve months, it has a long way to go before it catches up with Verizon Wireless's CapEx ($8.9B). We were surprised that VZW would increase its net customer additions with its new data plan because we were surprised that people would be willing to pay $20/month and up for VZW's 4G-LTE network, especially since Sprint is steadily building out its 4G-LTE network and has been improving its customer service experience.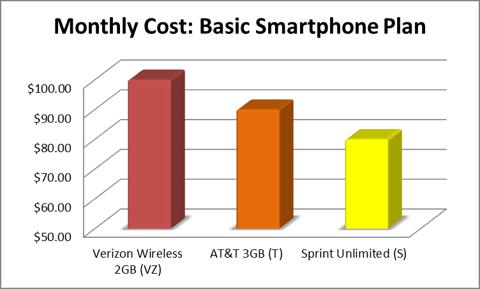 Source: Mobile Carrier Websites
Verizon Wireline
Verizon Wireline is the old gray mare that isn't what it used to be twenty long years ago. The good news for Verizon Wireline is that it generates steady revenue growth from its FiOS product line (digital voice, internet and video), it has increased its proportion of enterprise revenues from strategic communications services (FiOS, Terremark cloud services, security and IT solutions and strategic communications network solutions) and it has steadily reduced headcount in the division. Verizon improved its business operations reporting metrics for the division in 2011 and highlights from these initiatives are as follows:
Wireline headcount has decreased from 118,700 in Q2 2009 to 86,400 in Q4 2012
Strategic Communications Service revenues have increased from 40.6% of total Enterprise revenues in Q2 2009 to 54.3% in Q4 2012
FiOS digital connections have increased from 5.36M in Q2 2009 to 13.4M in Q4 2012
FiOS quarterly revenue increased from $1.26B in Q2 2009 to $2.57B in Q4 2009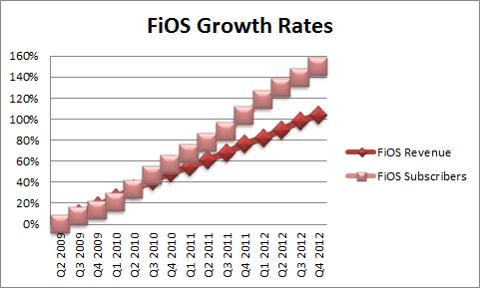 Sources: Verizon's Q4 2012 and Q1 2011 Earnings Supplements
However, these efforts are not enough to offset the continued erosion of its legacy wireline voice services and its legacy High-Speed Internet offerings. Verizon Wireline's Q2 2009 revenue adjusted for the impact of the spinoff of certain rural wireline operations to Frontier (NYSE:FTR) was $10.563B but has declined to $9.99B in Q4 2012. This revenue decline has occurred in spite of its Q3 2012 acquisition of Hughes Telematics, its Q2 2011 acquisition of Terremark and the increased sales penetration of its FiOS products. Verizon is not alone in facing the decline of its traditional wireline business with strategic communications services such as its FiOS product line as AT&T and CenturyLink (NYSE:CTL) (Sprint's former rural incumbent local exchange carrier operations) are pursuing the same strategies as Verizon Wireline. CenturyLink also resells Verizon Wireless services in its ILEC footprint. We think that Frontier's management and investors should be seething that Verizon spun-off its weakest wireline operations to Frontier in 2010 while giving the Verizon Wireless resale deal to CenturyLink. Frontier ended up inking a wireless resale deal with AT&T.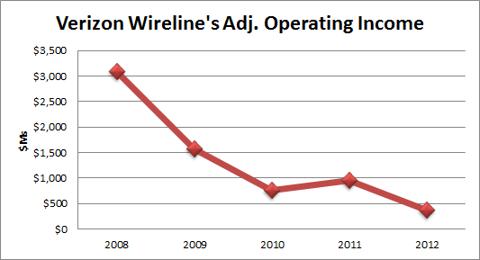 Source: Verizon's 2010-2011 Annual Reports and MRQ Report
The bad news is that Verizon Wireline posted a reed-thin adjusted operating loss of $7M (-0.0007% operating margin) even if we exclude $319M in pre-tax expenses relating to Superstorm Sandy. Another piece of bad news is that its closest competitor AT&T generates much stronger performance in its wireline operations than Verizon and the same scenario applies to Verizon Wireless's reseller partner CenturyLink versus Verizon Wireline. At least Verizon Wireline accounted for only 23% of Verizon Communications' adjusted business segment EBITDA and its contribution to VZ's operation is getting smaller and smaller, which mitigates the negative impact that this declining business has on VZ's results.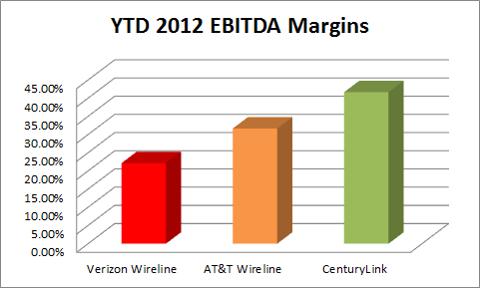 Source: MRQ Financial Reports for Verizon, AT&T and CenturyLink
Corporate and Administrative
Verizon increased its per share dividend distributions by 3% and this represented the sixth straight year it increased dividends. Verizon incurred a $7.2B pension charge in Q4 2012 after it accrued a $5.944B charge in H2 2011. It reduced its outstanding debt by $3.36B and paid $8.325B in special dividend distributions to Vodafone for its 45% minority interest in Vodafone. Verizon's management announced that it would be opportunistically looking at repurchasing Verizon's shares and we are pleased to see this since Verizon last repurchased shares in 2008 according to Morningstar. Verizon has a shelf registration of 100M shares for its buyback program according to Verizon's management and this represents 3.5% of Verizon's outstanding share count.
Conclusion
In conclusion, we expect Verizon to maintain its leadership in the wireless communications market for the near term. We can't argue with yield hungry investors who are interested in the company, as it sports a 4.8% dividend yield and the financial strength to coverage its dividend payments with free cash flows. However, Verizon Wireless needs to keep its eyes peeled on AT&T and Sprint because these companies have only just begun transitioning their 4G network resources from HSPA+ (AT&T) and WIMAX (Sprint) to 4G-LTE and will be able to chip away at Verizon Wireless's network advantages. Although Verizon Wireless is expected to continue generating solid revenue growth and strong EBITDA growth, it will be partially offset by continued weakness in its Verizon Wireline division. Verizon's 52 week high of $48.77 was achieved on October 1st and this was the highest it had traded since March 2002 ($48.70). Since then, it has generated a negative total return of 10% and we believe that investors should begin to accumulate Verizon shares if the price reaches $40/share or less, especially if Verizon begins carrying out its share repurchases.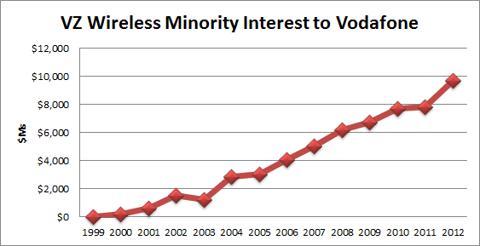 Source: Verizon's 1999-2011 Annual Reports and MRQ Report
Disclosure: I am long S. I wrote this article myself, and it expresses my own opinions. I am not receiving compensation for it (other than from Seeking Alpha). I have no business relationship with any company whose stock is mentioned in this article.
Additional disclosure: Additional disclosure: This article was written by an analyst at Saibus Research. Saibus Research has not received compensation directly or indirectly for expressing the recommendation in this article. We have no business relationship with any company whose stock is mentioned in this article. Under no circumstances must this report be considered an offer to buy, sell, subscribe for or trade securities or other instruments.