INVESTMENT THESIS — STRONG DOWNSIDE PROTECTION
An investment in Greenlight Capital Re (NASDAQ:GLRE) should outperform the market in times both good and bad, due to David Einhorn's superior investment skill and Greenlight's strategy of selling stocks short in addition to buying them. We estimate fair value at $18-24 per share, based on the analysis presented in this report.
39-year-old David Einhorn has had phenomenal success managing Greenlight Capital (not the same legal entity as Greenlight Capital Re), a value-oriented hedge fund that has grown into a billion dollar firm from humble beginnings, with only $1 million in assets in 1996. While returns have suffered this year, we estimate that Greenlight has delivered an annualized return since inception, net of all fees and expenses, of more than 20%. This is an impressive feat considering that the fund navigated through both the bursting of the Internet bubble in 2001-02 and the ongoing U.S. credit contraction and recession. Also impressive is the fact that Einhorn achieved such returns while maintaining relatively low net exposure to equity markets, due to a strategy of buying undervalued stocks and selling short overvalued, mismanaged or downright fraudulent companies.
Greenlight Re went public in May 2007 as a publicly traded version of Einhorn's hedge fund, with several enhancements:
Tax-advantaged structure

by virtue of Cayman Islands domicile, making Greenlight Re a pass-through vehicle for U.S. investors.

Reinsurance underwriting should add value,

an aspect that is unique to Greenlight Re as compared to Einhorn's hedge fund. Underwriting is conservative, with significant unutilized capacity and most premiums related to frequency rather than severity business.

†

Investors may sell their shares in the open market at any time,

a liquidity benefit not available to hedge fund investors.

†

Repurchases should accelerate growth of per-share value,

as Greenlight Re may buy back stock at a discount in times of market distress. The Board authorized a two million-share buyback in August.

†

Investors should benefit from price-to-book multiple expansion

over time, as the market comes to appreciate Einhorn's investment skill. This may allow investors buying at current prices and selling in the future to get paid for the discounted value of Einhorn's "alpha."
Einhorn is incentivized to grow shareholder value, as he owns 17% of Greenlight Re. He also has a track record of fair treatment of investors.
We judge Greenlight Re shares to have superior downside protection due to (1) their discount to book value, (2) Einhorn's proven ability to generate investment outperformance, (3) a conservative underwriting posture, (4) an ability to repurchase shares below fair value, thereby limiting the downside and increasing future upside, and (5) an ability to go long as well as short in the stock market, enabling Greenlight to seize opportunities regardless of overall market direction.
BUSINESS OVERVIEW
Greenlight Re is a reinsurer whose investment portfolio is managed by David Einhorn's investment firm. Greenlight Re provides custom-tailored specialty property and casualty reinsurance to the insurance, risk retention group, captive, and financial markets. Established in 2004, Greenlight Re selectively offers customized solutions in markets where capacity and alternatives are limited. The company has a goal of maximizing long-term growth in book value per share.
SELECTED OPERATING DATA
($ in millions)

FYE December 31

2005

2006

2007

YTD

9/30/08

Gross premiums written by risk category:1

Frequency

--

$58

$77

$105

Severity

--

16

50

28

--

$74

$127

$134

Gross premiums written by line of business:

Property2

--

$68

$59

$10

Casualty3

--

6

46

67

Specialty4

--

0

23

57

Gross premiums written by geographic area of risk:

U.S.

--

$64

$80

$114

Non-U.S.

--

5

3

1

Worldwide5

--

4

45

19

Selected underwriting ratios (based on GAAP results):6

Loss ratio

--

36%

40%

45%

Acquisition cost ratio

--

39%

40%

39%

Internal expense ratio

--

34%

12%

14%

Combined ratio

--

110%

92%

97%

Investment return7

14%

24%

6%

-13%

Book value per share

$11.63

$14.27

$16.57

$14.22

14%

23%

16%

-10%
1 Retrocessional contracts related to frequency reinsurance had gross ceded premiums of $26 million in 2007 (no retrocessional coverage in 2006).
2 Includes commercial lines and personal lines.
3 Includes General liability, marine, motor liability, and professional liability.
4 Includes health and medical malpractice.
5 Worldwide risk comprises policies that insure risks on a worldwide basis.
6 The composite ratio of frequency and severity business was 94% and 42%, respectively, in 2007 (compared to 97% and 45%, respectively, in 2006).
7 Investment return was -13% in October and +3% in November 2008.
8 Numerator includes assumed proceeds from future exercise of stock options.
INVESTMENT HIGHLIGHTS
David Einhorn is one of the most successful investors of the past decade.

Since inception in 1996, Greenlight Capital's flagship long-short fund has posted annualized net returns of 20+%.*

Focus on superior returns from both sides of balance sheet.

Traditional reinsurers focus primarily on one side of the balance sheet, seeking to grow their underwriting businesses while managing their float portfolio primarily for avoidance of loss or drastic underperformance. This results in most reinsurers making large investments in high-grade fixed-income and other low-yielding securities. Greenlight Re, on the other hand, appears likely to derive at least as much value from its investment activities as it may from underwriting.

Favorable tax treatment due to Cayman Islands location.

Greenlight Re pays income taxes neither in the Cayman Islands nor in the U.S., effectively making it a "pass-through" entity for investors.

Disciplined, differentiated underwriting strategy.

Greenlight Re offers excess of loss and quota share products in the property and casualty market, focusing on customized solutions rather than participating in broadly available opportunities. The company seeks to maximize long-term results rather than manage for interim or GAAP performance. Management is compensated based on multi-year underwriting performance rather than premium volume or short-term results. Greenlight Re seeks to act as lead underwriter for most premiums written.

Business sourced mostly through reinsurance brokers,

providing the company with variable-cost global distribution (commissions are based on gross premiums written). Brokers have no authority to bind the company to any reinsurance contract.

A- (excellent) financial strength rating from A.M. Best —

the 4th-highest of 15 ratings. The outlook is stable. The rating assumes that the investment portfolio may be 100% in equities. Greenlight Re has an unencumbered balance sheet, with book value of $518 million and liabilities of $598 million at Q3-end (includes $370 million of securities sold short in the investment portfolio).

"Cradle to grave" service philosophy,

with reinsurance contracts administered by the same individuals who underwrote the contracts.

No direct "open-end fund" risk.

Greenlight Re's equity base is committed and cannot be withdrawn, unlike assets in a mutual or hedge fund. As such, Greenlight Re can invest almost exclusively for long-term return maximization. (We note that Einhorn's hedge fund is open-ended—withdrawals there could pressure Re's mark-to-market portfolio.)

Little leverage in investment operations.

While Greenlight's portfolio entails some gross leverage due to short-selling activities, net exposure is typically well below 100% of net equity. The low leverage lowers the long-term risk profile.

$50 million personal investment by Chairman David Einhorn.

Einhorn purchased Class B shares at the IPO price of $19 per share in conjunction with the company's public offering in May 2007. While Einhorn has certain conflicts of interest in his various roles, the purchase of shares indicates his commitment to the success of Greenlight Re. We also note Einhorn's strong track record of creating value for his hedge fund investors. Einhorn's management fee of 1.5% is below the industry "standard" of 2.0%, despite the fact that Einhorn's superior performance may warrant a higher fee.

Share repurchase authorized in August. T

he Board authorized a buyback of two million shares. We view buybacks at multiples of less than 1.5x book value as accretive to intrinsic value per share.

Shares trade at 0.8x diluted book value.
INVESTMENT RISKS & CONCERNS
Limited loss experience.

While Greenlight Re has an experienced management team, the company has paid relatively few claims to date, and it is difficult to evaluate the appropriateness of loss reserves.

Exposure to natural disasters. The maximum aggregate loss exposure to any series of natural peril events was $76 million at yearend 2007.

Underwriting dependent on A.M. Best rating.

Should A.M. Best downgrade the company—either as a result of higher-than-expected losses on policies, or large losses in the fairly concentrated investment portfolio—Greenlight Re may become unable to write new business on favorable terms.

Needs to maintain letters of credit to write certain business,

as the company is licensed and admitted as a reinsurer in the Cayman Islands only. Many banks prefer fixed-income collateral to the company's non-traditional investment portfolio.

Risk of Passive Foreign Investment Company treatment.

PFIC investors face adverse U.S. tax consequences. Greenlight Re does not believe it is a PFIC, as the determination criteria exclude income derived while conducting an insurance business.

Competitive industry.

Both the reinsurance and investment management industries are highly competitive, and perceived sustainable competitive advantage often proves fleeting. Nonetheless, we believe Greenlight Re enjoys a sustainable advantage on the investment side, and it is likely to do above average on the underwriting side.
COMPARABLE PUBLIC COMPANY ANALYSIS
| | | | | | |
| --- | --- | --- | --- | --- | --- |
| | Price ($) | Market Value ($mn) | Price to Tangible Book | CY08 P/E | CY09 P/E |
| ACE | 51.83 | 17,290 | 1.5x | 7x | 7x |
| AIG | 1.94 | 5,219 | 0.1x | n/m | 2x |
| BRK.A | 102,700 | 159,101 | 1.8x | 18x | 17x |
| CB | 51.85 | 18,443 | 1.4x | 9x | 9x |
| FFH | 272.44 | 4,991 | 1.1x | n/a | n/a |
| MKL | 297.90 | 2,923 | 1.5x | 18x | 13x |
| PRE | 72.76 | 4,005 | 1.1x | 7x | 7x |
| TRH | 37.58 | 2,491 | 0.8x | 7x | 6x |
| TRV | 43.41 | 25,374 | 1.2x | 8x | 8x |
| XL | 6.05 | 2,001 | 0.3x | 2x | 2x |
| LUK | 18.55 | 4,320 | 0.8x | n/a | n/a |
| GLRE | 10.85 | 394 | 0.8x | n/a | n/a |
MAJOR HOLDERS
Chairman David Einhorn 17% │ CEO Len Goldberg 1% │ Other insiders 1% │ Khronos 8% │ Morgan Stanley 7% │ Montpellier 6% │ Royal Capital 4% │ Third Point 2%
RATINGS
| | | |
| --- | --- | --- |
| VALUE | Intrinsic value materially higher than market value? | |
| MANAGEMENT | Capable and properly incentivized? | |
| FINANCIAL STRENGTH | Solid balance sheet? | |
| MOAT | Able to sustain high returns on invested capital? | |
| EARNINGS MOMENTUM | Fundamentals improving? | |
| MACRO | Poised to benefit from economic and secular trends? | |
| EXPLOSIVENESS | 5%+ probability of 5x upside in one year? | |
WHAT ARE THE SHARES WORTH?
We value GLRE at $18-24 per share,

based on fair value multiples of book of 1.4x-1.9x. We believe this to be a conservative range, based on expected long-term investment outperformance.


-At the low end,

we assume that outperformance persists for the next 10 years, with net returns of 12% per year versus market returns of 8% per year.


-At the high end,

we assume that outperformance persists for the next 10 years, with net returns of 15% per year versus market returns of 8% per year.

Underwriting:

Our value estimate assumes that reinsurance underwriting operations neither create nor impair material shareholder value over time. We believe this to be a conservative assumption.

Share repurchases:

Our value estimate assumes that management does not increase per-share intrinsic value through opportunistic buybacks. We believe this to be a very conservative assumption, as the company has commenced a buyback program.
Greenlight Capital Re — Valuation Summary
Fair Value Range

Low

High

Diluted book value per share at 9/30/08

$14.22

$14.22

Q4 investment result (through 11/30/08)

-9.7%

-9.7%

Estimated decline in per-share book value

-11.7%

-9.7%

Estimated book value at 11/30/08

$12.56

$12.84

Fair value multiple of book value

1.4x

1.9x

Estimated per-share value of GLRE

$17.58

$24.40
Source: Company filings, The Manual of Ideas estimates and analysis.
WHY THE SHARES MAY BE MISPRICED
Investors myopically focused on recent losses.

In predictable fashion, the market has abandoned Greenlight Re during a period of weak investment results, ignoring Einhorn's track record and likely future outperformance. Conceptually, the ideal time to buy into any "closed-end" vehicle managed by a top-notch investor is during a temporary period of underperformance, as the vehicle might be available at a big discount to fair value — this is such a time.

Investors ignore the fact that recent losses are "good" in the context of S&P 500 performance.

Greenlight Re's investment portfolio is down 21% YTD through the end of November, versus a decline of 38% for the S&P 500 (total return index). While it's true that the performance of Greenlight's long/short portfolio might be more appropriately measured against short-term government yields, the point is that Einhorn's investment skill has enabled Greenlight to outperform major stock market indices in times good and bad. There is no reason to believe this will change. In fact, recent market turmoil has likely taught Einhorn some important lessons and made him a better investor.
Strong quarter of investment performance may lead to swift price-to-book revaluation,

as investor skittishness about Einhorn might be alleviated. While timing is speculative, Greenlight could turn around results as early as 1Q09.

Second-largest recent investment loser has high likelihood of turning into winner.

Greenlight has suffered large mark-to-market losses from a long/short trade in Porsche (OTCPK:POAHF) and Volkswagen (OTCPK:VLKAY) shares. While this trade has been a spectacular failure to date, we have developed high conviction in this position through our own research. As a result, we believe Greenlight will be vindicated—possibly in the next few months—providing a major positive catalyst to investment performance. We note that Greenlight is not at the mercy of margin calls due to a policy of avoiding portfolio leverage.
SELECTED OPERATING DATA AND METRICS
GLRE – Gross Premiums Written, 2Q06-3Q08
The company has succeeded in the goal of making frequency business a large percentage of overall underwriting volume, thereby lowering exposure to catastrophe losses. In addition, as the volatility of underwriting volume suggests, management has been disciplined and opportunistic about the kind of business it has written. The company's stated goal is not to grow premium volume but to seek out business with favorable risk-return characteristics.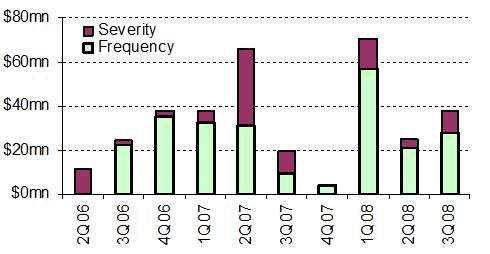 Source: Company, The Manual of Ideas.
GLRE – Net Investment Performance, 3Q04-3Q08
Greenlight Re reported positive investment performance in 14 of the 17 quarters since it commenced investment operations in 3Q04. Prior to the 3Q08 record loss of 16%, the largest quarterly investment loss was 4% in 1Q07. Annual data is as follows: +5% in 2004, +14% in 2005, +24% in 2006, +6% in 2007, -21% in 2008 (through 11/30).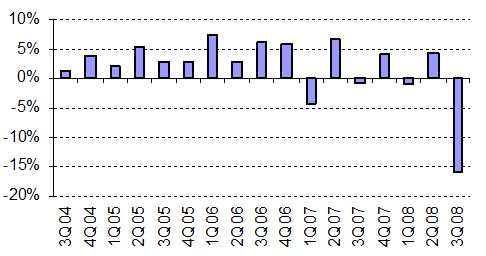 Source: Company, The Manual of Ideas.
GLRE – Diluted Book Value per Share, FY 2000-08
Diluted book value per share declined 10% during the twelve months ended September 30, 2008 and by another ~10% so far in 4Q08 (down sharply in October, rebounded modestly in November). Book value per share grew 14% in 2005, 23% in 2006 and 16% in 2007, driven primarily by positive investment performance.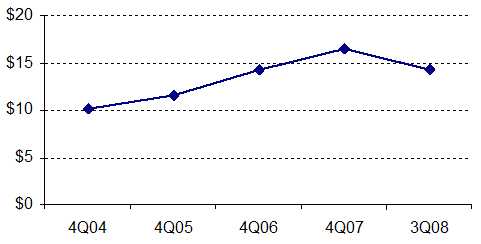 Source: Company, The Manual of Ideas.
Disclaimer: Copyright 2008 by BeyondProxy LLC. BeyondProxy and its affiliates may have positions in and may make purchases or sales of the securities discussed in this report. It is the policy of all Related Persons to allow a full trading day to elapse after the publication of this report before purchases or sales of any securities discussed herein are made. No Related Person held a position in securities discussed in this report as of the date of publication. Use of this report and its content is governed by the Terms of Use described in detail at http://www.manualofideas.com/terms.html.