Molycorp's (MCP) shareholders have lauded its $1.2 billion acquisition of Neo Material Technologies in the second quarter of 2012. Management claimed that Neo, affectionately renamed "Molycorp Canada," gave Molycorp new processing technologies in powders used in sophisticated high-performance bonded magnets, expanded production capacity and expanded its customer base. In Molycorp: Why A Chinese Takeover Will Never Happen, one commenter pointed out the following:
The problem I always have with any news item or comments on MCP is that the contributor leaves out a super important fact .... Neo Materials, which they have acquired at a cost of over a billion! The Toronto based magnets producer and innovator changes the whole picture. MCP has the in-house capability of mines to magnets production ... MCP doesn't have to look for a customer. They are the end consumer of their ores. Why is it that nobody, when they weigh in on MCP, includes the Neo acquisition or potential in their analysis?
Neo's potential, and Molycorp's for that matter, has been a consistent theme. However, the Neo acquisition was made when rare-earth prices were more buoyant than they are today, it created a higher expense burden at Molycorp, and it created nearly $1 billion in intangible assets, including over $500 million in goodwill. That said, given that the company's operating losses may not abate any time soon, a portion of those intangible assets may be impaired.
The following table illustrates Molycorp's total intangible assets and goodwill. At September 30, 2012, intangible assets and goodwill pursuant to the Neo transaction were $476.4 million and $501.6 million, respectively.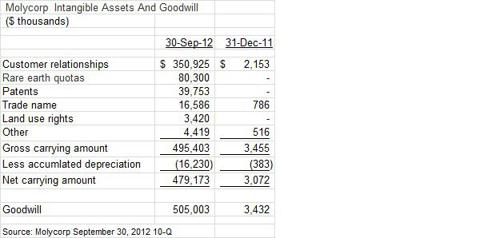 Through nine months ended September 30, 2012, Magnetic Material and Alloys, the division where Molycorp Canada's financial results are reported, recorded a pretax loss (prior to intercompany eliminations and corporate overhead) of $2.4 million. Also, the company's September 30, 2012 10-Q referenced higher fixed costs associated with prior acquisitions as a drag on its financial performance. The following chart illustrates Molycorp's negative earnings through nine months ended September 30, 2012 and last twelve months ended September 30, 2012 ("LTM12"). The question remains, given Molycorp Canada's recent operating loss, has there been a diminution in its value?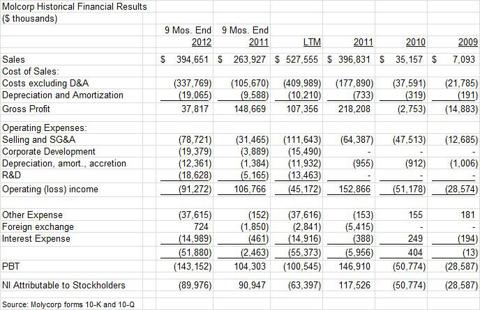 Goodwill Impairment Test
The goodwill impairment question arises as rare-earth prices declined shortly after Molycorp Canada was acquired and mining giant, Rio Tinto (NYSE:RIO), wrote off $14 billion in assets; $3 billion of the write off was related to Mozambique coal operations aquired two years ago. Determining whether Molycorp's goodwill has been impaired involves three steps:
Determine Molycorp Canada's "recoverable amount" or the higher of its ((i)) net selling price (sale price minus the cost to sell) and ((ii)) the present value of its future cash flows.
If the "recoverable amount" is greater than Molycorp Canada's current carrying value, then there is no goodwill impairment.
Otherwise, the recoverable amount is allocated to the unit's assets (including intangibles) and liabilities. If the estimated goodwill from this calculation is less than the carrying amount of goodwill, then the difference is "impaired goodwill" and must be charged to expense.
Molycorp Canada's operating loss post-transaction calls into question its recoverable amount in relation to the $978 million of intangibles and goodwill currently allocated to it. Given the risk of a goodwill impairment charge coupled with Molycorp's pending dilutive event, I advise potential investors to wait for additional guidance from management on these issues before buying the stock.
Disclosure: I have no positions in any stocks mentioned, and no plans to initiate any positions within the next 72 hours. I wrote this article myself, and it expresses my own opinions. I am not receiving compensation for it (other than from Seeking Alpha). I have no business relationship with any company whose stock is mentioned in this article.