Denison Mines (Amex:DNN) more than doubled last week, with explosive volume on Friday. I expect we will see this kind of a pattern in many microcaps this January, as deeply-oversold conditions fuel upside volatility.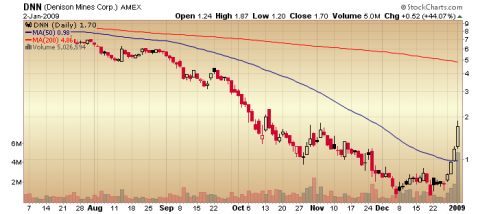 Was there any news behind last week's move in Denison Mines? Yahoo! Finance doesn't show any press releases, and though there was a filing Friday with the SEC on Form 6-K, it merely attached a December 23 press release announcing a successful financing. According to one of my readers, the stock was mentioned in James Dines' newsletter, but I find it hard to believe that Dines has that much pull.
At the end of the day, it doesn't matter why Denison Mines or other microcaps are moving up. The fact is that they are. There will be days of retracement, but this is a simple trend-driven market. Don't overthink it. If Denison falls below the 50-day moving average — the blue line in the chart above — then the trend is over. Until then, nobody can say how much higher Denison, or any other beaten down microcap, will go.
DISCLOSURE: No position.