We made a promise yesterday to cover resource stocks and how to know when to take profits and when to fully exit positions. We have had some computer issues this morning and rather than retyping and formatting that excerpt from our handwritten notes, we will have to publish that tomorrow. We apologize for this, but will get that out as soon as possible. Looking at the commodity markets, one has to simply say wow as it pertains to Molycorp (MCP) and the case study on how not to run damage control when you have lots of bad news. It would seem to us that the proper term is Chinese Water Torture, and why you would want to do this to your shareholders and those showing support for your stock by buying on the dips is a question which probably should be asked. It is called the kitchen sink, and this is the third time they have supposedly thrown it in the course of roughly two months. One can only hope that the third time is the charm.
Commodity prices this morning are as follows:
Gold: $1675.90/ounce, down by $10.80/ounce
Silver: $31.82/ounce, down by $0.619/ounce
Oil: $95.58/barrel, up by $0.35/barrel
RBOB Gas: $2.8306/gallon, down by $0.0032/gallon
Natural Gas: $3.573/MMbtu, up by $0.019/MMbtu
Oil & Natural Gas
Some are beginning to get worried about the outlook of some of the oil and natural gas names we follow, and we understand the issue of wanting to lock in gains. That is something one can never argue against, but this morning we simply wanted to remind investors of one of the indicators we have used over the past few months (rightly or wrongly, as some disagree with our use of a single stock) successfully to watch the trend in the industry. We have repeatedly looked at Cheniere Energy (NYSEMKT:LNG) due to our belief that it was a risk-on, risk-off stock which did not face the same day-trader infiltration of many other names, thus smoothing out the entering and exiting of positions and creating a situation where the volatility, in our opinion, was more indicative on investors' medium-term outlook rather than short term - which is what we are interested in to make decisions on an industry-wide basis here. The stock still indicates that we are in a bull market and until we see Cheniere lead the way lower, as we would suspect it would, we remain bullish on the industry sector as a whole.
Iron Ore
David Einhorn, a hedge fund manager we respect a lot, is bearish on the iron-ore sector and got some press yesterday as a letter to investors made its way to reporters at various news organizations. It is our understanding Einhorn went bearish back in October, so this is not necessarily a new call per se, just a new revelation. So currently his position would appear to be in the red as a bearish bet on iron ore back during that time would have led one to negative returns (seems that was at least a market top for the bearish trade as it was near a market bottom for the physical commodity and stocks - we recognize it was not exactly, but speaking in general terms to incorporate it all). Both Cliffs Natural Resources (NYSE:CLF) and Vale (NYSE:VALE) were lower yesterday although Cliffs took the brunt of the blow as we saw their name associated in some of the emails and other information we received yesterday.
Also in a separate note, Bloomberg reported yesterday that they received confirmation from Vale that they were maintaining the suspension on their $5.9 billion Rio Colorado potash project which is currently 41% complete (at least that is where it stood the last time the company updated investors and since work has been suspended, it seems fair to assume that the number has not changed). The company is apparently looking for a white night, as we are not aware of many mining companies large enough to help fund the other 50% of this project; which is the amount we suspect Vale is trying to offload as it would require minimal further investment (in fact, it would be about what the company has budgeted for the project moving forward). Potential white knights lurking out there you ask? I would throw out the usual suspects: China with their insatiable demand for the fertilizer, Russia who is looking to rival the Canadian producers and could use this as a base into South American and other markets and the least probable but still possible based on their needs would be India. It is hard to imagine any of the Canadian producers wanting to spend money to complete this project and throw the economics of the business into whack while also adding geopolitical risk and possible constraints to their production.
Rare Earths
The story at Molycorp is simply ridiculous. We are not sure whether Shakespeare would have called it a tragedy or a comedy, but we suspect it would depend upon which view he was gaining his perspective from (that of an investor or someone on the outside looking in). The fact of the matter is it was less than two weeks ago that the company announced that they would have revenue issues and alluded to the potential of a cash shortfall as they suspended the work on the uncompleted work of Phase II to increase production. We saw that red flag there but thought surely it would be later in the year before the company was required to come to market to raise money. It would seem that $80 million in cost overruns would be a material number that just does not pop up within the span of less than two weeks, but rather builds over time. One of those issues which you know is a growing problem just as you know even if this $80 million did pop up over night, the company would have had internal projections of cash flow two weeks ago showing a cash shortfall of somewhere in the neighborhood of $170 million-ish (this based on their revelation that they will have an approximately $250 million shortfall and if we say they just found out about the $80 million additional cost overruns this weekend, then that is where they should have been around. Worse still, the company seems to have announced a capital raising that takes longer than a first read standing in line at the grocery store to understand. Investors were just as unpleased as we are and pushed shares down to $7.88/share after falling by $0.95 (10.76%) during the session. The only bullish news would seem to be the fact that the stock did not approach its 52-week low.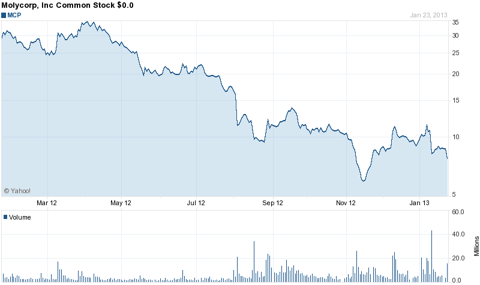 Chart courtesy of Yahoo Finance.
Precious Metals
IAMGOLD (NYSE:IAG) got crushed yesterday as gold was lower and investors exited that trade based on current market conditions and some volatility picking up in the currencies after some nice runs (remember there are those who invest in gold via terms other than dollars, be they citizens of another country or "sophisticated" traders). IAMGOLD, however, also got hit with two downgrades as BMO Capital Markets downgraded the shares to a 'Market Perform' from an 'Outperform'. Making essentially the same downgrade was Conaccord which downgraded the stock from a 'Buy' to a 'Hold'. This also follows the company's resource update and reaffirmed guidance for 2013 made Tuesday night after the market close.
Disclosure: I have no positions in any stocks mentioned, and no plans to initiate any positions within the next 72 hours. I wrote this article myself, and it expresses my own opinions. I am not receiving compensation for it (other than from Seeking Alpha). I have no business relationship with any company whose stock is mentioned in this article.