I've followed water stocks for five years now, starting before any water-focused funds or ETFs were available. Water is considered by some to be the "ultimate" commodity, since we literally cannot live without it, and there is a limited supply in the world. Some of the largest global players in water are European conglomerates like Veolia (VE). In the US, a handful of water stocks and utilities can be identified, such as ITT Corp (NYSE:ITT) and Aqua America (NYSE:WTR). Together, these water companies can be thought of as plays in commodities, utilities, or infrastructure.
The first water ETF was launched in late 2005. The PowerShares Water Resources Fund (NASDAQ:PHO) was joined in mid-2007 by three more water ETFs: PowerShares Global Water (NASDAQ:PIO), Claymore S&P Global Water (NYSEARCA:CGW) and First Trust ISE Water (NYSEARCA:FIW). Each is based on a different sector index so each offers unique stock and sector weightings. Recent new water indices may result in additional water ETFs soon (see article here).
All four of these funds suffered with the markets as a whole from August through November 2008. The funds focusing on US companies (PHO and FIW) have held up a bit better than the global funds, partly due to the anticipation for a favorable infrastructure policy in the next administration and partly due to the relatively poorer performance of overseas markets this year. All have similar P/Es in the range of 12-13, and CGW has the highest distribution yield, at 8.77% on 12/31/08.
12-month price chart of ETFs mentioned (click to enlarge):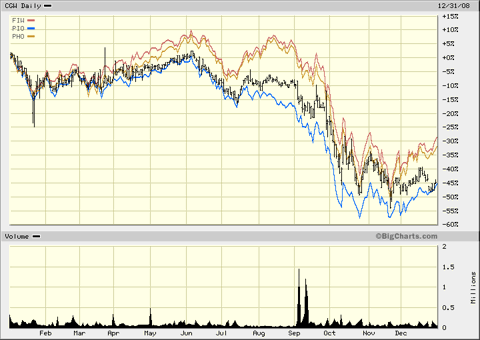 PHO is the most widely held of the group, but I have held CGW since its inception, believing it to be the best global play. The biggest blue-chip global firms should benefit the most longer-term, as they are called on to manage the huge government-funded engineering projects in Asia, as well as in Europe and the US.
Disclosure: Author holds a long position in CGW