"There are two ways of exerting one's strength: one is pushing down, the other is pulling up." - Booker T. Washington
There is little doubt that housing has improved quite a bit in the United States, supported by historically low interest rates and increased demand. Housing stocks, which were a key tell on the Fall Melt-Up of 2011, have been star performers since then, significantly outperforming the broader S&P 500 (NYSEARCA:SPY). The wealth effect has been shown to be particularly powerful when it comes to increasing home prices, because houses tend to be more widely owned as a "big asset" relative to other investments like the stock market.
Lumber as a lagged response began to act well since the June 4th melt-up of last year began. I was largely quite bullish on lumber early in 2012 anticipating that the market would bid up prices of various timber stocks like Weyerhaeuser (NYSE:WY), Rayonier (NYSE:RYN) and Plum Creek Timber (NYSE:PCL). Take a look below at the Guggenheim Timber ETF (NYSEARCA:CUT) on top, and the SPDR S&P Homebuilders Index ETF (NYSEARCA:XHB) on bottom relative to the S&P 500. As a reminder, a rising price ratio means the numerator/CUT/XHB is outperforming (up more/down less) the denominator/SPY.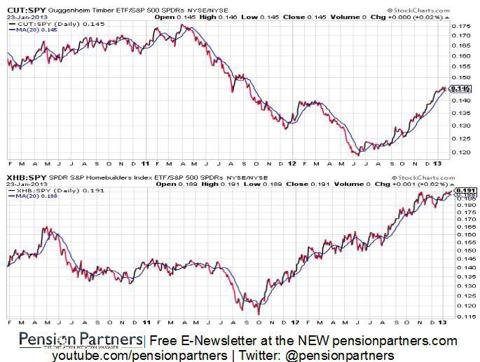 Notice that the relative performance of homebuilders bottomed before lumber stocks did, and that both have and continue to be in powerful uptrends. Homebuilders have made new relative 3-year highs, while lumber stocks have not. Given how important housing demand is for timber, I would not be surprised to see lumber stocks make new ratio highs in line with homebuilders as a catch-up move to bullish construction sentiment. At least for now then, for those looking to play housing but are concerned about the advance so far, lumber stocks might be an interesting area to focus on, particularly if risk-on remains the environment we are operating in as our ATAC models used for managing our mutual fund and separate accounts suggest.
Disclosure: I have no positions in any stocks mentioned, and no plans to initiate any positions within the next 72 hours. I wrote this article myself, and it expresses my own opinions. I am not receiving compensation for it (other than from Seeking Alpha). I have no business relationship with any company whose stock is mentioned in this article.
Additional disclosure: This writing is for informational purposes only and does not constitute an offer to sell, a solicitation to buy, or a recommendation regarding any securities transaction, or as an offer to provide advisory or other services by Pension Partners, LLC in any jurisdiction in which such offer, solicitation, purchase or sale would be unlawful under the securities laws of such jurisdiction. The information contained in this writing should not be construed as financial or investment advice on any subject matter. Pension Partners, LLC expressly disclaims all liability in respect to actions taken based on any or all of the information on this writing.